Still in his teens, first-year student Jack Hollinshead is already making an impact in his community with hopes of extending opportunities throughout the country.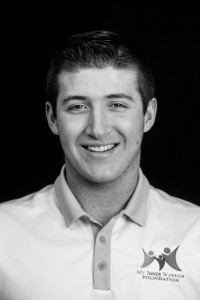 A catcher on Wittenberg's baseball team, Hollinshead is a double major in sports management and financial economics. He graduated from Mayfield High School in Mayfield Village, Ohio, an eastern suburb of Cleveland, but not before leaving a mark on his hometown community. Hollinshead started a 501(c)(3) organization, My Inner Warrior Foundation (MIW), with hopes of providing greater opportunities to youth involved in inner-city baseball programs.
"Our main goal for MIW is to provide a year-long training program to extend the current inner-city baseball schedule," said Hollinshead, who also has an interest in helping to start a similar club at Wittenberg. "We intend to provide free training and tutoring for many inner-city athletes. We see this program bringing key characteristics that many inner-city athletes may be missing, such as structure, dedication and passion. I would love to extend MIW's reach far beyond the city of Cleveland after we find success and continue to grow. We eventually want to work with the Major League Baseball (MLB) charities and provide more opportunity all across the nation."
While the idea for the charity developed from his own passion for the game, it also came about through his father, who was the executive director for a non-profit called The Littlest Heroes, while Jack was growing up.
"Seeing what my dad did sparked a passion in me to one day have a non-profit of my own," he said. "I want to provide the great opportunities that I had when I pursued a collegiate baseball career. It was right before my senior year that I finally acted and created the foundation. We then received official 501(c)(3) status in December 2016. Although I created MIW prior to attending Wittenberg, the motto of "Having Light, We Pass It On To Others" drives home a message about my commitment to extending our organization to as many people as possible."
One of MIW's fundraising efforts to help achieve the mission is called the Hit Tracker Program, a platform to engage college and high school baseball teams in starting campaigns to gain pledges for their season. A pledger will commit to donating a certain amount of money per hit throughout the entire season. If you donate $0.50 a hit, and the team accumulates 100 hits, you would be donating $50. To learn more about this particular campaign, click here.
"Jack's roots and passion for baseball have allowed him to create and grow his organization with an ultimate goal of providing a free-of-charge, year-round training program for inner-city athletics," said Jon Duraj, associate dean of students for student success and retention. He is a phenomenal first-year student, and an opportunity we now have to rally behind Jack and his mission that directly relates to our Wittenberg motto is to support the Tiger baseball team, which has created a campaign for the Hit Tracker."
Hollinshead says that a "non-profit is as easy or hard as you want to make it," and he offers a little advice.
"If you're passionate about something and what you're trying to make a difference in, then you will find the necessary time to make it happen. If not, it won't be easy," he said. "My advice would be to seriously be passionate for change in a specific area before trying to start a non-profit. As for the specific start of MIW foundation, it was pretty much just my parents and me. They guided me and explained what I needed to do, but as for actually writing up our mission and creating the foundation, I did it on my own.
"MIW has grown and we now have an amazing group on our board of directors in Luke Razzante, Chloey DiBartolo, Jack Siefert, Bianca Olivo, Jordan Jolly, Austin Mora and David Hamrick," he continued. "Each one of these kids are in college or just finishing high school, and all have an extreme passion for what we're doing. They help with all aspects of the foundation. Funding wise, most of it was done through local business sponsors and putting on local events to generate some income."
Siefert, who serves as vice president of the foundation, and Jolly, who serves as director of graphic design for the foundation, are also Wittenberg students and members of the Tiger baseball team. Siefert, from Highland Heights, Ohio, and a double major in entrepreneurship and sports management, helps do the marketing, coordinating and financing of events, while Jolly, from Stow, Ohio and a communications major, takes care of the design work for MIW. Another member of the baseball team, Hamrick, of Green, Ohio, and an accounting major, helps out with the financial parts of the organization.
"It's great to see our students working to create positive change and making an impact in their communities," Duraj added.
As for the future, Hollinshead explains: "My ultimate career goal is to become a collegiate athletic director.
However, that doesn't mean I intend to walk away from MIW. I intend on always being the executive director and bringing in a full-time staff as we grow and develop into a national organization."
For more information on My Inner Warrior, click here.