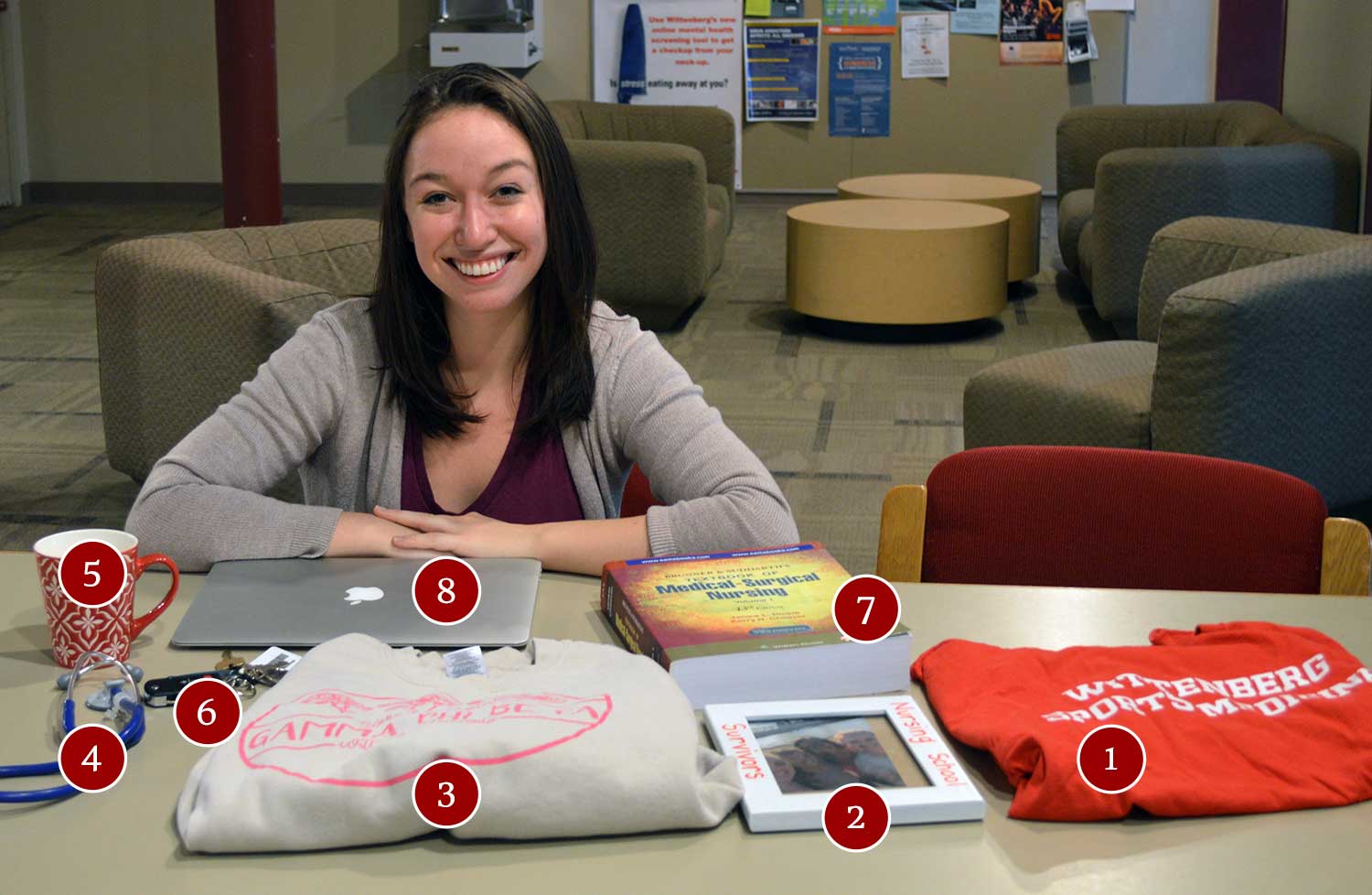 Erin Belanger, Class of 2018
Major: Nursing
Hometown: Cincinnati, Ohio
1. Wittenberg sports medicine T-shirt
During her time at Wittenberg, Erin has worked in the athletic training room, where she "loves all of the people and working with the athletes."
2. Nursing school survivor picture
Erin and the other students in this photo represent the first four graduates of the Nursing Pathway Program. Considering them family, Erin says they spent a lot of time together, became very close, and served as resources to each other.
3. Gamma Phi Beta sweatshirt
While joining sorority life was not something Erin expected to go through with, she is glad she did. The women of Gamma Phi Beta are "the most welcoming, loving, crazy and goofy girls" she has ever met.
4. Stethoscope
Erin spent the last semester doing three clinicals a week. This stethoscope never left her body and has lived in her backpack for years.
5. Coffee mug
With working three different shifts, going to classes and having a leadership role in her sorority, Erin has to drink lots of coffee to get through her day.
6. Car keys
As a student in the Nursing Pathway Program with Clark State, Erin took classes off campus for two years. She also did clinicals in Xenia, Ohio, for two semesters, so it is safe to say that she always has her car keys on her.
7. Nursing textbook
Erin has spent a lot of time reading this huge textbook – her "nursing bible" – which is "filled with everything you need to know about nursing."
8. Computer
Spending a lot of time online either studying or doing homework, Erin has never gone a year without her computer and often relies on YouTube as a source to look up different ways to do things.
Compiled by: Mallory Moss '20
Photo by: Kalle Young '20