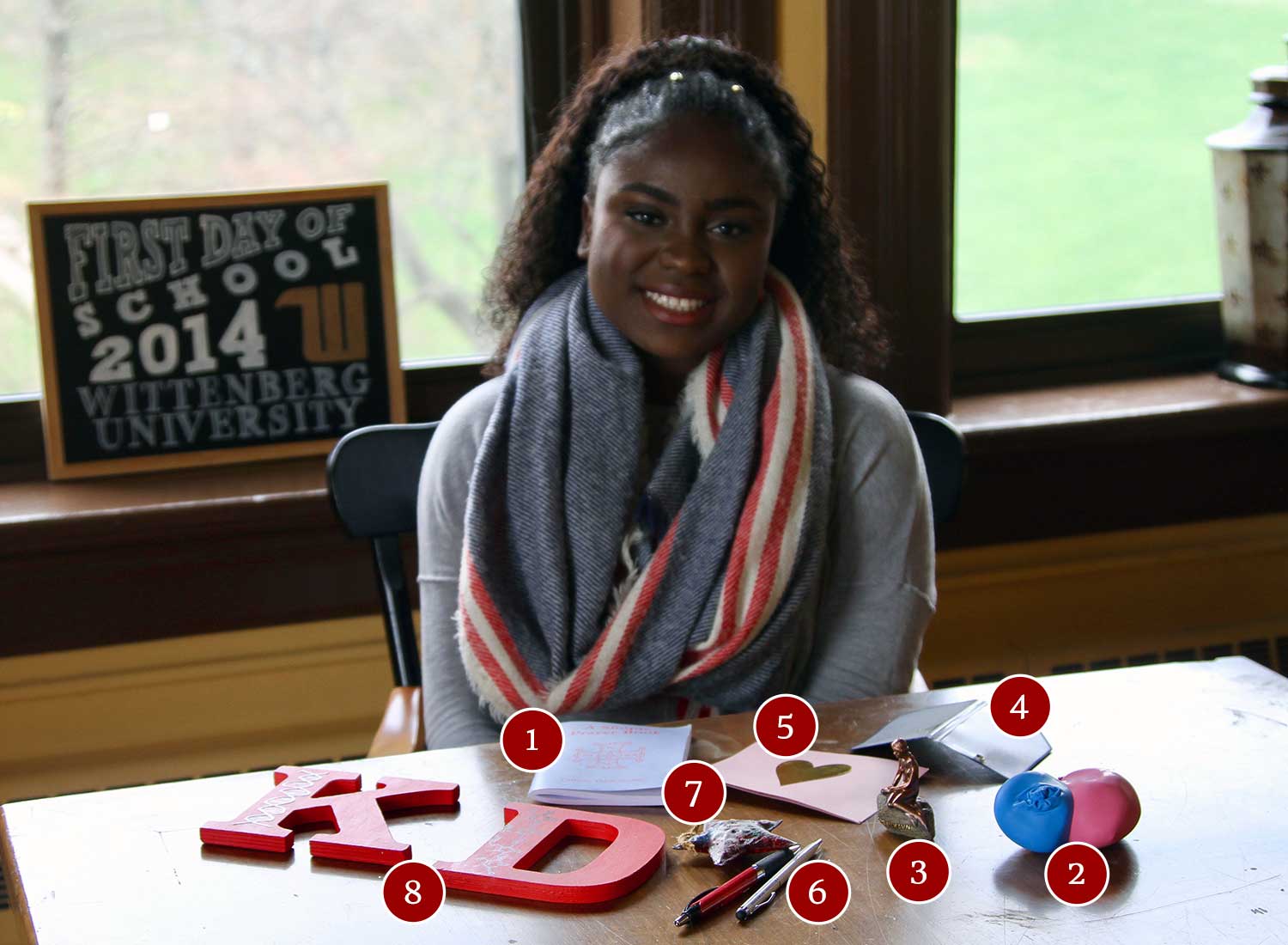 Marietta Ojo, Class of 2018
Major: Biochemistry/Molecular Biology and Philosophy
Hometown: East Orange, N.J.
1. Prayer book
Marietta grew up in the Catholic Church. Her mother gave her this prayer book as a tie to home as well as a way to keep her faith and remember her church community.
2. Stress balls
The stress balls "represent a sort of memento for residence life since it can be pretty stressful at times but enjoyable nonetheless," says Marietta, who has worked as a resident assistant (RA) on campus.
3. Little mermaid statue
During her junior year, Marietta studied abroad in Denmark, where she purchased this statuette of The Little Mermaid as a souvenir. Displayed in Copenhagen, the bronze statue by Edvard Eriksen is based on the fairy tale by Hans Christian Andersen and was the inspiration for the Disney film of the same name.
4. Transport
Marietta used this bus pass to get around Denmark.
5. Card
An invitation to a friend's wedding, this handwritten card was specially designed for her as a bridesmaid.
6. Pens
Although she declared a philosophy major late in her years at Wittenberg, Marietta had the chance to present a paper to the department of philosophy at the University of Louisville, where she received this pen. All of her friends drove down with her to show their support. The other pen is from Columbia University, where she has been accepted into graduate school.
7. Ornament
Received as a gift from a friend, this ornament reminds Marietta of Christmastime and the many Christmas parties and gift exchanges she has experienced with Wittenberg friends.
8. KD letters
Marietta is a member of Kappa Delta sorority. Her Kappa Delta "big sister" made these letters for her, which are decorated with a DNA strand to represent her biochemistry/molecular biology major.
Compiled by: Mallory Moss '20
Photo by: Kalle Young '20