It's hard to believe that it has been over three-and-a-half years since I showed up on Wittenberg's campus as a member of the Class of 2019, and on May 11, my time here will come to a close. In August 2015, I packed up my life in Akron, Ohio, and headed down to Wittenberg to start a new chapter in my life. After a little help from the community to figure it out, I decided on a marketing and communications double major toward the end of my sophomore year. I haven't looked back since.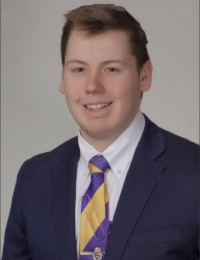 But going to Wittenberg isn't as simple as just showing up to your classes and getting your degree. At Wittenberg, we are challenged to make an impact on our campus and community with active involvement, and we do just that. Being on the men's volleyball team, a member of Delta Tau Delta fraternity, an orientation assistant, a member of game day staff, working in career services, serving as a Department of Human Resources intern, and being a double major has been a challenge – but it's all a part of the exploratory journey that Wittenberg sends you on to promote personal growth and to give you a chance to leave your mark here.
I have learned more about myself through my involvements than I could have ever imagined. Being a four-year athlete has been quite a challenge, but my love for Wittenberg could never allow me to stop playing. Through my athletics experience, I have been pushed to limits I didn't know I could withstand and now understand my ability to overcome tough obstacles. Within Delta Tau Delta Fraternity, I became the director of recruitment as a sophomore and was tasked with selling the fraternity experience, which confirmed my passion for marketing. After this, I took on a year-long term as chapter president which taught me invaluable management skills, allowed me to create strong alumni connections and gave me a platform to lead a group of men that contributes positively to our campus and surrounding community. After being an orientation assistant, I understand that my empathetic nature can mean something special to a new person in a future work setting. Working all over campus in HR, Career Services, and the Athletics Department has allowed me to support myself financially and get my feet wet in different areas of work. Most importantly, the greatest gifts my involvements have given me are friends that feel like family, who I know will be in my life forever. 
Wittenberg graduates understand the family culture of the Wittenberg community and are constantly wanting to give back. I spent this past summer in Columbus interning for a Wittenberg alumnus, Kyle Barger '07. Due to the liberal-arts design of the internship, I was able to gain experience in a vast amount of areas such as business development, sales, social media marketing, market analytics, fundraising, sourcing sponsorships, non-profits, and small business functionality. I was not only excited to come to work every day and work alongside someone I respected, but I was given an experience that I could use to prove to employers I was ready for the professional world. Kyle invested so much time and effort into giving me an experience to use to sharpen my skills and be a great candidate in the job market. I can't thank Wittenberg enough for giving me meaningful connections that will impact my life for years to come.
After graduation, I plan to move to Columbus to begin my career. I am more than happy to say that because of the opportunities Wittenberg has given me, I have received job offers in the Columbus area that I am more than happy with. To continue giving back to a group that has done so much for me, I also plan to be an advisor for Delta Tau Delta fraternity.
If I were to offer any advice to underclassmen, I would remind you to have the right attitude. Although it will be hard to leave our amazing community behind, I will certainly be back as often as possible. Wittenberg will hold a special place in my heart forever, and I will continue to give back for years to come.
Justin Luby '19
Hometown: Akron, Ohio
Majors: Marketing and Communication