Already recognized nationally as a speaker for the Archaeological Institute of America (AIA), Darlene L. Brooks Hedstrom, Wittenberg University professor of history, can add another professional accolade to her resumé. The Times Literary Supplement (TLS) recently selected her scholarly book on Egyptian monastic archaeology for review this spring. Published in London by News UK, a subsidiary of News Corp., TLS describes itself as "the leading international weekly for literary culture."
In her book The Monastic Landscape of Late Antique Egypt: An Archaeological Reconstruction (Cambridge University Press, 2017), Brooks Hedstrom argues that in addition to the literary record provided by early monastic writers, one must also consider the natural environment and the "built" environment in order to fully understand Egyptian monasticism. She provides readers with an orientation to the physical remains of monastic archaeology, while also demonstrating the diversity of the sites and their value for building a richer portrait of the past.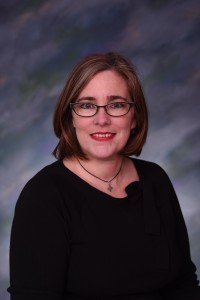 The review by Lucy Grig, which appears in the April 9, 2019, issue of TLS, praises Brooks Hedstrom's analysis of archaeological remains for offering a more complex – and perhaps more revealing – way of looking at Egyptian monastic life.
A book review by Charles Stang, professor of early Christian thought at Harvard University, in the Spring 2019 issue of the Journal of Early Christian Studies, describes her work as "truly unique, and a significant contribution to the field."
"I am pleased my book was selected for review in the TLS as it will encourage a wider audience to learn about Christianity in Egypt and the complexities surrounding how the late antique world changed," Brooks Hedstrom said. "Early monasticism is often understood purely through written texts, which are highly structured and intended for religious education and edification. Grig's review provides an invitation for TLS readers to consider how my research highlights Egypt's unique landscape and how monks utilized space to build new Christian communities."
Brooks Hedstrom's scholarly research as a Byzantinist focuses on monastic archaeology, monastic studies, the archaeology of cooking and kitchens, and mud brick architecture. As a speaker for AIA, she presented a lecture titled "The Archaeology of Monastic Cooking and Baking in Egypt" at several universities this past year, including Texas A&M and Cornell University. She most recently presented work on the importance of domestic archaeology in monastic studies at the Sapienza University of Rome, Italy.
The recently published Oxford Handbook of Early Christian Archaeology (Oxford University Press, 2019) includes two chapters by Brooks Hedstrom. The chapters, "The Archaeology of Early Monasticism" and "Archaeology of Early Christianity in Egypt," reflect her central interest in the archaeology of monastic communities both in Egypt and in the late antique, Christian world and were, in part, the product of a course release in the spring of 2016.
A trained archaeologist who is committed to involving students in hands-on history, Brooks Hedstrom is director of Wittenberg's archaeology program as well as principal investigator for the Columbia Street Cemetery Project in Springfield and the Wittenberg University Campus Archaeology Project. Both projects allow students to learn field methods, such as excavation techniques and how to create archival records.
She is currently the senior archaeological consultant for the Yale Monastic Archaeology Project—North, an excavation project studying a medieval monastery in Wadi Natrun, Egypt. She is completing a monograph on the archaeological remains of a monastic residence from Wadi Natrun for the Yale project.
In 2015, Brooks Hedstrom was a Fellow in Byzantine Studies at Dumbarton Oaks (Harvard University), where she researched the archaeological remains of monastic kitchens and bakehouses from the Byzantine world. She will publish the results in a volume titled Feeding Asceticism in Byzantine Monasteries: The Archaeology of Monastic Cooking for the series Spirituality and Monasticism, East and West (Arc-Humanities Press/Amsterdam University Press).
Longtime chair of Wittenberg's department of history, Brooks Hedstrom holds the Kenneth E. Wray Chair in the Humanities. In 2015, she received the Collegium Award for Excellence and Innovation in Teaching at Wittenberg.