As the need for more nurses intensifies nationally, Wittenberg University is excited to announce that it will offer its own four-year, fully self-contained Bachelor of Science in Nursing (BSN) program beginning this fall. The university received full approval from the Ohio Board of Nursing, Ohio Department of Higher Education, and Higher Learning Commission to proceed with its liberal arts-inspired nursing program.
"Being approved to offer our own full-scale, in-house nursing program affirms the confidence the state of Ohio has in the high-quality liberal arts education Wittenberg has been delivering for generations," said Mary Jo Zembar, interim provost and professor of psychology. "We already have considerable interest in this program and expect to garner even more in the weeks and months ahead."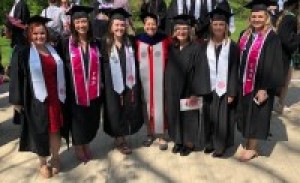 Attaining a BSN in the field is essential according to the Institute of Medicine (IOM). In its 2010 report on the future of nursing, the IOM recommended that 80 percent of the hospital-based nursing workforce hold a BSN by 2020. According to the website NursingEducation.com, a "BSN allows nurses to have more responsibility, supervisory roles and higher salaries in the workplace than a registered nurse (RN) with an associate's degree. An increase in the proportion of nurses with a BSN also would create a workforce poised to achieve higher levels of education at the master's and doctoral levels, required for nurses to serve as primary care providers, nurse researchers, and nurse faculty."
The fact that Wittenberg's program will have a liberal arts foundation adds an even greater dimension to the program's attraction.
"Having our nursing program entirely in-house means that nursing students can now complete minor studies in languages, music, arts, or any other field including honors," Elizabeth Sorensen, professor and director of nursing. "For example, philosophy and nursing arranged for nursing courses to count toward the Justice, Law, and Public Policy minor, which is very exciting. It means that Wittenberg faculty will teach all of the classes, allowing for better opportunities to guide and mentor nursing students."
The new program also represents significant, sustainable revenue and resource growth for the university, Sorensen added.
"We expect the program to be financially self-sustaining by its second year. This fall we will develop an 1,800-square-foot, state-of-the-art nursing simulation learning center. The 'Sim Lab' is the most requested tour site for pre-nursing students who are deciding where to enroll. As the only BSN program in Clark County, Ohio, we look forward to helping students enter this in-demand health care field, while also helping area employers improve their BSN nurse staff. BSN students learn more about research, leadership, and community health than students in associate degree nursing programs."
Wittenberg's four-year BSN program is for students who are not yet registered nurses, and all pre-nursing students will be considered for the highly competitive program, which will prepare them to take the national registered nursing licensure exam. The nursing program's mission will also be guided by the American Association of Colleges of Nursing Essentials of Baccalaureate Education for Professional Nursing Practice (2008), which seeks to prepare students with a liberal arts education for baccalaureate generalist nursing practice and to provide a foundation for graduate education.
For more information on all nursing-related opportunities, please visit the Wittenberg Nursing website or contact Sorensen at sorensene@wittenberg.edu.