With his "every man" looks, Stephen Michael Abbott '92 is a multi-talented American film, television and stage actor, who grew up in the suburbs of Chicago, Ill., and Buffalo, N.Y. He booked his first audition after college on Diagnosis Murder with Dick Van Dyke and then worked on such shows as High Incident, The Pretender and Murder One.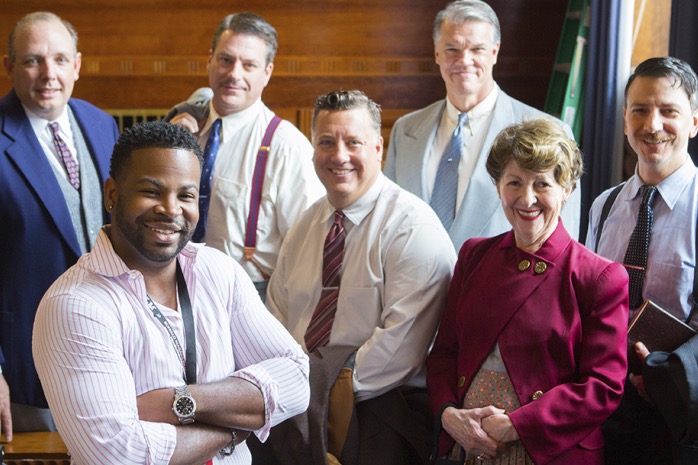 In 1998, Abbott was accepted into the Second City Conservatory in Chicago and was selected for several commercials and films, including a national campaign for McDonald's playing the pitcher for the Chicago Cubs.
A huge fan of director and actor Quentin Tarantino, Abbott, who majored in psychology and was captain of the track team, also likes The Simpsons and served as a stand-in for actors Dan Aykroyd (2001) and Jim Belushi (2000).
His latest role is in the upcoming movie Marshall, which is about a young Thurgood Marshall, the first African-American Supreme Court Justice, to be played by Chadwick Boseman. The biographical thriller film is directed by Reginald Hudlin and written by Michael and Jacob Koskoff. The movie is scheduled to be in theaters in October.
Abbott, center in right photo, took time to answer a few questions about his acting career.
W: Give us a little background of your career. How many films and television shows have you been in?
SA: I got very lucky and booked my first audition 25 years ago, so I received my SAG (Screen Actors Guild) card and an agent right away. That literally was half the battle 25 years ago. I have been in roughly 20-30 films and TV shows, and I have done more than 100 commercials to date.
W: What's the best part of your career? What's the worst part of your career?
SA: I love what I do, but the inconsistency of steady work is rough sometimes.
W: How hard is it to break into the film business?
SA: Times have definitely changed, but the film industry is not an easy industry to break into. As an actor, you have to have super thick skin; that's just part of it. I have a very high call-back ratio, especially when I was living in Los Angeles, but I always say, second place doesn't pay the bills.
W: Are you also a writer or director? Do you prefer stage or screen? Do you have another career?
SA: I write and direct short films. I prefer screen, but the "high" and immediate satisfaction you receive when on the stage -- there is nothing quite like it. I have been a bartender, a salesman and a teacher. Only a certain percentage of SAG/AFTRA (American Federation of Television and Radio Artists) members make $120,000-plus. The next level (down) makes around $30,000-$120,000 and 80 percent makes under $30,000 a year, so supplemental income is a must.
W: What kind of advice would you give to students who are interested in pursuing a career in acting?
SA: Study, study, study and network. Getting a mentor in any industry helps for sure, especially entertainment. Nowadays, though, you can create, market and sell your own work.
W: It sounds like being a stand-in for Dan Aykroyd and Jim Belushi would be extremely interesting and fun.  How often did you do this and do you still?
SA: I did it in my 20s and early 30s. The great thing about stand-in work is that you can witness the process of how a set "works." I paid special attention to how an actor enters the scene/set and all the technical aspects involved. Those would be my biggest two takeaways for sure.
W: Tell me a little about the upcoming movie and how much of a part you have in it?
SA: I auditioned for two roles - a reporter and a pompous club man. I was called back for both parts. I didn't get either (my friend got the reporter role), but the casting director called me directly and said they "liked my auditions" so they cast me as a juror in the Connecticut case. I had mixed feelings at the time because I wanted the reporter role. Two days of work and a couple of lines was what it was going to be, but I ended up working six days with one line. It was a pretty good experience. It was like watching a play, and I didn't read the entire script so it was all "fresh" to me. I met Kate Hudson; she was nice, the director was great, and it was shot in my hometown so I had friends from Buffalo and LA on the set, which was very cool/special.