When life knocks someone down, it's up to that person to decide to rise back up. Dixie Brown, Wittenberg class of 2005, decided to rise back up and use her past addictions as a catalyst for finding her "calling."
Brown, who received her bachelor's degree in business with a minor in sociology, began working in the service industry following graduation, eventually moving to the Virgin Islands where she was establishing a life for herself. But her lifestyle was catching up to her.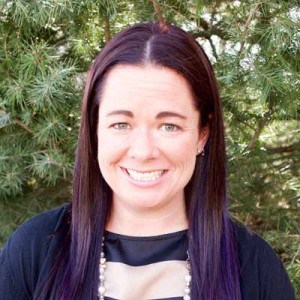 "It was just over a year later when I realized that my 'partying' had become full blown alcoholism and addiction," Brown said. "I knew I had a problem and returned to North Carolina to get it 'under control.' Unfortunately, controlling my addiction wasn't something I was capable of on my own."
After a nearly fatal car accident in 2007, Brown sought help from a substance use disorder treatment program in North Carolina where she spent two months participating in intensive residential treatment.
"Following completion of the program, I moved to Palm Beach to begin a new sober life," said Brown, who completed her master's degree in psychology while in Palm Beach. "It was there in Palm Beach that I discovered that my disease of addiction was not a curse, but a blessing; it was exactly what I needed to experience for me to discover my calling: working with other addicts and alcoholics seeking recovery."
Brown, originally from Asheville, North Carolina, developed a love for helping those with substance use and eating disorders while working for a substance use treatment program. She gained the knowledge and skills through her studies, work experience, and an understanding of personal addictions before deciding to open her own treatment center in 2011 for women with substance use, eating disorders, and trauma. Called Willow Place, the center is located in West Palm Beach, Florida. Brown served as the executive director until 2018 when the center decided to focus its efforts on those seeking treatment in North Carolina.

"In 2013, I moved back to North Carolina and opened another facility with supportive housing for women," said Brown, who was a member of Sigma Kappa and involved with STAND during her time at Wittenberg. "In early 2017, another Wittenberg grad, Andy Gallatin (class of 2005), and I founded a non-profit called The Seraph Fund to help support those seeking treatment for mental health and substance use issues."
Gallatin, a longtime college friend of Brown's, had some of the same experiences with addiction. The two founded the non-profit to help support those seeking treatment because as individuals who had sought treatment for themselves, they knew the struggles many people faced in trying to get the care they needed for their addiction. Insurance companies rarely cover the bill or resources for most families after a life-battling addiction.
The Seraph Fund, a direct result of their own plight in seeking treatment, has raised more than $40,000 for substance use and mental health treatment while providing more than 20 scholarships to assist individuals with housing during treatment as well as one full treatment scholarship this past year. They are currently working on several other fundraisers for 2018, including a conference and holiday gala in Asheville on addictions and mental health disorders.
"As a student at Wittenberg, I really had no idea what I wanted to do with my life," said Brown, who recently completed certification with the Center for Mind Body Medicine in Washington, D.C. and will travel with the center abroad to help those seeking relief from traumatic events and life situations.
"I didn't feel like I was 'called' for anything, so I majored in business management because it's what I knew from growing up with a family business that supported us. I figured, if all else fails, I could take over the family business," she continued. "As a liberal arts university, I was required to take courses in psychology and sociology and found a love in understanding the human mind and human interaction at Wittenberg. Little did I know that my minor would become my calling. Wittenberg had a huge impact in my career, but in a very unexpected way. I was blessed to work with some amazing professors who guided me and supported me when they knew that I was struggling. The professors in the sociology department were extremely passionate about teaching and provided me a love for understanding life from a sociological perspective."
In addition to working with The Seraph Fund, Brown has done considerable volunteer work with Make-A-Wish Foundation and will complete her Ph.D. in integrative medicine at Saybrook University at the end of this year. She has founded a health and wellness coaching business called Lotus Healing, where she integrates her treatment experience with integrative medicine as well as health and wellness products to support clients' needs. She plans to expand treatment facilities beyond North Carolina and further her research on effective treatment modalities for substance use and eating disorders.
"Every day is a new challenge, a new experience, and a new opportunity to help someone who is seeking recovery," Brown said. "Each day, I am afforded the opportunity to give back what was so freely given to me when I was seeking help for my addiction. Each day, I get to see someone discover a life without the use of drugs or alcohol and watch them blossom into beautiful and strong individuals God intended for them to be. Never in a million years did I believe that I would be doing what I do every day, and I couldn't imagine doing anything different. I know this is exactly what God called me to do and why I experienced the things that I did while finding my way. I found a passion for helping others. My Wittenberg education built a foundation to facilitate my growth as a clinician, holistic healing practitioner, and business owner."