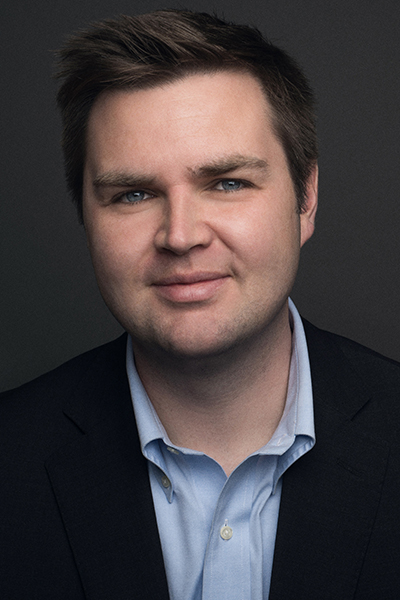 Fred R. Leventhal Family Lecture
Speaker: J.D. Vance, author of Hillbilly Elegy
Title: "Hillbilly Elegy: A Culture in Crisis"
Oct. 30, 2017, 7:30 p.m.
HPER Center
All Wittenberg Series events are admission-free. Doors normally open 30 minutes prior to the beginning of each lecture or performance, but for this event only doors will open at 6:30 p.m. to accommodate a large crowd.
J.D. Vance grew up in the Rust Belt city of Middletown, Ohio, and the Appalachian town of Jackson, Ky. He enlisted in the U.S. Marine Corps after high school and served in Iraq during Operation Iraqi Freedom. He went on to graduate from The Ohio State University and Yale Law School, and is a frequent contributor to the National Review and The New York Times. He has also appeared on Fox News, CNN, MSNBC and CNBC, and recently presented a Ted Talk on America's Forgotten Working Class.
Author of the No. 1 New York Times best-seller Hillbilly Elegy, Vance was a principal at a leading Silicon Valley investment firm until moving back to Columbus, Ohio, in March 2017 to work for Revolution LLC, owned by AOL founder Steve Case. His work now involves making venture capital investments in places that have been overlooked by most investors. Vance, in particular, focuses on innovative and transformative sectors of the economy as an investor. Revolution concentrates on bolstering entrepreneurship and disruptive, high-growth companies outside of the sphere of Silicon Valley. Upon his return to Ohio, Vance also founded Our Ohio Renewal, a nonprofit organization dedicated to addressing the state's opioid crisis and bringing high-quality employment and educational opportunities to Ohioans.
Described by the National Review as a "brilliant book" and by The Economist as "one of the most important" reads of 2016, Hillbilly Elegy is a searing portrait of the lives of the white working class, providing timely perspective on the rise of political populism and the growing concerns of many Americans. His examination of his upbringing strikes a chord with audiences as he shares the personal impact of a social, regional and economic decline. Ron Howard and Brian Grazer of Imagine Entertainment have announced plans to produce a movie based on Vance's book.