The Wittenberg Series is a selection of cultural activities annually presented by Wittenberg University.
To ensure the health and safety of the Wittenberg community as well as the broader Springfield community during the coronavirus pandemic, the Series will not be offered during the 2020-2021 academic year, with the exception of a virtual Opening Convocation on September 1 (video embedded below) and a corresponding Q&A Session (linked below). The Series is expected to resume in the 2021-2022 academic year, health and safety conditions permitting.
Tuesday, September 8, 2020, Opening Convocation Q & A
"Masks On, Masks Off - I Am Because We Are"
Brian Yontz, Wittenberg University Department of Education
Julius Bailey, Wittenberg University Department of Philosophy
Tuesday, September 1, 2020, Opening Convocation
"Masks On, Masks Off - I Am Because We Are"
Brian Yontz, Wittenberg University Department of Education
Julius Bailey, Wittenberg University Department of Philosophy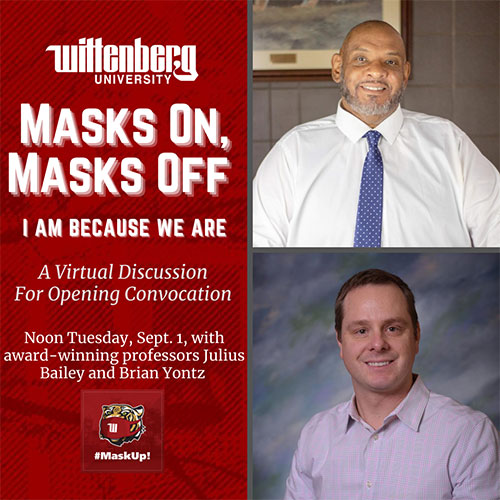 Wittenberg University will present its annual Opening Convocation at 12 p.m. Tuesday, Sept. 1, with award-winning professors Julius Bailey and Brian Yontz engaged in a virtual dialogue titled "Masks On, Masks Off: I Am Because We Are." Due to COVID-19, this year's traditional kick-off of the new academic year will occur in a video format that will include pre-recorded remarks from President Michael Frandsen, Provost Michelle Mattson, and Vice President of Student Development Casey Gill, in addition to the discussion between Bailey and Yontz. David and Carol Matevia Endowed University Pastor Andy Tune will offer the invocation.
The Opening Convocation video will be shown in all First Year Seminars (FYS) at 12 p.m. Tuesday. The entire Wittenberg community and the general public are invited to view the video at that time or later at this link.
Recipient of the 2014 Omicron Delta Kappa Faculty Excellence in Teaching Award, Bailey, associate professor of philosophy, is the author of five books including Racism, Hypocrisy and Bad Faith: A Moral Challenge to the America I Love (Broadview Press, 2020) and the award-winning Racial Realities and Post-Racial Dreams: The Age of Obama and Beyond (Broadview Press, 2015). A Christian existentialist, cultural critic, social theorist, and diversity lecturer, he discusses current events and social change in his recently launched podcast Straight, No Chaser that has hosted such high-profile guests as Cornel West and Eddie Glaude. Bailey also serves as the director of the justice, law, and public policy minor, director of the African and Diaspora Studies program, and pre-law advisor.
Yontz, associate professor of education and chair of the department of education, received the 2020 Alumni Association Award for Distinguished Teaching, the top faculty prize at Wittenberg, and the Excellence in Community Service Award at Wittenberg in 2019. He teaches courses in education policy, urban education, and foundations of education at the graduate and undergraduate level and is the author of multiple peer-reviewed articles and book chapters. He serves as a faculty athletics representative and is a trustee for the Ohio Association of Colleges of Teacher Education (OACTE).
Tuesday, January 19, 2021, MLK Virtual Convocation
Ericka Huggins, a human rights activist, poet, educator, Black Panther leader, and former political prisoner, will present this year's Martin Luther King Jr. Convocation from 12 to 12:50 p.m. Tuesday, Jan. 19, 2021, virtually this year as students return to campus for the spring semester. Click here to learn more about the speaker. Virtual Convocation embedded below.
Wittenberg also celebrated the life and legacy of Martin Luther King Jr. through a comprehensive series of virtual presentations on Tuesday, Jan. 19, and Thursday, Jan. 21. Click here to learn about the presentations.
---
All Wittenberg Series events are admission-free. Doors open 30 minutes prior to the beginning of each lecture or performance. All facilities are accessible without climbing stairs. Audio-description services and interpreters will be provided with 72-hour notice prior to each event.
---
Wittenberg Series Archives