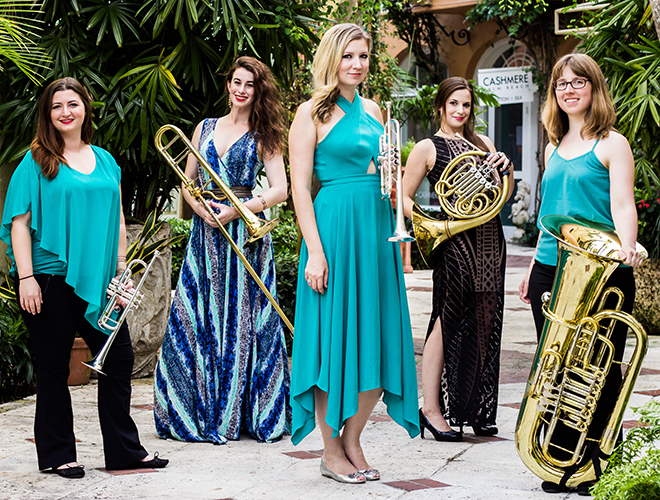 Concert
Performer: Seraph Brass
Sept. 25, 2017, 7:30 p.m.
Weaver Chapel
All Wittenberg Series events are admission-free. Doors open 30 minutes prior to the beginning of each lecture or performance.
Seraph Brass is a dynamic brass quintet drawing from a roster of America's top female brass players. Committed to engaging audiences with captivating programming, Seraph Brass presents a diverse repertoire that includes original transcriptions, newly commissioned works and well-known classics.
Recently, Seraph Brass commissioned and premiered "Wolf" for solo soprano and brass quintet from Philadelphia-based composer Joseph Hallman and has had several arrangements made by trumpeter Jeff Luke and composer Thomas Oltarzewski. Seraph Brass will commission and premiere new works by American composers Rene Orth and Catherine McMichael this season.
Current members of Seraph Brass include trumpeters Mary Elizabeth Bowden, Amy McCabe, Raquel Rodriquez, Katie Miller and Rachel Duncan; trombonists include Alexis Smith and Donna Parkes; on the horn are Katy Ambrose and Rachel Velvikis, while Beth McDonald plays the tuba.
The group has performed with such esteemed ensembles as the New York Philharmonic, San Francisco Symphony, the Philadelphia Orchestra, Musicians from Marlboro, the Luzern Music Festival in Switzerland, National Symphony, Brass Band of Battle Creek, Royal Scottish National Orchestra, Daejeon Philharmonic in Korea, and the Auckland Philharmonia in New Zealand.
Members hold positions in the Richmond Symphony, the Louisville Orchestra, Sarasota Opera Orchestra, the Artosphere Orchestra, New Chicago Brass, Tennessee Tech University, and the University of Virginia.
Enthusiastic about education, Seraph Brass has developed strong relationships with Venezuelan "El Sistema" programs in Philadelphia and Washington, D.C., performing fundraising concerts for Play-On Philly! and Bridges: Music Through Harmony. The group often teaches master classes at several esteemed universities. Members of Seraph Brass performed with Adele on her 2016 tour.