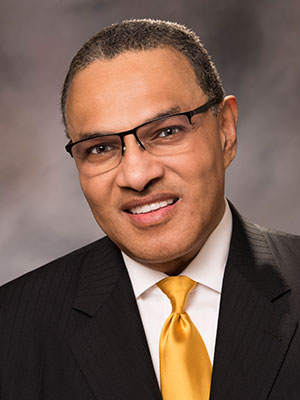 Martin Luther King Jr. Convocation
Speaker: Freeman A. Hrabowski III, President of the University of Maryland, Baltimore County
National Consultant on Science and Math Education
Title: "Holding Fast To Dreams: A 50-Year Experiment In American Higher Education"
Monday, January 20, 2020
Event Times:
11:15 a.m., Weaver Chapel
2:45 p.m., Q&A, 105 Joseph C. Shouvlin Center for Lifelong Learning
Named one of the 100 Most Influential People in the World by TIME magazine in 2012, Freeman A. Hrabowski III has served as president of the University of Maryland, Baltimore County (UMBC) since 1992.
Under his leadership, UMBC has become known for its success in preparing students of color for graduate school and careers in the STEM fields.The Myerhoff Scholars Program, which he co-founded in 1988 to support underrepresented minorities in those fields, has graduated more than 1200 students. U.S. News & World Report has ranked the university as the nation's No. 1 up-and-coming university six times from 2009 to 2014 and as one of the top ten most innovative national universities four times (2015-2018).
Hrabowski himself has been recognized many times for his skills and accomplishments as a leader. The Washington Post and the Harvard Kennedy School's Center for Public Leadership listed him among their Top American Leaders in 2011, TIME magazine included him among America's 10 Best College Presidents in 2009, and U.S. News & World Report named him one of America's Best Leaders in 2008.He also holds honorary degrees from more than 40 institutions, among them Harvard, Princeton, Duke, the University of Michigan, Johns Hopkins University, and Georgetown University.
A national consultant on science and math education, Hrabowski was selected by President Barack Obama to chair the President's Advisory Commission on Educational Excellence for African Americans. He also served as chair of the National Academies' committee that produced the report Expanding Underrepresented Minority Participation: America's Science and Technology Talent at the Crossroads (2011).
As a child, Hrabowski was inspired by Martin Luther King Jr. to join the 1963 Civil Rights March in his hometown of Birmingham, Alabama, where his participation resulted in five days in a juvenile detention center. Featured in Spike Lee's 1997 documentary, Four Little Girls, about the bombing of Birmingham's16th Street Baptist Church, Hrabowski also recounts his experiences in the civil rights movement in his latest book, Holding Fast to Dreams: Empowering Youth from the Civil Rights Crusade to STEM Achievement (Beacon Press, 2015).
He earned an M.A. in mathematics and a Ph.D. in higher education administration and statistics from the University of Illinois at Urbana-Champaign