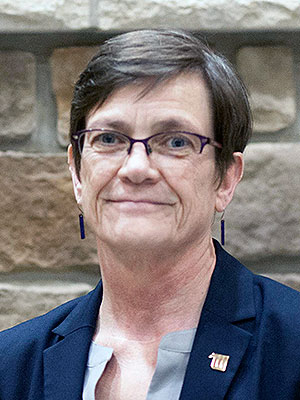 Speaker: Michelle Mattson
Wittenberg University Provost
Title: "The Roads Home"
Tuesday, August 27, 2019
11:45 a.m., Weaver Chapel
Passionate about improving student learning and institutional effectiveness, Michelle Mattson began her tenure as Wittenberg's provost on July 1, 2019. In this role, Mattson serves as the chief academic officer for the university, providing academic leadership and fostering collaboration across the campus in areas that affect the academic life of the institution.
Mattson previously served as associate vice president of academic affairs for institutional effectiveness at Rhodes College in Memphis, Tennessee, where she was responsible for assessing institutional outcomes and reviewing the general education curriculum. She also has experience in enrollment management, budget oversight, and faculty oversight, having served as the associate dean of academic affairs at Rhodes College from 2014-2018.
In 2017-2018, Mattson was selected to participate in the Senior Leadership Academy offered by the Council of Independent Colleges (CIC) and the American Academic Leadership Institute (AALI), a yearlong program that aims to provide mid-level administrators in higher education with the knowledge and skills needed to advance in their careers.
Mattson joined the faculty at Rhodes College in 2004 as an associate professor in the department of modern languages and literatures, teaching courses in German language and composition, German cinema, and German fairy tales, and rising to full professor in 2011. As department chair from 2004-2010, she promoted program development and created a common understanding of mission among the department's six language sections. She previously held teaching positions at Iowa State University and Columbia University, among others.
As a German studies scholar, Mattson has had a range of research interests, including German women writers, German media, and feminist ethics. She is the author of two books, Mapping Morality in Postwar German Women's Fiction: Christa Wolf, Ingeborg Drewitz, and Grete Weil (Camden House, 2010) and Franz Xaver Kroetz: The Construction of a Political Aesthetic (Berg Publishers, 1996), and co-editor with Michael Geisler of Changes in the German Media Landscape, a special issue of New German Critique, 78 (Fall 1999).
Mattson earned a B.A. in German and Latin from the University of Minnesota Twin Cities and both a master's in German studies and humanities and a doctorate in German studies from Stanford University.