Welcome to the Tiger Tank, where entrepreneurial students have the opportunity to pitch their business ideas to select Wittenberg alumni, who may hold the key to their future. What's your next big idea?
Tiger Tank 2020
Founders Pub, Benham-Pence Student Center
7 p.m. Wednesday, Feb. 5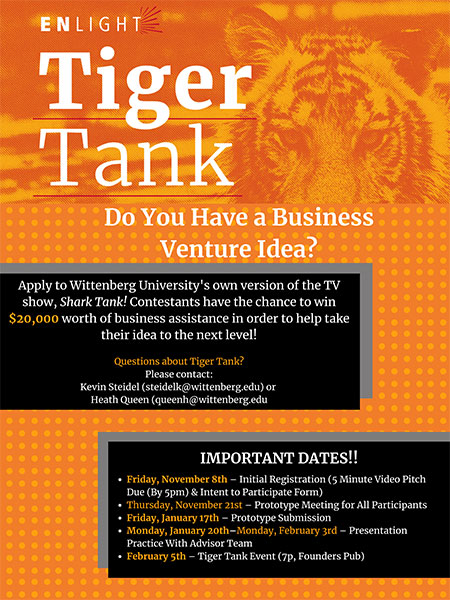 Affirmed by Forbes Magazine as one of the Top 50 Most Entrepreneurial Colleges in the nation, Wittenberg inspires innovative thinking in its students, which will again be on display during the university's third annual Tiger Tank event, Feb. 5.
Hosted by the Department of Business, Wittenberg's version of the popular Shark Tank program begins at 7 p.m. at Founders Pub, on the lower level of the Benham-Pence Student Center. The event will feature three judges with a background in entrepreneurship and business.
Important Dates
News & Media
To Learn More About Tiger Tank, Contact Our Co-Directors