Homecoming is fast approaching, and once again Wittenberg University is expecting a large and enthusiastic crowd throughout the weekend. With construction underway on the new Health, Wellness and Athletics facility, parking will be at a premium for this year's event.
Below please find the most recently created campus map (click on image for printable map). Beneath that, more parking information / restrictions for Homecoming can be found.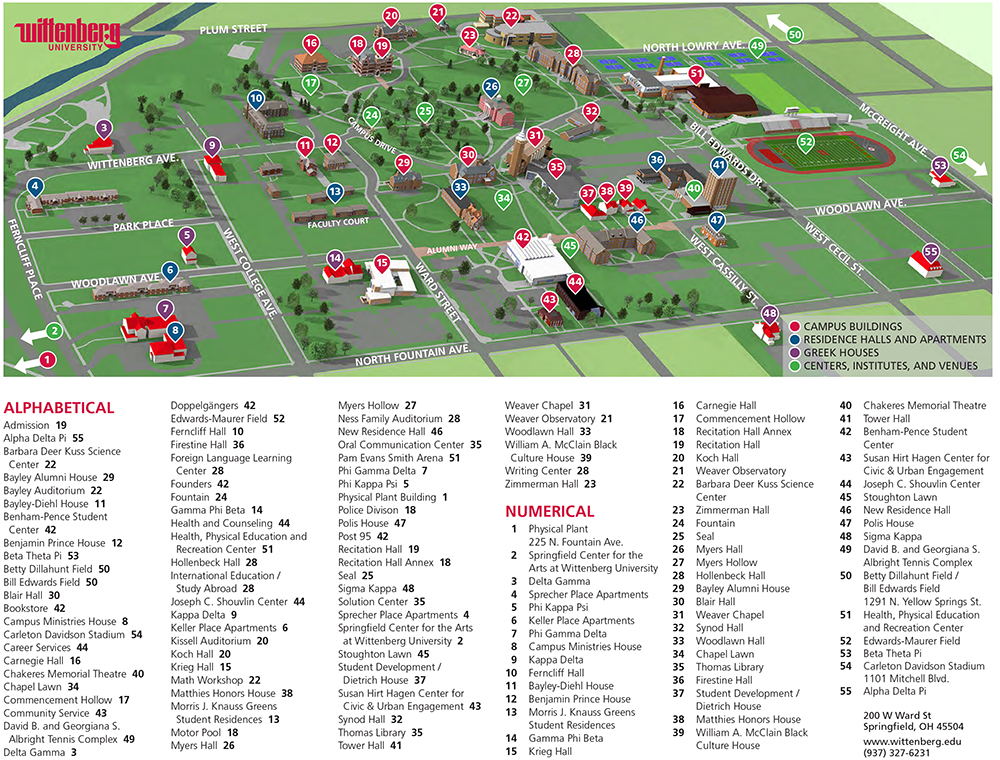 Campus parking lots that will be open to visitors during Homecoming:
Carnegie Hall Lot (behind building marked 16)
Recitation Hall Lot (behind buildings marked 18 / 19)
Krieg Hall Lot (alongside building marked 15)
Student Center Lot (alongside buildings marked 42 / 43 / 44)
Kuss Science Center Lot (across from building marked 22)
In addition, parking throughout the weekend is available at Mercycrest, located on McCreight Avenue to the north of Edwards-Maurer Field. On the map above, the number 54 (directing visitors to Carleton Davidson Stadium) is placed on the approximate location of the Mercycrest Parking Lot.
East Campus Drive will be blocked off to allow for various Homecoming activities. In addition, the parking lot alongside Synod Hall (building marked 32) and across Bill Edwards Drive from the HPER Center (marked 51) will be restricted (unavailable to the general public). The parking lot behind Hollenbeck Hall (building marked 28) will also have restricted access (unavailable to the general public).
Questions? Concerns? Contact the Office of Alumni Engagement via email at alumni@wittenberg.edu