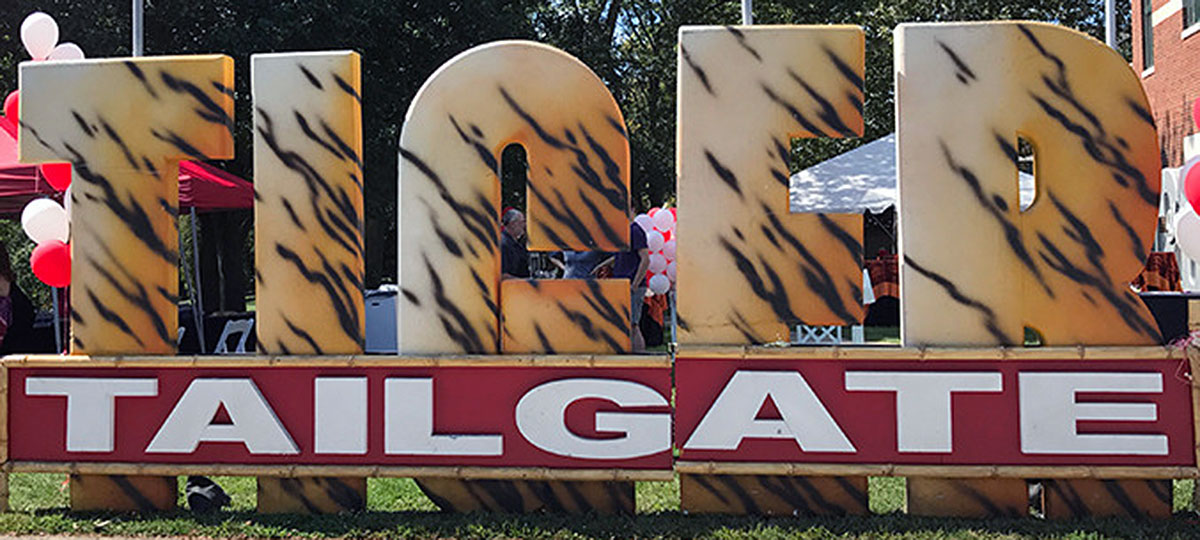 Enhance your Tiger experience this Homecoming by purchasing a tailgate pass for you and your group.
Your tailgate pass includes one 15 x 15-tailgate area, and a parking pass—tents not included. Limited tailgate passes are available so please register your group today!
Traditional tailgating will begin at 10 AM on Saturday, October 26 and last through the football game.
8:00 AM Tailgaters may enter the tailgate area for set up.
*Please check your email for information about the best point of Tailgate entry for your spot(s).
10:00 AM Tailgate begins and East Campus Drive is closed for pedestrian traffic only.
1:00 PM Tiger Football vs. Denison begins.
4:00 PM Tailgate closes.
Tailgate spots will be assigned and the group organizer will be notified of your location by email the week of Oct. 14. There is no limit for how many fellow alumni and friends you invite to your tailgate spot(s) but they will need to park elsewhere on campus. Two types of spots are available for purchase. (Please refer to Tailgate Map)
There are 36 combo (park at your tent) tailgate spots available for $35 per pass.
There are 23 grassy (park in assigned location) tailgate spots available $25 per pass.
The group organizer will pick up the Tiger Tailgate pass and parking pass at the Homecoming check in desk in the Student Center. Reach out to Rebekah Hart (hartr@wittenberg.edu) with any questions.
Tailgating Rules & Regulations
Tailgating will take place on East Campus Drive, located adjacent to Hollenbeck Hall. East Campus Drive will be closed to other traffic.
Parking spots may be occupied starting at 8 a.m. and must be vacated by 4 p.m.
Tailgaters must have a pass to park in the tailgating area. To receive a parking pass, please complete the registration form linked below.
Large vehicles, such as RVs and motor coaches, must be approved and spots are very limited. Pop-up tents are encouraged. Rental option is available in the Homecoming Tailgate registration form.
All Beverages must be in plastic containers, cans or glass bottles are not permitted.
Leave your parking space as you found it, trash receptacles will be provided.
Tailgating area will be staffed. We look forward to seeing everyone and hope you have a great time!
Need a pop up tent for your tailgate area?
Indicate that you'd like to rent a tent from Grand Rental when you register your group. All pop up tents rented through the Tailgate registration form will be set up and taken down for you.
Need a banner for your tailgate area?
Contact Homecoming Tailgate Committee member, Gene Simone '77
(937) 477-6744
gsimone@eatonform.com
| | | |
| --- | --- | --- |
| Register for Tailgate | Tailgate FAQ | Tailgate Map |