Peace Corps recently announced that Wittenberg University ranked No. 16 among small schools on the agency's list of top volunteer-producing colleges and universities in 2020. There are 10 Wittenberg alumni currently volunteering in countries around the world.
Wittenberg returns to the list of top volunteer-producing colleges and universities after an absence of more than 15 years. The last time Wittenberg appeared on the list was 2004, when it ranked No. 22.
"These schools are institutions that emphasize being global citizens and service-minded students,"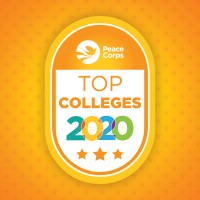 said Peace Corps Director Jody Olsen. "I am excited to know the graduates coming from Peace Corps' Top Colleges are using their skills to make a positive impact on their communities at home and abroad."
Since the agency's founding in 1961, more than 230 alumni from Wittenberg have served abroad as Peace Corps volunteers. Wittenberg offers undergraduates the opportunity to participate in the Peace Corps Prep program, which prepares students for international service after graduation through targeted coursework, volunteer opportunities, and mentoring.
Kaitlyn Mansoorieh graduated from Wittenberg in 2015 and served as a water sanitation and hygiene volunteer in Panama from 2016 to 2019.
"I knew I wanted to serve since I was 14, and choosing Wittenberg was a step in helping me achieve this goal because of the university's dedication to public service. Studying abroad through the Witt in Wittenberg program allowed me to broaden my international and intercultural experience, preparing me for my three years of service in the Peace Corps." Mansoorieh said.
Justin Unternaher, who graduated in 2019 with a degree in biochemistry and molecular biology with a minor in justice, law, and public policy, is currently serving in Lesotho as an HIV/AIDS and adolescent health volunteer. His assignment began Sept. 24, 2019 and will run through Dec. of 2021.
"I first heard about Peace Corps from some of my high school teachers, but I seriously never thought about it until speaking to Dr. (Scott) Rosenberg (professor of history and the H. Orth Hirt Chair in History) and attending the Lesotho Service-Learning trip in the summer of 2017," said Unternaher, from Newark, Ohio, who was busy during his time at Wittenberg as a member of Union Board, Student Senate, the Lesotho Nutrition Initiative and Beta Theta Pi. He also spent time as a teaching assistant, a stockroom worker for the chemistry department, and as a Tiger Health Educator. Currently Unternaher is looking to enroll in graduate school upon returning to the states to pursue a master's degree in public or global health and then a Ph.D. program for epidemiology.
"After spending a month in the country (Lesotho), I had a calling of wanting to learn more about the Basotho culture and lend a helping hand to such amazing people," he added.
The Peace Corps ranks its top volunteer-producing colleges and universities annually according to the size of the student body.
Wittenberg also holds another distinction with the Peace Corps. In 2010, the University signed an agreement with the Peace Corps, becoming only the second liberal arts college in the United States at the time to offer a Peace Corps Preparation Program.
About the Peace Corps:
The Peace Corps sends Americans with a passion for service abroad on behalf of the United States to work with communities and create lasting change. Volunteers develop sustainable solutions to address challenges in education, health, community economic development, agriculture, the environment and youth development. Through their Peace Corps experience, volunteers gain a unique cultural understanding and a life-long commitment to service that positions them to succeed in today's global economy. Since President John F. Kennedy established the Peace Corps in 1961, more than 240,000 Americans of all ages have served in 142 countries worldwide. For more information, visit peacecorps.gov and follow us on Facebook, Instagram and Twitter.