John Shumate, Wittenberg class of 1999, recently became the new vice president of marketing at Eastbay and will be responsible for overseeing all marketing efforts and leading all sales and brand initiatives for the Eastbay brand.
A division of Foot Locker, Eastbay is a digital marketing-led supplier of athletic footwear, apparel and sports equipment. Shumate, known for building successful brands in the marketing world, is relocating with his wife, Shana, and twin boys, Jackson and Chase, from New York to Wisconsin.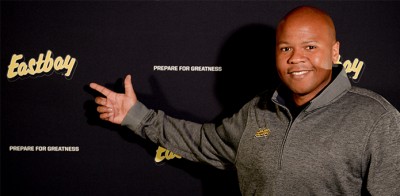 Bringing experience from the North American Beverages, a division of PepsiCo, where he was responsible for leading the strategy and innovation agenda for the Aquafina and LIFEWTR brands, Shumate has fully embraced Wittenberg's active, engaged learning environment in his life and work. He set the strategic direction and innovation agenda for Aquafina and LIFEWTR, partnering with cross-functional teams that drove unprecedented growth for those brands.
"My 11 years at PepsiCo was the best years of my life," Shumate said. "It was truly an honor and a privilege to work with some of the best and brightest marketers in the world at PepsiCo. I was fortunate enough to get an opportunity of a lifetime to work for a brand that I have admired for my entire life. Eastbay provides athletes an unrivaled selection of athletic gear, and my passion for serving and preparing athletes for greatness drew me to this opportunity. I am thrilled to be a part the Eastbay brand and Foot Locker Inc."
Prior to taking over Aquafina and LIFEWTR accounts, Shumate managed the Gatorade brand, directing the G series portfolio and focusing on the company's innovation platform. Additionally, he supervised cross-functional teams in driving and executing brand initiatives, devised marketing strategies, promotions and branded content, and led Gatorade brand partnerships, including all National Football League (NFL) properties comprised of 32 pro teams, NFL Players Inc., and such NFL athletes as Cam Newton and J.J. Watt. The portfolio also included 28 universities and the College Football Bowl Series.
A high-visibility brand builder for world-class corporations, Shumate has also developed and managed partner alliances with the National Basketball Association, Major League Baseball, the National Collegiate Athletic Association and Live Nation properties, as well as celebrities, athletes and entertainers.
Looking back, Shumate said his Wittenberg experience played an integral part of his successful career.
"My experience as president of Union Board was a huge part of what led me down the current path I am on," he said. "Leading a large organization of students and managing a six-figure budget while in college was an experience of a lifetime. Having the opportunity to develop strategy and execute it for a campus organization was a once-in-a-lifetime experience. I was able to gain a strong understanding of how to lead and manage people, develop strategy and business plans, manage a large budget, as well as market and drive revenue for the organization. Union Board was one of the best experiences of my life."
"I chose to study at Wittenberg University because of its strong academic reputation and focus on supporting and developing students to become leaders," he said. "Through my classwork and extracurricular activities, Wittenberg gave me the opportunity to develop the critical skills to become the marketing leader I am today. I aspire to continue to develop leadership capabilities to one day be the CEO of a Fortune 500 company."
A proud alumnus, Shumate was also actively involved with several other organizations while a student at Wittenberg where he majored in business administration. A member of the Xi Chi chapter of the Alpha Phi Alpha fraternity, he held leadership positions on the Student Senate, Student Appellate Board and actually started Witt Fest back in 1998, an event that is still going strong today. Shumate later went on to earn his M.B.A. from Florida Atlantic University in Boca Raton, Fla.