Capping off a day-long Celebration of Learning at Wittenberg University, the campus community came together to celebrate the achievements of students and faculty members alike at the annual Honors Convocation, Friday, April 6, in Weaver Chapel. The faculty commemorated the occasion in full academic regalia as the university recognized high achievement of students and faculty members in academic and co-curricular activities.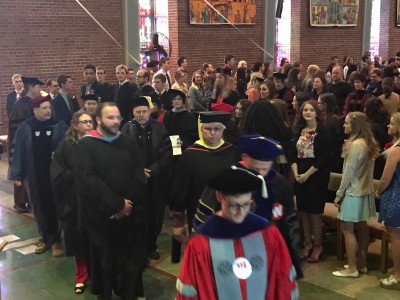 During the ceremony, the 2018 Alumni Association Award for Distinguished Teaching was presented by Wittenberg Board member and Alumni Board member Eric Rusnak, class of 2000, to Associate Professor of Mathematics Adam Parker. The award was established in 1960, and it is the highest recognition Wittenberg bestows on its faculty. It is accompanied by a stipend of $2,000. Candidates must have taught at Wittenberg for more than five years and are nominated by students, alumni, faculty and staff.
Assistant Professor of Mathematics Alyssa Hoofnagle was recognized for her work during the Honors Convocation with the Omicron Delta Kappa Faculty Excellence in Teaching Award.
Wittenberg was also proud to announce that Kailey E. Mau, Huron, Ohio, is a U.S. Fulbright winner. She will be an English teaching assistant in Germany. Kayla Johnson, Urbana, Ohio, and Sierra L. Mazurowski, Munroe Falls, Ohio, were also accepted to the JET (Japanese and Exchange Teaching) Program.
Additionally, Rachel Wallace, Cincinnati, Ohio, was named Alma Mater, an honor bestowed upon a junior woman on the basis of character and integrity, service to the community, concern for others and high standards of scholarship. Charles Samuel, Lihue, Hawaii, was named Alma Lux, an honor bestowed upon a junior male student who possesses qualities of leadership, scholarship and service.
Kathryn G. Ophardt, Canton, Ohio, received the Heimtraut Dietrich Award, which was established in 1981 to recognize the student who best emulates the spirit of the late associate dean of students' devotion to Wittenberg through faith and service.
The M. Alice Geiger Award was presented to Madeline Y. Bones, San Jose, Calif. The award, named for Wittenberg's first woman graduate, recognizes a senior woman for outstanding contributions to the campus in the areas of performing or literary arts, athletics, co-curricular leadership, new programming, special academic pursuit or through special representation at any time during her college career.
The John F. Mitchell Award, honoring the senior man who best represents the liberal arts tradition at Wittenberg, was presented to Tyler A. Begg, Columbus Grove, Ohio. The award goes to a top student who is a positive force in academic, cultural and social aspects of the campus.
The Alpha Delta Pi Scholarship Award, created in 1990 by the Springfield Alumnae Association and Chi Chapter of Alpha Delta Pi sorority, recognizes two junior women, one Greek and one non-Greek, who best exemplify the characteristics consistent with the ideals and goals of the sorority. This year's recipients are Cassie M. McLean, Springfield, Ohio, (non-Greek) and Rachel E. Porrello, Lewis Center, Ohio, (Greek).
The Charles E. Chatfield Global Awareness Award, instituted in 1992, recognizes seniors who contribute to greater global awareness within the Wittenberg University community. This year's recipient is Sierra L. Mazurowski, Munroe Falls, Ohio.
The Charles J. Ping Student Community Service Award is presented in recognition of outstanding leadership and ability to meet the needs of the community by working in partnership with members of the community. It recognizes the student's effort to create an organization to lead and to involve others. Ohio Campus Compact, a statewide membership organization that serves to promote community service initiatives at colleges and universities, sponsors this award. This year's recipient is Jack D. Smith, Cincinnati, Ohio.
Mecca A. Abdul-Aziz, West Chester, Ohio, and Brandon Z. Daniels, Cincinnati, Ohio, were the recipients of the Martin Luther King Jr. Award for positive examples to members of the African American community and to the university.
Rachel E. Littleton, Springfield, Ohio, received the Broadwell Chinn Award, named for one of the first African American students to enroll at Wittenberg in the 1870s. The award honors the student holding the highest grade point average among African American juniors.
Alpha Lambda Delta Senior Award was presented to Abigail R. King, Springfield, Ohio, and Samantha M. Digiacomo, North Canton, Ohio, and a Phi Eta Sigma Senior Award was presented to Joseph T. Sechrist, Whitehouse, Ohio.
Presidential Scholars, named for former presidents of Wittenberg, are the junior students having the top 14 grade point averages of their class. Those students are Karen A. Wildemann, Columbus, Ind.; Kierstin G. Conaway, Logan, Ohio; Kelly K. Heitkemper, Maineville, Ohio; Sierra K. Sanchez, Franklin, Ind.; Christian R. Randazzo, Dover, Ohio; Allison N. Learman, Ann Arbor, Mich.; Nathan T. Matthews, Gahanna, Ohio; Cassie M. McLean, Springfield, Ohio; Anne K. Dowell, Hudson, Ohio; Anna E. Fox, Medina, Ohio; Donald C. Hefelfinger, Mason, Ohio; Sierra N. Sandy, Dover, Ohio; Katherine R. Robinson, Beavercreek, Ohio; and Lauren C. Hiller, Naperville, Ill.
The Dominic E. and Alyce G. DeMarco Award is a scholarship given for academic excellence and distinguished service to those living on the margins of society. It is awarded to the senior with a GPA of at least 3.5 who has demonstrated and will continue to demonstrate a commitment to serving those persons who live on the margins of society, the sick, the material poor, the displaced, the homeless and the elderly. This year's recipient is Hannah E. Kesig, Canal Winchester, Ohio.
Introduced in 2009, the Lillian C. Franklin Diversity Award is granted each year to honor a student and a faculty/staff member who have made outstanding contributions in promoting and furthering our goal of rich diversity in the Wittenberg community. Candidates must uphold the tradition of diversity embodied by the award's namesake, demonstrate high standards of personal integrity, commitment to the education of the whole person, global vision and leadership. The 2017 student recipient is Madeline C. O'Malley, Columbus, Ohio, and the faculty/staff recipient is Associate Professor of Sociology Brooke M. Wagner.
Finally, the Lou Laux Environmental Sustainability Award was presented to Kathryn R. Nydegger, Hilliard, Ohio, and David Finster, professor of chemistry.
The Community Service Champion Award recognizes an individual's commitment to service, the quality of that service, and its positive impact on the City of Springfield and Clark County. It is not merely the hours of service, but the impact on the quality of life in the Springfield community that is most important. This year's recipients are students Elizabeth J. McNeill, Clinton, Ohio, facuand Jessica K. Walters, Springfield, Ohio.
Brooke M. Wagner was presented with the Excellence in Community Service Award.
Four seniors have a 4.0 grade point average and they are Kattie M. Blume, Huber Heights, Ohio, Samantha M. DiGiacomo, North Canton, Ohio; Abigail R. King, Springfield, Ohio, and Daniel J. Malone, Springfield, Ohio.