Troy Boucher, Class of 2019
Major: Accounting and Finance
Hometown: Columbus, Ohio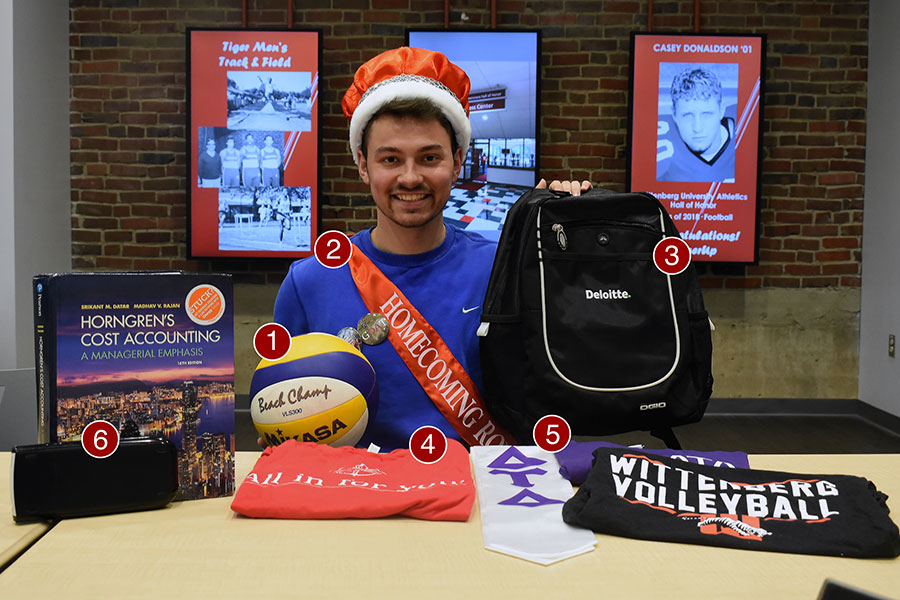 1. Volleyball
Volleyball was one of the main reasons why Troy decided to attend Wittenberg. After having his most rewarding season winning the regular season conference, Troy is excited to graduate in the first class of Wittenberg's men's volleyball.
2. Homecoming Crown and Sash
Troy was awarded homecoming king in the fall and felt incredibly honored to have been nominated by faculty and staff.
3. Deloitte Backpack
After graduation, Troy will be working with Deloitte accounting firm.
4. Orientation Assistant Shirt
For two years, Troy worked as an Orientation Assistant for incoming freshman. He enjoyed the experience and was able to meet people he would have not met before.
5. Delta Tau Delta Sash
Troy joined Delta Tau Delta his freshman year in order to met people outside of volleyball. He believes that being in the fraternity has been one of his biggest identities on campus. After helping build the organization up, he is proud to say that they are now ranked top 20 in the nation.
6. Calculator and Accounting Book
These represent Troy's accounting and finance major. Since freshman year when he declared this major, he has received tremendous help from professors John Fenimore and Lindsay Meermans.
Compiled by: Mallory Moss '20
Photo by: Megan Nadzam '22