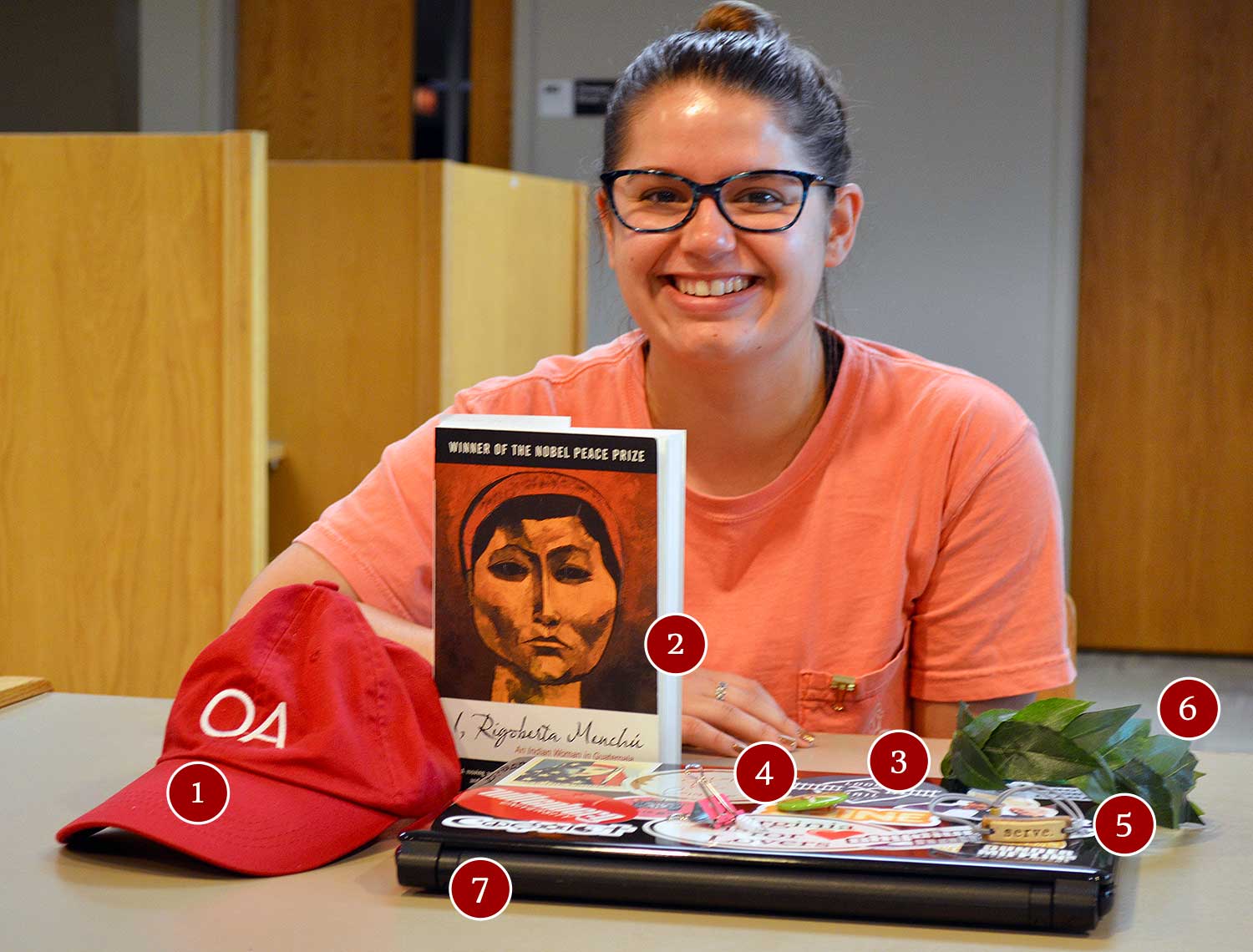 Hannah Kesig, Class of 2018
Major: Communication & Spanish
Hometown: Columbus, Ohio
1. OA hat
Hannah was an Orientation Advisor (OA) during her junior year. The peer mentor she had during her own New Student Days passed this hat down to her and inspired her to become an OA and peer mentor as well, an experience she has really enjoyed.
2. Spanish book
Rigoberta Menchu, author of I, Rigoberta Menchu: An Indian Woman in Guatemala, has inspired Hannah to work with immigrants and refugees.
3. Gamma Phi Beta pearls
Hannah has loved being a part of Gamma Phi Beta sorority. "I have met many amazing and inspiring women I am happy to call friends," she says.
4. Girls on the Run pin
Hannah has had the pleasure of working with Girls on the Run, her sorority's philanthropy. Through volunteering with them, she has met many great girls who have shown her how to be a positive mentor in kids' lives.
5. Serve bracelet
After participating in a Habitat for Humanity service trip and working as an interpreter with different immigrant families, Hannah has become passionate about serving others. This bracelet with the word "serve" on it is a constant reminder about the positive things she has done for others and will continue to do in the future.
6. Laurel reed
The laurel reed represents Hannah's communication major as she received the Laurel in Communication this year.
7. Laptop
Hannah uses her laptop every day for just about anything. Like most Wittenberg students, she never leaves her room without it.
Compiled by: Mallory Moss '20
Photo by: Kalle Young '20