President Michael L. Frandsen has announced that Rebecca Kocher, associate vice president for alumni relations, annual giving and development operations at Bowling Green State University (BGSU), will serve as Wittenberg's new vice president for advancement and alumni engagement. Kocher is expected to begin her new responsibilities on July 15.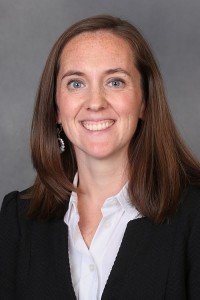 "Rebecca brings to Wittenberg an incredible passion for developing, implementing, and analyzing strategies to expand a university's donor base, as well as extensive experience in relationship-building and cross-divisional collaboration, all within a metrics-driven environment," Frandsen said. "Feedback following her visit affirmed all these attributes and more, and I look forward to having her join the senior leadership team."
With more than 13 years of experience in higher education fundraising, Kocher has been instrumental in driving BGSU toward campaign success with $149 million already raised toward a $200 million comprehensive campaign goal. In her current role she has strengthened advancement operations, led major gift strategy, aligned annual giving and alumni efforts with campaign goals, increased giving and engagement across all segments, improved board functionality and accountability, developed partnerships with senior leaders across all areas of campus including the president, provost, deans, student affairs, and athletics, and managed a diverse University Advancement team of 30-plus development professionals.
Described as an innovative leader, Kocher understands and embraces the value of creating a metric-driven environment and brings a proven track record to Wittenberg that includes high levels of accountability and a high-touch modeling method. At BGSU, Kocher managed a portfolio of 80-plus major gift and leadership annual giving donors and prospects, and through her leadership, the University Advancement team raised more than $25 million last fiscal year while increasing alumni participation.
Prior to joining BGSU, Kocher spent three years at Albion College in the Office of Institutional Advancement, where she led annual giving efforts, exceeding the fund's $2.5 million goal for two consecutive years. In addition, she concurrently managed annual giving and parent engagement teams, managed a portfolio of prospects with cumulative giving to Albion College of more than $1 million, and expanded giving programming to include: Reunion Giving, Influential 20s (young alumni), Class Agents, and the Lux Fiat Circle (leadership annual giving). She also increased leadership unrestricted giving by 31 percent through the Lux Fiat Circle program in just one year.
Kocher, who earned her B.A. in speech communication with a minor in German from Edinboro University of Pennsylvania, also worked at the Office of Advancement at the University of Mary Washington from 2005 to 2011 where she was responsible for program development for all Parent Giving and Engagement. During her time in this role, parent participation increased by 24 percent. Additionally, she managed a portfolio of 100-plus top parent prospects while securing major and leadership annual gifts.
"I am proud to join a university that is so committed to its students, faculty, staff and alumni," Kocher said. "Wittenberg has always had a strong reputation, and I'm excited to be a part of the Wittenberg family as we work together to further build a culture of engagement and philanthropy."