Seniors will take the spotlight Saturday as they cross the stage for Wittenberg University's 169th Commencement exercises, May 11, in picturesque Commencement Hollow, where members of the university community will celebrate the nearly 400 degree candidates that comprise the Class of 2019.
One of the happiest seniors this year might be Irene Bilal-Engle, who at age 78 and by all records searched, looks to be the oldest graduate ever to earn her diploma at Wittenberg.
Bilal-Engle, a non-traditional student enrolled in Wittenberg's Graduate and Professional Studies program, is set to receive a degree in history with a minor in archeology. She has been pursuing her dream of being a college graduate on and off for more than eight years. Originally from Chicago, she came to Springfield in 1984 and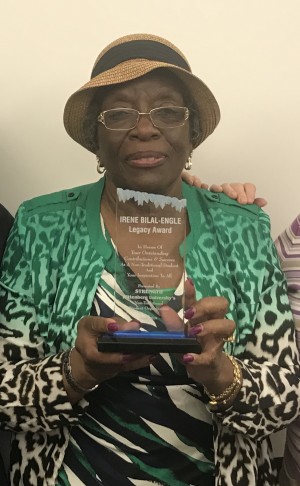 worked at International Harvester for 45 years as a member of its clerical staff. While she always wanted a college degree, she just couldn't find the time to finish as life happened with marriage and raising a family. She plans to put her degree to good use by volunteering in the pre-school classes at the Masjid An-Nur Islamic Center in Springfield.
"I like people, and I like to help," said Bilal-Engle, who was 70 when she first came to Wittenberg. "I want to teach general education and life skills. I want to go back to the basics to teach children about life and how to be human to others, show love and appreciation, be respectful and respect ourselves. I want to teach them that we should all be one people and that everyone should just do the best they can to be more likeable. I'm so grateful to Wittenberg. The young people here have been so courteous and so kind. It has been a great experience. One of the reasons I'm able to graduate is because of all the encouragement and help of the other students and faculty. It's been a privilege to graduate and help others. I'm so thankful to finally be walking across the stage."
Bilal-Engle has six children, including two stepchildren, 16 grandchildren and 16 great grandchildren. All of her children went to college. She has also been active on campus as a member of Alpha Sigma Lambda, Phi Alpha Theta, and Phi Theta Kappa honor societies; as a founding member of STRENGTH, Wittenberg's non-traditional student organization; and a member of Concerned Black Students, the Wittenberg Investment Club, the Archaeology Club and the History Club. STRENGTH recently presented her with an award for her inspiration and dedication. Moving forward the award will be given out annually and named in her honor as the Irene Bilal-Engle Legacy Award.
Numerous events are also on tap this weekend to honor Wittenberg graduates. Prior to Commencement, the Class of 2019 will hold its Baccalaureate service on Friday, May 10. Pre-service music will begin at 1:45 p.m., with the ceremony starting at 2:15 p.m.
The entire campus community, parents and friends are invited to attend this service. The Baccalaureate Service lasts approximately an hour. Tickets are not required, and graduates do not wear their academic regalia.
The Baccalaureate service, planned and run by members of the senior class and Matevia Endowed University Pastor Rachel Sandum Tune, is an academic and religious tradition that celebrates the upcoming Commencement festivities. The service offers seniors an opportunity to reflect on their time at Wittenberg and to look to faith as they begin the next step in their journey.
Members of the Class of 2019 will reflect on the importance of community and trust in times of change, and challenge one another to live out their callings beyond Wittenberg. Senior class president Chloe Bradburn, vice-president Karen Wildemann, treasurer Madeline Van Overbeek, and secretary Kyla McGee will offer greetings, along with Wittenberg's 15th President Michael L. Frandsen. Seniors offering reflections include Hannah Reynolds, Jacob Davis, and Corina Cleveland, as well as Atolani Victoria Ladipo and Sierra Sanchez who will offer a poem they have written. Tune will deliver the homily.
Readers include Kathleen Serio, Charles Samuel, Kathryn Nydegger, Kendra Tumbro, and Rachel Wallace. Samantha Stephens, Rachel Porrello, Christina Howard, and Zacchaeus Martin will share various prayers throughout the service.
Pre-service music will feature a piano duet by Laura Bucher and Emma Shehy, solos by Kieran Hunter on the tuba, Kathryn Nydegger on violin, Maklayne Vitovich voice, and the Imani Gospel Choir.
Special music throughout the service will be shared by seniors of the Wittenberg Choir and Wittenberg Singers, as well as Wittenberg's a cappella groups, Just Eve and the Wittmen Crew. In addition, Anna Fox will sing following the memorial candle, accompanied by Jaheem Washington '20.  Robert Hobby '85 (parent of senior Hannah Hobby), an honorary member of the class of 2014 who received an honorary doctorate of music that same year from Wittenberg and is currently the director of music at Trinity English Church in Fort Wayne, Indiana, will accompany the hymns and close the service with a postlude on the organ.
An annual tradition also includes the lighting of a memorial candle in honor of loved ones who cannot be at Commencement, or who have passed away. This year, a special remembrance of classmate and football player Miles Laboy, who died in 2016, will be offered by teammate Aikili Mosley; of Jimmy Williams, senior associate director of admissions for multicultural recruitment, who died in 2018, by Daniel Lofton; of Jimmy Humphries, associate professor of theatre and dance, teaching courses in stagecraft, theatre, and lighting, will be offered by Logan McCord and Dan Butera. Matilda Patterson will read Psalm 23 as Bernard (Brady) Fox lights the candle.
In the spirit of Wittenberg's mission: "Reflecting its Lutheran heritage, Wittenberg challenges its students to become responsible global citizens, to discover their callings, and to lead personal, professional, and civic lives of creativity, service, compassion, and integrity," the planning committee also selects the beneficiaries of the offering at the Baccalaureate service. This year, donations will be designated to four agencies, three of which are related to hunger: Wittenberg's Campus Cupboard, which provides emergency food for students, introduced by Bilal-Engle; Lesotho Nutrition Initiative, introduced by Angela Galbraith; and Church World Service, introduced by Megan Mong. The fourth recipient is Project Jericho of Springfield, which changes lives through art, introduced by Emma Shehy and Alex Hallauer.
On Saturday, P. Kay Carl, a 1959 graduate of Wittenberg and an innovative educational leader, will receive an honorary doctorate of humane letters and share a few words with the graduates during a graduation ceremony steeped in tradition in beautiful Commencement Hollow.
After earning her B.S. in education and religion, Carl spent most of her 35-year career in education working as a counselor, principal, and eventually assistant superintendent for the Clark County School District (CCSD) in Nevada during a period of phenomenal growth for the school district. As assistant superintendent for the elementary education division, she presided over 159 elementary schools and their principals and oversaw the opening of 68 new elementary schools.
First arriving in Las Vegas in 1970, Carl was a counselor for Sunset High School, the first night high school in the United States. She was later named director of the school, making history as the first female high school principal in the CCSD.
Carl was instrumental in the formation of the Clark County Counselor's Association and the Clark County Association of School Administrators. She also co-authored Education in the Neon Shadow: The First 50 Years of the Clark County School District (Stephens Press, 2009).
In recognition of Carl's influence as an educator, the Kay Carl Elementary School in Las Vegas was dedicated in her honor in 2002. She received the Wittenberg Alumni Citation in 2001 for her exceptional accomplishments in education and was inducted into the CCSD Excellence in Education Hall of Fame in 1990.
For Commencement exercises, the Myers Hall bell will toll multiple times Saturday morning to notify the campus that the ceremony will be held in its intended outdoor location at the scheduled time of 11 a.m. in Commencement Hollow. If the bell does not ring, that will be a signal that the ceremony will take place in the Health, Physical Education and Recreation (HPER) Center, with doors scheduled to open at 9 a.m. Guests should be seated at either venue no later than 10:30 a.m.
Special parking and seating have been arranged for physically disabled guests. For Commencement exercises held outdoors, physically disabled guests may enter campus before 9 a.m. through the drive on North Plum Street. A Wittenberg security officer will be at the driveway entrance to give instructions for parking and seating. In the event the exercises are held indoors, guests who are physically disabled may be dropped off in front of the HPER Center. Because of limited space in the HPER Center, seating is at a premium, so physically disabled guests may be seated with only one friend or family member.
A live online stream of the event will be available at www.wittenberg.edu/live. For additional Commencement information, visit www.wittenberg.edu/commencement
Be sure to follow a favorite Commencement tradition, #StompTheSeal, on social media, as well.