Since graduating from Wittenberg, Nancy Winters '73, executive director of the Tanzania Teaching Foundation, has helped improve English language skills for nearly 300 children, leading to improved success in secondary school. Read her story in her own words.
During a sabbatical from my environmental engineering career in 2001, I fulfilled a lifelong dream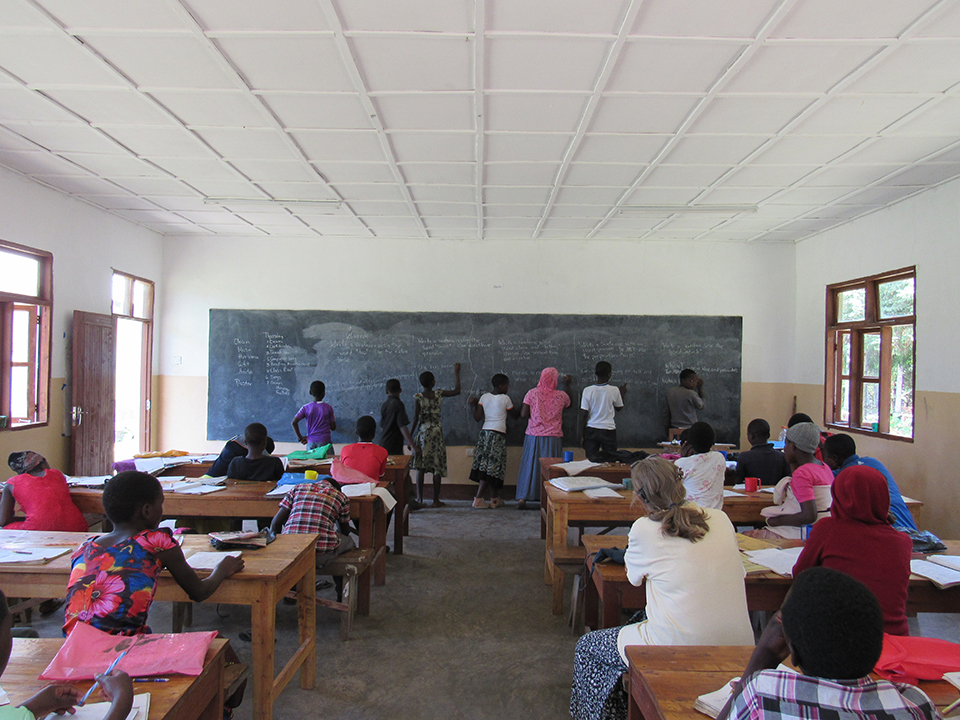 of volunteering in Africa. While serving as a biology teacher in a small village in the south-central highlands of Tanzania, I recognized that the largest hurdle to secondary education is command of the English language.   Students are taught in Swahili during primary school, but secondary school courses are instructed in English. Learning both course material and English simultaneously presents a major hurdle to their success.
In 2008, I developed a curriculum to help students overcome this hurdle. Each year I travel to this small village with two American volunteers who teach the rigorous 10-week English course (called Pre-Form 1 English) to approximately 20 girls and 20 boys prior to their entry into secondary school. Incorporating both oral and written English, as well as life skills, the seven-and-a-half-hour per day course is intense for both students and teachers – we correct about 16,000 student sentences to ensure sufficient practice.
We have achieved significant milestones since 2009, including forming the non-profit Tanzania Teaching Foundation (TTF) in 2014 and constructing a classroom building that serves as a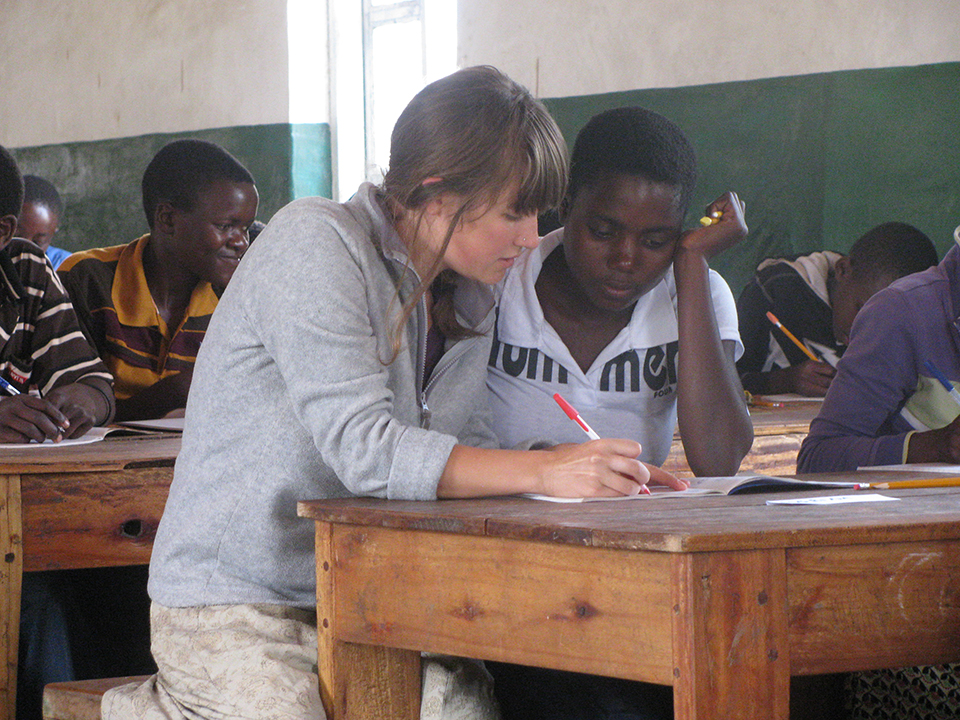 community center and pre-school when school is not in session. Most importantly, we've improved English proficiency for 293 students, enabling them to become future leaders and solve problems facing their society.
Our students come from the surrounding communities, some walking as many as 10 kilometers (six miles) each way and leaving their homes in complete darkness at 5:30 a.m. to arrive in time for class at 7:30 a.m.
The students arrive wide-eyed and anxious, not sure what to expect from these crazy "wazungu" (Westerners), and have difficulty understanding our American accents. But gradually, some bravely raise their hands to participate, and by the end of the first week, others enthusiastically follow their lead. Students experience interactive teaching methods – such as songs, games, skits, puzzles and story-writing – for the first time and learn rapidly.
Those students who are shy about asking questions in class have no trouble asking in English for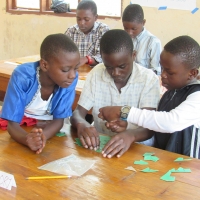 the soccer ball or jump rope at break time. By week six or seven, even the most reluctant students begin to fully participate in class and speak with us outside of class. By the end of the 10-week course, the students have increased their reading levels between one-and-a-half and two grade levels – an amazing amount of learning.
"The Pre-Form 1 course helped me to speak perfect English and helped me to understand well in the classroom because a lot of our subjects are taught in English. Now I feel comfortable and proud because I am able to communicate with different people in English," wrote Sekela, a 2009 graduate, as she was about to complete Form 6 (junior college) in the sciences.
Omega, a 2010 program graduate, received the highest score of any student in the region of more than 17 schools and 3,000 students. He is in the sciences in Form 5 (junior college) and hopes to become a doctor. Emanuel, a 2014 graduate who received the highest score of any Form 1 student in the region, plans to be a professor in the sciences.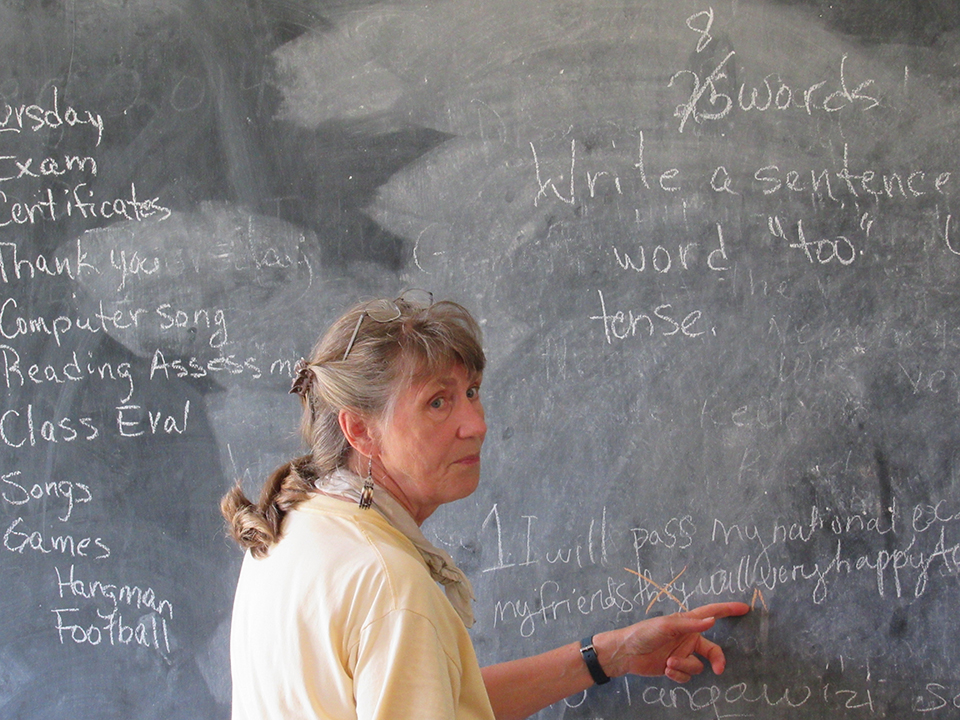 All of this work has been accomplished thanks to our supporters who, like me, believe that "giving back" to the worldwide community improves each of our lives. TTF is supported by the generosity of the greater Olympia, Washington community and Gloria Dei Lutheran Church. Funds directly support the program: daily lunches and school supplies for the students, travel and living expenses for the volunteers, and scholarships to secondary school for the best performing boy and girl in each class.
Each year I have taught enriches my life far beyond what I give. Our volunteers teach under conditions that most Americans consider 1940s technology (blackboards with dusty chalk and erasers) and may come home at the end of class to no running water or electricity. Yet, they are forever changed as a result.
To learn more about TTF, visit https://tanzaniateachingfoundation.org/ or contact Winters at tanzaniateachingfoundation@gmail.com.