In June, I visited many of our National Parks and public lands including: Theodore Roosevelt, Badlands, Yellowstone, Grand Teton, Craters of the Moon, Crater Lake, Lassen Volcanic Complex, Sequoia and Kings Canyon, Yosemite, Death Valley, Grand Canyon, Grand Staircase Escalante, Zion, Bryce Canyon, Mesa Verde, Black Canyon of the Gunnison, and Rocky Mountain. My hope was to identify ways to make personal connections with climate change through collecting and comparing data to long-term trends.
While national political decisions are critical, we build capacity by acting individually and in our community. Making local and personal connections are central to supporting needed action. Climate challenges on our campus and in local parks in Springfield, Ohio, are distinct from those experienced even a few states away. In Ohio and other Midwestern states, rainfall intensity has increased by 30% in recent decades compared to the 1901-1960 average. Because our residential and city sewers are combined, they overflow sewage more often, which is not healthy for our rivers and is costly to cities managing infrastructure upgrades. Soil erosion also is amplified. Warmer temperatures have also increased temperatures of lakes and streams resulting in more instances of toxic algae.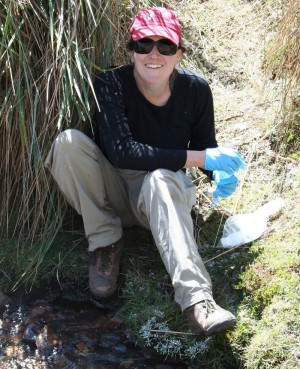 What is true about these examples and many others is that multiple factors influence consequences. This is where personal action, community planning, business choices, and political decision-making matter to improving outcomes. My hope is that Wittenberg and other students around the country see how their local, organizational, and political choices impact their place. It is also important to reflect on how earth issues like climate change harm those with the fewest resources most. As caring people, we must work with, listen, learn from, and empower those facing consequences of community planning and political choices. I see making connections as central to supporting equitable outcomes including community health. Individuals, organizations, and communities have choices about how to act, including planning for the future.
While visiting parks, I sought to describe interconnections between climate change and system responses. For example, as snow pack decreases throughout much of the western United States, reduced spring and summer river flow makes drought more prevalent. Many of the parks I visited had evidence of wildfire or faced wildfire challenges near their perimeter (e.g., Rocky Mountain National Park, Yosemite). The Alaskan glaciers I mentor students on each summer, trap a history of fire in their chemistry. It was disheartening to see this from the ground. 
I think I was most affected by driving from Fresno, California, to Kings Canyon and the Sequoia National Parks. Not only was the Central Valley parched and precariously supporting crops with a limited supply of water, but heading up into the forest, conditions were tough. As we traveled up to see the world's largest trees, we traveled through 14 miles of forest decimated by pine beetles that thrive in drier conditions. I inquired more about this, and a park ranger said they were no longer certain that the great sequoias that have towered for as many as 2,000 years would be able to withstand continued drought. While these trees thrive with occasional fire, they are now entering a time when soil moisture is especially low, temperatures are especially high, and fires are both more intense and more frequent. One of our recent graduates, Abigail Henson '18, is working in fire management and forest conservation this summer. Jobs responding to and preparing for climate change and work making water, land, and community development decisions are on the rise.
The climate community uses continuous data sets, proxies like ice cores, and sophisticated models to evaluate our changing climate. It is hard to feel climate change on our daily radar because it occurs through multi-decadal shifts. So I spent time collecting and comparing temperature data and other variables from my hikes to longer-term climate trends. Connecting my data to longer-term data made it personal and forced me to think about change underway. I reflected on the change that has [already] happened in the parks and the change ahead that will be less dramatic the quicker we take action to reduce emissions.
More than three-quarters of the park I visited had daily highs that were higher than long-term high temperatures. While we could have traveled during cooler conditions, in recent decades cooler summer days are less common. What also struck me was that high temperatures measured on our hikes were on average more than 14°F higher than daily highs from nearby weather stations. By measuring temperatures during hikes, I realized that my kids feel much more summer heat than I do simply because they are short people, closer to the absorbed heat or reflected solar energy. This directly influenced my decision-making about our hikes, how to dress, [how much] water to carry, and more. In a warmer world, we will all be making these choices to have more satisfying recreational experiences, to protect our basements, to protect our food sources, and to develop our communities in ways that support our health and security. This may seem more pressing near our coasts as water encroaches our shores, but it will impact choices at all scales and all places.
I look forward to teaching Global Climate Change this fall. I'm hoping that my students will have their own ideas about how to address challenges in our community and their subsequent roles. They will have the chance to learn from and work with partners who have an interest in developing equitable solutions and expanding science literacy. The Association of American Colleges and Universities (AAC&U) has recognized Wittenberg's geology and environmental science programs as exemplars in civic engagement. Moving ideas that help students and our communities succeed forward is work that Wittenberg stands behind. I'm thrilled to see so many of our graduates go on to satisfying roles where their work directly makes our conditions better.
A special thank you to the Wittenberg Faculty Development Board for funding this climate education effort into the fall. My plan is to build some activities this fall that have students collect and compare local data to long-term trends and reflect on and share solutions.
- By Associate Professor of Geology Sarah Fortner