Catherine Egley Waggoner, professor and chair of the department of communication at Wittenberg University, examines the role that myths of southern womanhood play in real women's lives in the Mississippi Delta in her latest book Realizing Our Place: Real Southern Women in a Mythologized Land, co-authored with her sister, Laura Egley Taylor. The book will be released this month.
The sisters met with 51 women - black, Chinese, Lebanese, and white; elderly and young; rich and poor; bisexual and straight - in settings from kitchens and beauty parlors to screened-in porches to trace the extent to which the historical dimensions of southern womanhood (submissiveness, purity, piety, and domesticity) are visible in contemporary Delta women's everyday enactments.
"This is our first project together," Waggoner said. "I've wanted to do a cultural analysis of the Mississippi Delta for a long time now with an eye toward the rich visual aspects of the culture. Laura's skills as a photographer and graphic designer seemed perfect for the project. Her artistic sensibilities really complement my analytical approach in tracking themes and noting patterns in communication among the women there. We hope the book is one that will appeal not only to academic audiences, but also to general readers -- those interested in understanding Southern cultures.
"We spent about nine years on the project, making several trips to the Delta, and every trip was a different adventure," Waggoner added. "To get to sit at length with these women in their homes and communities and hear their stories was a rare treat. We came away with a renewed understanding and appreciation of what many have called 'the most Southern place on earth.'"
In the book, Waggoner and Taylor argue that the women they interviewed do not merely embrace or reject such dimensions wholeheartedly, but instead creatively tweak stereotypes in ways that skillfully legitimize their authenticity. They answer such questions as: What does it mean to be from somewhere? What does it mean to be from a place with a storied past, one mythologized as the very best and worst of our nation?
The book features a blend of academic analysis with colorful excerpts of Delta women's words, along with more than 100 photographs of both the women and the Delta itself, as important a presence in the book as the women.
"We grew up in Leland, Mississippi, right in the heart of the Delta," Waggoner said. "It's a unique place. It certainly has shaped the way I view the world in so many ways."
Additionally, Waggoner has been invited to participate as a panelist at the Mississippi Book Festival, the state's literary lawn party that takes place Aug. 18 on the State Capitol grounds in downtown Jackson.
"I'm honored to have been invited to the festival, as Mississippi has a long and vibrant tradition of literature and art," she said. "The Mississippi Book Festival is a celebration of writing held in the state's capital and it receives national coverage. I look forward to seeing some well-known authors including Salman Rushdie, Julia Reed, Jesmyn Ward, and Jon Meacham. I'll be on a panel with other authors writing about the Delta. Laura will be joining me at the festival for the book signings and receptions. The press has scheduled book signings at independent bookstores in Vicksburg, Greenwood, and Cleveland, Mississippi, leading up to the book festival, and we are hosting a reception in Leland to thank the women interviewed in the book. It promises to be a full and memorable few days back in Mississippi!"
Waggoner will speak on a panel focused on the Mississippi Delta from 4-5 p.m. in State Capitol room 113, and both she and Taylor will sign books prior to the discussion from 3-3:30 p.m. in the book signing tent on the Capitol Lawn.
Waggoner, who currently resides in Springfield, Ohio, is co-author of Making Camp: Rhetorics of Transgression in U.S. Popular Culture, which won two awards in 2009 from groups within the National Communication Association. She is also the 2014 recipient of Wittenberg's top faculty prize, the Alumni Association Award for Distinguished Teaching. Waggoner teaches courses in rhetoric, including Reasoning and Communication, Analysis of Visual Persuasion, Communication Criticism, and Gender and Communication at Wittenberg. Her research focuses on contemporary perspectives on rhetoric, with emphasis in critical/cultural perspectives and gender issues in communication. She holds a B.A. from the University of Southern Mississippi and an M.A. from Bowling Green State University (both in English), and a Ph.D. in rhetoric from The Ohio State University. She joined the Wittenberg faculty in 1995.
Taylor, of Santa Fe, New Mexico, is the Miller Omega Design Coordinator at the Santa Fe Institute, where she runs SFI Press and works to visually interpret complexity science to the general public. She was art director of the award-winning natural parenting magazine Mothering until 2011.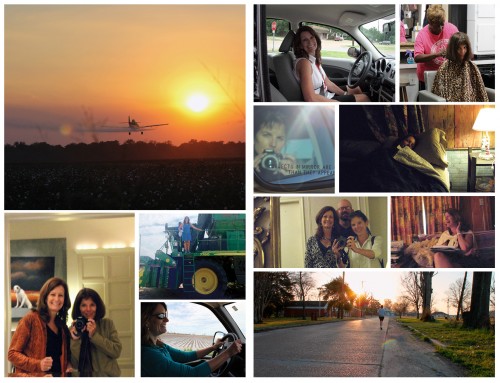 Caption: Behind the scenes during their forays into the Delta from June 2009 through October 2015.