A member of Delta Gamma sorority at Wittenberg University, Mallory Roth '14 lived out her sorority's motto of "Do Good" during her college days by serving in leadership positions with the chapter. In the four years since graduation, she has also put that same motto into practice in her professional life pursuing jobs that have focused on helping others.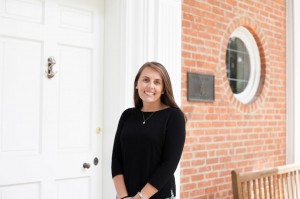 Recently hired as the events manager for the Dave Thomas Foundation for Adoption in Columbus, Ohio, Roth is helping to continue the nonprofit's mission of finding permanent homes and families for more than 150,000 children in North America's foster system.
Originally from Vermilion, Ohio, Roth found her passion for nonprofit work while spending a semester in Washington, D.C., with the Lutheran College Washington Semester Program, a consortium of small Lutheran schools to which Wittenberg belongs.
"While in D.C., I interned with a nonprofit, Running Start, helping to encourage and spark interest [in] leadership and in seeking political office among young women," Roth said. "This experience solidified my interest in nonprofit work. Seeing the difference staff members and volunteers are able to make in the nonprofit realm is inspiring. I knew it was something I wanted to continue to be a part of."
After brief stints with Wittenberg's Office of Student Accounts and as a nanny in Charleston, S.C., Roth re-engaged with her sorority by accepting a position at the Delta Gamma Executive Offices in Columbus, Ohio. She worked as the annual giving officer and development specialist for the Delta Gamma Foundation, helping collegiate chapters engage in fundraising and raise awareness for the organization's philanthropic mission, Service for Sight.
"Sadly, Greek life is often in the news for negative events," she said. "I loved working for the Foundation and being able to spotlight all the good that can come from Greek life. Whether it's raising tens of thousands of dollars at an Anchor Splash event (a Delta Gamma fundraiser chapters hold on their campuses), raising guide-dog puppies, or performing countless service hours in the community, these women's stories deserve to be shared."
At Wittenberg, Roth was a Student Leader Fellow, a political science major, and an Orientation Assistant, and she worked as a student auditor and was involved in the Emerging Leaders program. 
"Wittenberg helped groom me as a leader on campus and gave me the tools to not only be a member of the community, but a stakeholder," she said.
Of all of her experiences at Wittenberg, Roth cites the sense of community at Wittenberg as  the thing she misses most and what she has strived to bring with her on her career path. 
"Wittenberg teaches you the importance of being involved and working hard to make a difference in the community," she said. "I left Wittenberg with a sense of community and that's something I've continued to carry with me into life after Witt. There isn't a day that I don't think back to the faculty and staff members on campus. Wittenberg is a magical place because of the people."
Roth is excited to continue her career path in the non-profit industry with the Dave Thomas Foundation for Adoption but also dreams of one day going into local government. She may even run for mayor. But no matter where she goes, or what she does, she plans to stay connected with Wittenberg.
"Wittenberg is such a special place," she said. "I love being able to stay connected and involved."
-By Devon Atchison '19, Office of University Communications