In their own words, Jade Simpson '24, Kelsey Ragan '25, and Jazmyn Gaines-Burns '25 discuss their summer abroad experience playing basketball in Spain. All three students are members of Wittenberg University's women's basketball team, and they participated in a study abroad experience organized by Beyond Sports International.
Jade Simpson
Class of 2024
Edgewood, Kentucky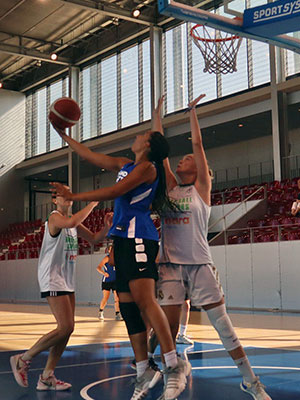 I participated in the international trip to Spain because I thought it would be a good opportunity to be able to play oversees and being able to get the exposure to different type of basketball. I gained the knowledge and experience of a different culture which was a unique and a once-in-a-lifetime experience.
This trip supplemented my experience that I will have at Witt because I learned how to play with a group of people who I never met before in conditions that I have never played in. But if you can play and work together then you will be able to accomplish things. Building that bond off the court was just as important as the bond on the court.