Original Release Date Oct. 25, 2019. Story updated April 22 to include details about new event date (Aug. 8, 2020) and again November 18.
Seven Wittenberg University greats have been selected for induction into the school's Athletics Hall of Honor, in addition to an alumnus who will be honored with a Lifetime Achievement Award. Tim Altman '96, Steve Dawson, Jeff Pfister '67, Daniel Russ '06, Rebecca Russ Spencer '03, Geri Woessner '04, and Caroline Zimmerman will officially join 235 other Wittenberg greats who have previously been inducted into the university's Athletics Hall of Honor, while Jim Render '64 becomes the fifth recipient of the Athletics Hall of Honor Lifetime Achievement Award.
Plans to celebrate Wittenberg University's Athletics Hall of Honor Class of 2019 during a formal induction ceremony and banquet have changed on two occasions due to the ongoing COVID-19 pandemic. The original plan to host an event April 22, 2020, was changed to Aug. 8, but health and safety guidelines related to the pandemic response prohibited the events from taking place. Wittenberg still hopes to celebrate the Class of 2019, but specific plans will not be available until restrictions on large gatherings are lifted.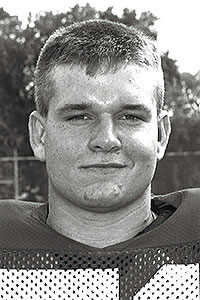 Tim Altman was a record-setting defensive lineman for the Tiger football team between 1992 and 1995. A four-year letterwinner, Altman continues to hold program records for tackles for loss in a season (23 in 1993), tackles for loss in a career (49.5), and quarterback sacks in a career (28). He earned a pair of second-team All-North Coast Athletic Conference (NCAC) awards before moving up to the first team in 1995 and adding NCAC Defensive Player of the Year honors as well. Altman also claimed the Bill Edwards Golden Helmet Award following the 1995 season. A team captain as a senior, Altman was a member of two NCAC title-winning teams, and the Tigers posted a tremendous 35-5-1 overall record in his four years in the Red & White. A native of Holland, Ohio, Altman currently resides in Maumee, Ohio.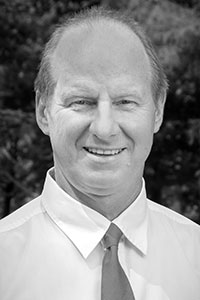 Steve Dawson mentored hundreds of student-athletes over the course of more than three decades as head coach of the Tiger men's soccer program and nearly a decade as head coach of the men's swimming and diving program. Dawson compiled a men's soccer record of 297-251-39 in 32 seasons spanning from 1982 to 2014 (making him the longest-serving head coach in Wittenberg athletics history), and he led the Tigers to five NCAA Division III Tournament appearances. Dawson was named North Coast Athletic Conference (NCAC) Coach of the Year three times in his career, and he coached four different players to a total of six All-America awards. While leading the men's swimming and diving program between 1982 and 1991, Dawson coached multiple All-Americans. Dawson also served as a professor in the Department of Health, Fitness & Sport throughout his Wittenberg career, including multiple stints as chair before retiring from the university's faculty in 2019. A native of London, England, Dawson currently resides in Springfield and serves as director of coaching for Club Ohio, one of the top youth soccer clubs in the state.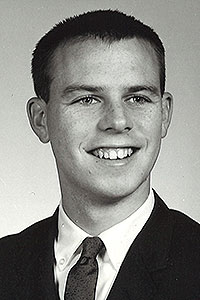 Jeff Pfister was a record-breaking swimmer for the Tigers from 1964-67. Pfister earned four letters and served as a team captain during his senior campaign. Along the way, he set two individual school records while winning Ohio Athletic Conference (OAC) titles in the 200-yard backstroke and as a member of the 400-yard medley relay in 1967. Pfister qualified for the 1965 and 1967 NCAA College Division championship meets, earning All-America honors in the 100- and 200-yard backstroke events in 1965. He was unable to participate in the 1967 meet due to job interviews he had already scheduled. During his four years competing for the Tigers, Wittenberg completed the only undefeated dual meet record in program history, and the Tigers posted their best four-year winning percentage. A native of Summit, NJ, Pfister currently resides in Vero Beach, Fla.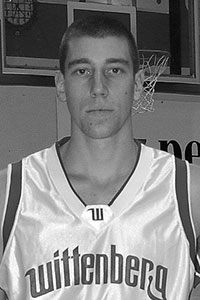 Daniel Russ is one of the finest men's basketball players in Wittenberg history. A four-year letterwinner and three-year starter, Russ was a dominant post player who ranks among the program leaders in career points and rebounds. A three-time All-North Coast Athletic Conference (NCAC) selection and the 2005 NCAC Player of the Year, Russ capped his career by playing a key role in the Tigers' unexpected run to the 2006 NCAA Division III Tournament championship game. Russ claimed All-Tournament team honors after the Tigers finished runners-up in the competition, pairing nicely with his second-team All-America award from d3hoops.com and back-to-back third-team All-America awards from the National Basketball Coaches Association. During Russ' Wittenberg career, the Tigers recorded a sparkling 99-19 overall record while winning one NCAC regular season title and two NCAC Tournament crowns and advancing to the NCAA Division III Tournament three straight years. A native of Louisville, Ky., Russ currently resides in Columbus, Ohio.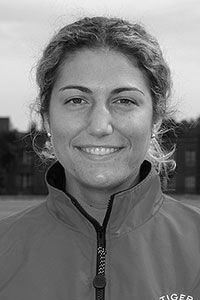 Rebecca Russ Spencer was a two-sport standout at Wittenberg, earning accolades in both field hockey and lacrosse. A four-year starter on the defense for the Tiger field hockey team, Spencer earned Team Defensive MVP, first-team All-North Coast Athletic Conference (NCAC) honors, and first-team All-Great Lakes Region honors three straight years. She added third-team All-America in 2001 and first-team All-America in 2002 to her list of accomplishments. Over her four years at Wittenberg, the Tigers posted records of 55-24 overall and 36-12 in the NCAC, winning two regular season titles and the first-ever NCAC Tournament crown in 2002. Filling a void at goalkeeper in lacrosse, Russ joined that program during her junior season and became an all-conference and all-region honoree as a senior in 2003. That year, she posted the third-best saves percentage in program history and backstopped the Tigers to records of 8-6 overall and 5-2 in the league. A native of Louisville, Ky., Spencer currently resides in her hometown.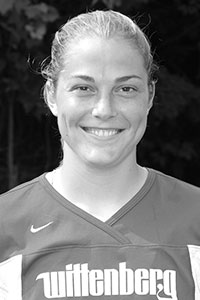 Geri Woessner was a three-sport standout at Wittenberg University, earning accolades while representing the Tigers on the soccer pitch, the basketball court, and in some of the most challenging events in the sport of track and field. In soccer, Woessner tied the school record with 18 goals in her inaugural collegiate campaign (2000) and she still ranks second in career points (94) and goals (38), despite missing half of her junior season due to injury. She earned All-North Coast Athletic Conference (NCAC) honors all four years in soccer, including three first-team awards, and she was selected NCAC Newcomer of the Year in 2000. In basketball, Woessner was a rugged forward in her three seasons on the floor (she missed her junior season due to injury), and she was a starter and team captain en route to earning Honorable Mention All-NCAC honors in 2004. In track, Woessner was a four-year letterwinner who excelled in the heptathlon. The school record-holder in both the javelin and heptathlon, Woessner earned a total of 12 All-NCAC awards for outdoor track, including five at the 2002 meet alone. She was named the NCAC Outdoor Field Events MVP in both 2001 and 2002, and she advanced to the NCAA Division III Outdoor Championships in 2004, placing in the top 20 nationally in both the javelin and heptathlon. A native of Dayton, Ohio, Woessner currently resides in Colorado Springs, Colo.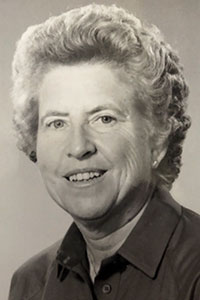 At a university long known for its progressive attitudes toward opportunities in athletics, few stand out above Caroline Zimmerman for her tireless advocacy and scholarly research in the field. After arriving at Wittenberg in 1967, Zimmerman coached women's basketball and softball and served as an assistant director of women's athletics, mentoring hundreds of women at a time when organized intercollegiate opportunities for them were limited. She was equally focused on her work as an associate professor of health and physical education, teaching courses in school health services, adapted physical education, and outdoor education, in addition to a variety of topics courses. Zimmerman conducted research across the United States, Canada, China, and several Scandinavian nations, examining health services, therapeutic recreation, and physical fitness among senior citizens. Zimmerman, who also has an extensive background in directing summer camps and instruction in the sport of field hockey, retired from Wittenberg's faculty in 1999. A native of Hillsboro, Ohio, Zimmerman currently resides in Largo, Fla.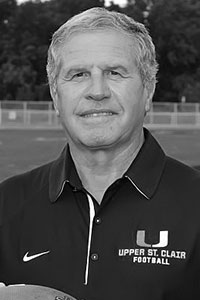 In the annals of high school football in the United States, Jim Render ranks among the very best coaches, earning him a Lifetime Achievement Award from the Wittenberg Athletics Hall of Honor. On Aug. 31, 2018, Render became just the 29th high school football coach across the country to win 400 career games, and after that season he retired with a tremendous career record of 406-140-6. Render coached teams at Carrollton High School in Ohio and Uniontown High School in Pennsylvania before taking over at Upper St. Clair High School, also in Pennsylvania. His teams won five Western Pennsylvania Interscholastic Athletic League (WPIAL) titles, 23 conference championships, and a pair of Pennsylvania State Championships. Render coached numerous athletes who later enjoyed success on the college gridiron, most notably Sean Lee, who currently plays for the Dallas Cowboys. A native of Dover, Ohio, Render currently resides in Pittsburgh, Pa.