The Wittenberg University community is mourning the loss of football student-athlete Miles Laboy, class of 2019 from Gaithersburg, Md., who was killed in a car accident on Monday, June 27, near Anna, Ohio.
Laboy was one of four Wittenberg students involved in the one-car accident on Interstate 75. Also in the car were Rashon Edwards, class of 2019 from Cincinnati, Ohio, Dorian Hunter, class of 2018 from Springfield, Ohio, and Aikili Mosley, class of 2017 from Los Angeles, Calif. Edwards, Hunter and Mosley remain hospitalized, but all three are expected to make a complete recovery from the injuries sustained in the accident.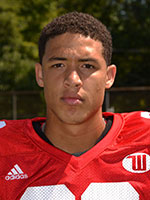 All four students are members of the Tiger football team. Head Coach Joe Fincham and Director of Athletics and Recreation Gary Williams, among other campus administrators and members of the Tiger football coaching staff, have been attending to the needs of the students and their families since learning of the accident.
A graduate of Avalon High School, Laboy had just completed his freshman year studying at Wittenberg and competing for the Tiger football team.
"This is a tremendously difficult time for everyone in the Wittenberg football family," said Fincham, who has been involved in the program since 1990 and the head coach since 1996. "Our coaches, alumni and team members are focused on providing as much support as possible to the young men who survived the accident, and we join Miles' family in grieving this terrible loss."
Edwards is a graduate of St. Xavier High School who recently completed his freshman year. Mosley is a graduate of University High School in Los Angeles and a former student-athlete at Pasadena City College who recently completed his first year at Wittenberg. Hunter is a graduate of Springfield High School who transferred to Wittenberg after studying and playing football at the University of Findlay in 2014 and 2015.
"On behalf of Wittenberg University's Department of Athletics, I wish to express our deepest sympathies to Miles' family and friends," Williams said. "Please keep his family and our coaches and student-athletes in your thoughts and prayers during this difficult time. We will continue to do everything we can to assist our four young men and their families. Wittenberg is, and always will be, a community that cares, and we are keeping all those involved in our thoughts and prayers.
"I have been asked by Miles' family to say how much they appreciate the outpouring of love and support that has come from members of the university community. It is important at this time that we respect the family's privacy, while also supporting their needs in any way possible."
Funeral arrangements for Laboy will be announced at a later date.