This past spring, I was invited by the Hebrew University of Jerusalem to provide a cross-cultural workshop to their students and faculty on East Asian Business Culture. The Forum of East Asian Economies at the Hebrew University of Jerusalem hosted the workshop.
The two-hour workshop felt like minutes as it was extremely interactive with intensive discussion by all 32 students (mostly East Asian business majors) and faculty from diverse backgrounds (economics, East Asian studies, history, literature, etc). I designed a cross-cultural workshop survey based on Geert Hofstede's study and let participants measure their own cultural dimensions before I presented scores of other countries, including Israel and East Asian countries. For example, Israelis (participants) found their power distance dimension (score of 13) was at the very low end of this dimension, while the scores (China: 80, Korea: 60, Japan: 54) of East Asian power distance index are at the very high end.
With an egalitarian mindset, the Israelis believe in decentralized decision-making in an organization, respect for each other regardless of their positions, empowerment, independency, equal rights, and accessible superiors at the workplace. Students reflected on those statements and commented it might be attributed to the heterogeneous, dynamic, and vibrant culture of immigration-based society, where they interact with people from different cultures on a daily basis. Workshop participants described it as very insightful, practical, helpful, and thought-provoking. I have provided similar cross-cultural workshops at the University of Chicago, University of Illinois at Urbana-Champaign, The Hong Kong University of Science and Technology, and Shanghai University for staff and faculty who interact with international scholars and students.
During that week, I also presented my research titled "3rd Person Spirituality: The Role of Spiritual Agents in Management Decisions of American and Korean Managers" at the international conference Science, Morality, and Gender in Korean Culture this past spring. Prominent scholars from around the world including East Asia, Middle East, United States, Canada, and Europe were invited to this conference. The research that I presented introduced a new conceptual proposal on 3rd person spirituality, spiritual intelligence guided by those formal (i.e., priest, pastor, monk) and informal spiritual agents (astrologer, Shaman) and professionals. Initial findings that I shared about this exploratory research were 1) East Asian businessmen were found to endorse fate attributions guided by the 3rd person spirituality more than did the American businessmen, 2) 3rd person spirituality in East Asian (seeking advice from Shamans) provides direct answers to business decisions on personnel and relational issues, finding one's calling, new product development, and executing new partnership and business alliances, while 3rd person spirituality in the United States (seeking advice from pastors, ministers, or astrologers) often facilitates reflections for clients to seek her/his inner voices in those decisions, instead of providing direction answers to questions. With the support of the Faculty Development Board, I am continuing my research on 3rd person spirituality this fall.
Both the conference and my workshop took place at The Harry S. Truman Research Institute for the Advancement of Peace, one of sponsors of these programs. The Institute was founded with the personal support of the 33rd president of the United States, Harry S. Truman, to advance research on peaceful co-existence among peoples and nations.
Written By: Sunny Jeong
Assistant Professor of Business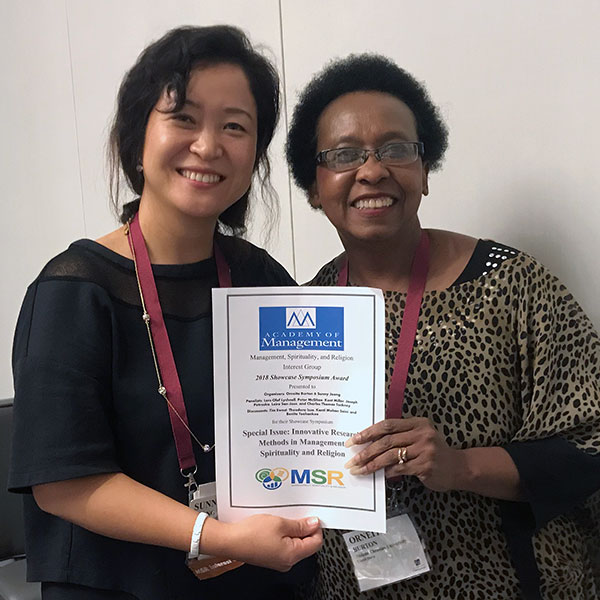 Sunny Jeong, assistant professor of business at Wittenberg University, is a recent recipient of the 2018 Showcase Symposium Award from the 78th Annual Meeting of the Academy of Management in which she attended Aug. 10-14, in Chicago, Illinois. She and Orneita Burton, a professor at Abilene Christian University, organized a symposium titled "Innovative Research Methods in Management, Spirituality and Religion (MSR)." The symposium represented a diverse methodological expertise and shared an open-minded view on research methods in management, spirituality and religion, including audiences, questions, and ways of deriving valid and useful answers. The symposium attracted about 50 scholars from a diverse specialty and was intended to engage researchers in a formal, moderated, interactive discussion of innovative research methods that support the domain of management, spirituality, and religion.
Since its beginning in 1936, the Academy of Management (AOM) organizes the largest business scholarly meeting annually. AOM invites over 19,350 members from nearly 120 nations every year. About 12,000 members attended AOM meeting this year. Typically, AOM receives 610 paper submissions and only 49% of submitted papers were accepted and organized into 75 paper sessions. Dr. Jeong is currently serving as an elected executive board member of MSR group, subdivision of Academy of Management.