Springfield, Ohio – Wittenberg University Associate Professor of Mathematics William Higgins was recently awarded the 2007 Ohio Section Award for Distinguished College or University Teaching from the Mathematical Association of America (MAA). Higgins is the second member of Wittenberg's department of mathematics and computer science to receive the award, following in the footsteps of Professor of Mathematics Al Stickney, the 2001 recipient.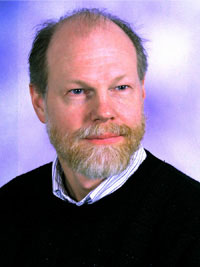 Candidates are typically nominated by their university, which compiles letters of support from colleagues and students. Eligible candidates must be Ohio Section MAA members and must have at least five years of college-level teaching experience. As winner of the Ohio Section award, Higgins also becomes eligible for a national MAA award, the Deborah and Franklin Tepper Haimo Award for Distinguished College or University Teaching, which is given to just three professors from around the country.
"I am very pleased to get this teaching award," Higgins said. "Interacting with the students is what keeps me going. It's fun to be in the classroom and to try to get things across to students."
He adds that it helps that he greatly enjoys the subject of mathematics and its ideas. He particularly likes exposing students to some of the more subtle ideas in the field and seeing them discover the creative side of mathematics. But he also finds it rewarding to help those students struggling with a concept.
"I enjoy helping a student who doesn't understand something by diagnosing the problem and giving an example that helps [him or her] get over the hurdle that [he or she has] been faced with," Higgins said.
In letters of support for his nomination, students noted Higgins' patience and persistence and his commitment to working with students at both ends of the academic spectrum. One student wrote, "I can still picture this teacher pausing during a lecture and saying to me with a nice smile, 'you don't look convinced,' and then repeating a point that was not well understood."
Comments from colleagues at Wittenberg tell a similar story about Higgins' helpfulness, knowledge of the material and willingness to go above and beyond with all students. They noted his "special talent for helping our better students to consider all of their opportunities" and the "seemingly limitless time outside of class" that he gives to students who need extra help.
Higgins has been a professor at Wittenberg since 1984. He credits his own undergraduate math teachers, particularly Stephen Slack and Daniel Finkbeiner at Kenyon College, with inspiring him to pursue mathematics. He received his master's degree and doctorate from the University of Notre Dame.