Springfield, Ohio — As anticipation grows for the more than 357 students set to graduate during Wittenberg's 166th Commencement exercises on Saturday, May 14, other distinguished guests will be recognized along with the class of 2016. Wylecia Wiggs Harris, class of 1982, and Kenneth Cukier, class of 1991, will be presented honorary degrees during the ceremony. Susan Hirt Hagen, a 1957 graduate and former board member will be awarded the Wittenberg Medal of Honor, posthumously. Her husband, Mr. Thomas B. Hagen, and daughter, Ms. Sarah Hagen McWilliams, will be accepting the award on her behalf.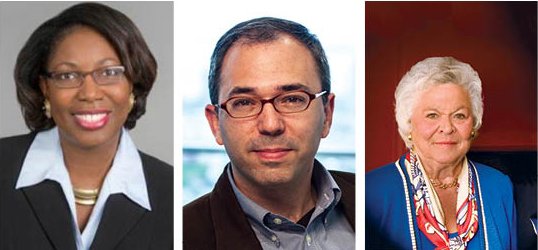 Harris, who has 30 years of experience in organizational development, was a top choice to present this year's Commencement address. She is the current chief executive officer for the League of Women Voters of the United States (LWVUS) in Washington, D.C. and will deliver the keynote address.
Having served as executive director, chief operating officer, and chief of staff for a variety of organizations including the American Nurses Association, American Heart Association and Sister to Sister – Everyone Has a Heart Foundation, a national organization supporting women's health issues and heart disease education, Harris jumped at the chance to lead the LWVUS. She is excited to be returning to Wittenberg to speak about her new endeavor. Harris will receive an honorary doctorate of humane letters at the ceremony.
Cukier, a noted commentator, sought-after speaker and best-selling author who currently is senior editor for The Economist, spent five years as the publication's Tokyo correspondent after working as a technology correspondent based in London, where his work focused on innovation, intellectual property and Internet governance. Prior to working for The Economist, he worked as technology editor of The Wall Street Journal Asia and European editor of Red Herring. Cukier's work has also been published in The International Herald Tribune, The New York Times, The Washington Post, Prospect, The Financial Times and Foreign Affairs.
In addition, he is co-author of the book Big Data: A Revolution That Will Transform How We Live, Work, and Think, which made the New York Times Bestseller list. Published in 2013, the book has been translated into 20 languages and was discussed in Cukier's 2014 TED talk, which has so far received more than one million views. He will receive an honorary doctorate of humane letters at the ceremony.
Hagen was a member of Chi Omega sorority and other organizations at Wittenberg. She served on the Wittenberg Board of Directors, as well as with the United Way of Erie County, the Marriage Counseling Service of Erie, Inc., Resources for Youth, Inc., Family Counseling Service for the Problem Drinker and the Erie Philharmonic.
In a lifetime devoted to business and civic leadership, Hagen received many awards and honors, including "Woman of the Year" in Erie County, Pennsylvania, by the Zonta Club, Distinguished Citizen of the Commonwealth Award, and, with her husband, the "Governor's Patron of the Arts Award" from the Pennsylvania Council on the Arts. She received the Alumni Association Citation for community service from Wittenberg in 1982, which also awarded her an honorary doctorate of humane letters in 2011, the same year in which she helped establish the Susan Hirt Hagen Center for Civic & Urban Engagement with a gift of $6 million, the largest cash gift ever received at Wittenberg.