Springfield, Ohio – Wittenberg University students now have the tools necessary to help them explore vocation, thanks to a grant awarded to the university from the Network for Vocation in Undergraduate Education (NetVUE) in 2015.
The $44,000 two-year grant titled "The Calling Plan: Enabling Student Exploration of Vocation" seeks to develop, inspire and support efforts by faculty, staff and students to explore and understand their sense of calling, and then to put their developing vocational identity into practice," according to grant director Andy Tune, Matevia Endowed University Pastor.
NetVUE is a network of colleges across the nation working to enrich both intellectual and theological exploration of vocation. The exploration of vocation in the context of Wittenberg includes helping students to find their purpose, and where their skills and values merge to make a contribution to the greater community and world.
"In a career, you might not be exploring the whole of who you are," said Rachel Tune, Matevia Endowed University Pastor. "In vocational conversations, you are encouraged to consider the whole of who you are."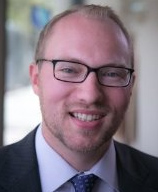 Wittenberg's First-Year Seminar (FYS) classes have already begun to utilize the funds from the grant. Additions to the spring semester curriculum are now focused on vocation. The grant also provided for a campus visit by Andrew Steele, Wittenberg class of 2010, founder and executive director of BLOOM Africa, and the current director of global church sponsorship with the Evangelical Lutheran Church in America (ELCA). During his visit in early February, Steele addressed all FYS classes about finding their calling, participated in a panel of alumni, and held informal conversations about vocation with students.
Steele encouraged first-year students to step outside their comfort zones in order to find their paths, to be okay with the possibility of failing, and to focus on the importance of building valuable relationships.
"I think is important to learn about vocation because it causes excitement in someone to know that there is something in the world that they are destined to do. It gives you a sense of purpose," said Rachel Porrello, class of 2019 from Lewis Center, Ohio.  "Andrew's talk inspired me to want to really be open to opportunities and to further my goals and dreams."
In addition to providing funds for vocational speakers such as Steele, "The Calling Plan" also provides for the extended use of StrengthsQuest (define) to help students learn more about their talents and aptitudes. It also supports communities of faculty and staff to help advisors be more prepared to talk with students about vocation, as well as incorporates the development of vocation exploration materials.
"At Wittenberg, we are interested in helping every student navigate the path to successful graduation," Rachel Tune said. "This grant helps expand that."
          -By Stephanie Glass, Office of University Communications