Springfield, Ohio—Reflecting Wittenberg's commitment to academic excellence and the power of collaborative research, two physics students presented research at the annual meeting of the American Physical Society (APS): Division of Plasma Physics Oct. 27-31 in New Orleans.
Megan Heitkemper, class of 2016 from Maineville, Ohio (pictured above), and Justin Krupa, class of 2017 from New Wilmington, Pa. (pictured below), presented the results of original research they completed in collaboration with Associate Professor of Physics Jeremiah Williams, who specializes in dusty plasma physics.
"All of the students in our department conduct this one-on-one student-faculty collaborative research, which provides them with a unique opportunity to participate in the process of creating new knowledge," said Williams. "Their research produces the kind of results that are of interest to the broader scientific community and provides them with a skillset that will benefit them in whatever they do after Wittenberg."
For both students, participating in undergraduate research allowed them to not only learn more about physics, but to learn more about their own academic and professional interests.
"Working with Dr. Williams was a great experience," said Heitkemper, a math major and physics minor. "Conducting research with him and presenting at the APS conference has inspired me to continue studying physics and has opened doors to many opportunities for me."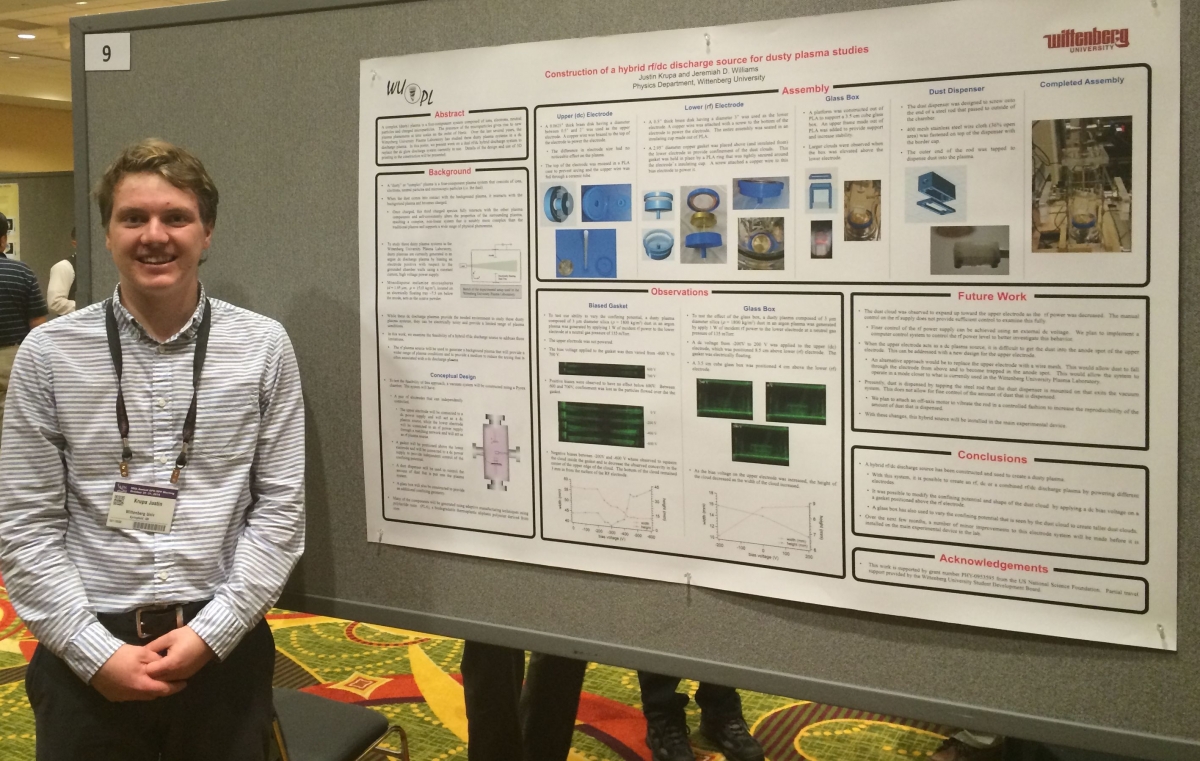 At the conference, Heitkemper won an Undergraduate Research award for presenting one of the best undergraduate research posters. Her research compared a number of software packages for analyzing image data using the Particle Image Velocimetry (PIV) technique, a technique that provides an instantaneous measurement of fluid flows and is used in many subfields of physics and engineering.
"I have benefited tremendously from conducting and presenting my research," said Heitkemper. "This was my first experience in a lab outside of the classroom, and I learned a lot about the scientific method and how to learn to use software I have never been exposed to. At the conference I met many inspiring physicists and learned about the variety of career paths and opportunities that are available to me as a math and physics student. I became more confident in myself by presenting my research to other academics, and definitely found that I would love to continue pursuing the study of physics."
Krupa agreed that his research and presentation experience was beneficial not only to his academic career but for his future professional career.
"Working in the lab full-time improved my perspective on a research-involved career and ultimately strengthened my desire to find one," he said. "Traveling to New Orleans to present gave me a true glimpse of the professional scientific community—academia, private, and government researchers were all there."
Krupa designed and constructed a hybrid two-electrode plasma source system that will be used to generate plasmas in Wittenberg's dusty plasma lab. According to Krupa, his research gave him the opportunity to learn more about the behavior of a dust in a plasma environment and to potentially develop a better plasma source for the study of dusty plasmas in a laboratory setting.
"Although this department isn't as large as many other schools' physics departments are, it is very commendable and highly respected in the scientific community. Thousands of undergraduates earn a physics degree every year in this country, but only a few of them come across the opportunities that a Wittenberg Tiger does," said Krupa. "This school prides itself on close student-professor relationships and active student involvement, and the research experience that is offered here to aspiring scientists is an invaluable learning tool. Every professor in the department is here to help me succeed—that's why I'm proud to say I'm a sophomore with research experience already under my belt."
Heitkemper and Krupa conducted research through support from the National Science Foundation, and their travel was supported by a grant from the National Science Foundation and through the Wittenberg University Student Development Board.