Wittenberg Choir Reunion
November 9-12, 2017
CLICK HERE to re-live all of the weekend's festivities
Welcome Back Wittenberg Choir Members!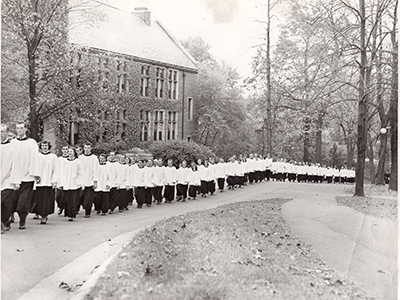 No matter your class year...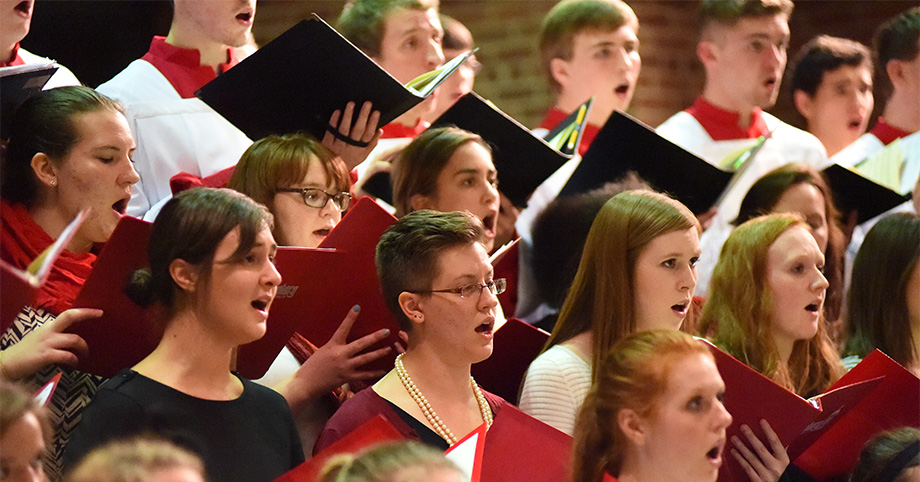 Everyone is part of the family!
Thursday, November 9, 2017
6:00 – 9:00 p.m.
Registration
Bayley Alumni House
6:00 – 9:00 p.m.
Meet and Greet
Bayley Alumni House
Snacks and beverages and cash bar available.
Friday, November 10, 2017
9:00 a.m. – 7:00 p.m.
Registration
Bayley Alumni House
7:30 a.m. – 9:00 a.m.
Breakfast
CDR or Post 95
9:15-10:20 a.m.
10:30-11:32 a.m.
Open Classroom
Grab a pass to class. You've been missing your Wittenberg classes so we are sending you back to continue your passion for Lifelong Learning. We have passes to join our current students in their classroom settings.  Tickets are available at the registration/check-in area. 
12-1:30 p.m.
Directors Lunch
Alumni Room
Benham-Pence Student Center
$15
Gather for Lunch by era or by your USO tour mates or by 'who was your choir director?' as you reconnect and enjoy sharing memories from your days at Wittenberg University.
1:45-2:30 p.m.
How I Do What I Do
300 Krieg Hall
Wittenberg's current choir director talks about conducting the Wittenberg Choir and the other responsibilities of following your passion for singing on a liberal arts campus in 2017. Join us to hear Erik Zinter as he tells a little bit about himself and a whole lot about the Wittenberg Choir!
2:45-3:30 p.m.
Weaver Chapel Tour
Join Pastor Rachel Tune as she takes you on an historical tour of Weaver Chapel. Built in 1956, the Chapel is home to gorgeous stained-glass windows have been featured in National Geographic. In January 2013, Weaver Chapel was ranked #9 on the list of "The 30 Most Beautiful College Cathedrals" by Best College Reviews. 
3:45-4:15 p.m.
Hiller Chapel Tour
Visit the renovated Hiller Chapel, the first home to Wittenberg Worship. Hiller Chapel was constructed in Recitation Hall offering a place of worship which was mandatory for all students. No longer a chapel it still has the original stained glass windows and lighting fixtures among other treasures.
4:30-5:30 p.m.
Wittenberg Choir Student Rehearsal
300 Krieg Hall
Join us to view how the current choir rehearses and how they continue the tradition started so many years ago. An excellent way to get excited and share in the enthusiasm of all singing together.
5:30 – 7:00 p.m.
Dinner with the President
105 Shouvlin
$15.00
7:00 – 9:30 p.m.
Rehearsal Time [Alumni Choir Members]
300 Krieg Hall
Saturday, November 11, 2017
8:30 a.m. – 1:00 p.m.
Registration
Bayley Alumni House
8:30 a.m. – 9:30 a.m.
Continental Breakfast
Bayley Alumni House
$8.00
9:30 a.m. – 12:00 p.m.
Rehearsal Weaver Chapel
12:00 p.m.
Lunch on your own
1:00 p.m.
Campus Tour
The tour will leave from the Student Information Desk in the Benham-Pence Student Center.
Activities Campus and Community Out and About
Football Game - Wittenberg vs. Wooster (1:00 kick-off) Edwards-Maurer Field
Heritage Center - 117 S. Fountain Ave. Springfield, Ohio 45502
Westcott House - 1340 East High Street Springfield, Ohio 45505
Springfield Museum of Art - 107 Cliff Park Road Springfield, Ohio 45504
4:00 p.m.
Welcome Home-A Wittenberg Welcome
Weaver Chapel
The Rev. Jonathan Eilert '93, Chair, Wittenberg Board of Directors, choir alumnus
4:30 p.m.
Call Time
Weaver Chapel
5:30-7:00 p.m.
Alumni Reunion Concert
Weaver Chapel
Concert attire - Nice clothes, preferably using the colors black, white, or red.
Concert Repertoire
7:30 p.m.
Reunion Dinner and Celebration
Pam Evans Smith Arena
$25
Sunday, November 12, 2017
9:30-10:45 a.m.
Continental Breakfast
101 Blair Hall
$8.00
11:00 a.m.
Chapel Service Weaver Chapel
Chamber Singers/Wittenberg Singers