Having a change of heart can sometimes lead to bigger and better things. For Jonathon Felter '07, it led to a career with Major League Baseball (MLB).
Originally from Chicago, Felter is now the director of sponsorship and media sales for MLB, running the West Coast office in Los Angeles, Calif., and handling a team of sales and client services representatives.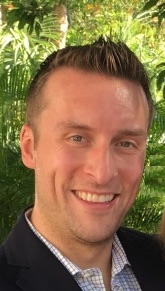 "We represent our jewel events like the All-Star Game, the Home Run Derby, and the World Series, and our media assets (MLB.com and MLB Network). We target West Coast brands and agencies to try and align their business objectives with our properties," said Felter, who started out at New York University, but fell in love with Wittenberg during a tour and decided to transfer in 2005 and play lacrosse for the Tigers. He was also a member of Phi Gamma Delta (FIJI) during his time at Wittenberg.
Felter came into Wittenberg with every intention of being a pre-med student; however, he ended up graduating with a bachelor's degree in math with a minor in management. And while sales may fall under business, the baseball world is pretty heavy into stats.
"I came in pre-med, but I had a change of heart. While a mathematics degree doesn't exactly line up with sports marketing, the training in problem-solving and logic serves me well in the business world," he said. "I think I do use it a lot, especially when it comes to marketing, stats and analytics. I really didn't know what I wanted to do coming out of school. I thought I was going into actuarial science, but ended up finding my path a year or so after getting my first job. I'm definitely on the right path now. Someone opened the door for me – I just had to walk through it and then earn my keep."
While Felter has ended up in a career in which he loves, the path wasn't a direct one.
"After graduating, I had an internship with a marketing research company in their research group," he said. "The guy who hired me there was more into sales, but after talking with him, I told him the ideal job for me would be to use my interpersonal side with analytics so he told me I should go into media planning and maybe the promotion of products through media channels. After the internship, I was able to get a job at OMD and Optimum Sports, working on the State Farm account. Not knowing much about State Farm's advertising, I thought it was going to be pretty boring, but State Farm actually does a lot of sports marketing, and they use a lot of sports stars."
The group was also a sponsor of the MLB's Home Run Derby, along with other sporting events. Felter learned as much as he could with hopes of leading to a job with Turner Sports, ESPN or something along those lines.
"At that time in my career, I hadn't had direct sales experience, but the connections I had and the network I developed allowed me to move into a position with MLB," he said. "Thankfully, they thought of me proactively. Hopefully this is a good lesson for all grads – to make those connections. Never turn down an opportunity to talk to someone or meet with someone. Building relationships will open up doors. Passing on the light, networking, developing the relationships – those are things you should continue to do throughout your career."
Felter served as an account executive for three years in the Chicago office before moving to Los Angeles with his wife, Linda. They met through the industry as she worked at CBS Sports. Their daughter, Addison, came along in May of 2016.
"We are both from Chicago, and I found out about the job opportunity when we were expecting our first child," he said. "The grandparents weren't too happy at the time. Home, for me, is Chicago; I miss it, but we had to take this great opportunity. And for those that are getting ready to graduate or for recent graduates – know that someday you might need to move for that bigger opportunity. Open your eyes to all options, to other places and parts of the country. It's also a way to have new and different experiences and a great way to make yourself marketable."
While Felter doesn't have Cincinnati Reds' first baseman Joey Votto's or Los Angeles Dodgers' pitcher Clayton Kershaw's phone numbers on speed dial, he has met many of his favorite players and does enjoy such perks as attending All-Star games and World Series games and events.
"Sports marketing and media is where my career is long term," he said. "It's certainly a big business and there are lots of perks to the job, but you also end up watching sports a little differently. I tend to be looking at the signs around the ball parks. It's a sales job, but it being baseball, makes it more fun and exciting.
"I think the way Wittenberg has helped me excel at what I'm doing is the way that I'm surrounded by a lot of different people and personalities," he added. "With a liberal arts background, you get all shapes and sizes - across all lines of the spectrum and that has set me up well for a sales job. I feel that I'm a more well-rounded individual because of the liberal arts and that really is how Wittenberg impacted me most."