In the summers, Susan Haynes King takes a moment to pinch herself as a reminder that it's all real.
But even that moment is stolen from 12-hour days that start with a five-mile walk at a reservoir not far from the University of Findlay's James L. Child Jr. Equestrian Complex, where she then goes to teach Three-Day Eventing to high school students from around the nation.
The summer offerings are an extension of a full time academic program she's helped to build around the Olympic sport she likens to a triathlon for horse and rider. For a woman who was champion of an Eventing competition at the Kentucky Horse Park's Champagne Run Horse Trials, the work seems the fulfillment of a life's trajectory.
An equestrian since childhood, she majored in psychology and minored in special education at Wittenberg, then went on to earn a master's in education from Syracuse University in her native New York. That prepared her for a job that combines her love for teaching with competitions and the equestrian world.
"I think it's really fun to bring about that 'aha' moment when people learn," she said, particularly when the learning involves cooperating with another species.
Dressage, Eventing's first discipline, requires horse and rider to execute prescribed movements within a set riding pattern while generating the sense of energy expected in an ice skating performance. In a course with 20-30 jumps over varied terrain, Cross Country, the second element demands coordination, conditioning, control and solid trust between horse and rider. Show jumping calls for similar skills while testing the performers' stamina on the third day of the competition.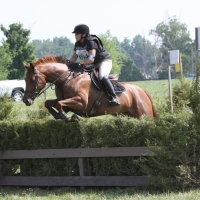 King says Eventing is rewarding because it's tough and calls for the kind of teaching toughness she encountered in Wittenberg education professors Virginia Lucas and Charles Novak.
"I really didn't like them at first, but I learned to like them," she said. And she has a sense that her priorities for her students are what their priorities were for her.
"It's nice if they like you -- nice," said King. "But if they learn from you, that's the ultimate reward."
For her, that reward comes when an adrenaline-powered smile leaps from the face of a student who has successfully finished a competition in full partnership with a horse – the moment in which a rider wants to pinch herself to make sure it's all real.