Wittenberg University Associate Professor of Philosophy Julius Bailey never wavers from asking the tough questions.
Author of the memoir, Be-Longing: Triumph in the Mirror, as well as five books, including the award-winning Racial Realities and Post-Racial Dreams: The Age of Obama and Beyond, Bailey recently posed the several questions – the same ones he asks his own students at Wittenberg -- during an address at nearby Wright State University as part of the school's Martin Luther King Jr. celebration.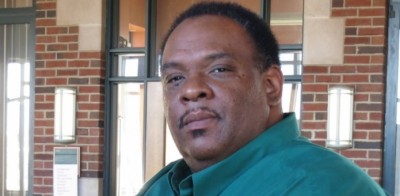 A Christian existentialist, philosopher, cultural critic, social theorist and diversity lecturer, Bailey spoke of the different types of speeches Martin Luther King Jr. gave throughout history – the safe King, the moderate King and the danger-zone King - each asking the spectator what they will do to change our world views on discrimination. After relaying a few pieces of his own history, Bailey then asked Wright State students this question: Are you an interrupter?
"Are you willing today to be an interrupter of death? That is the question on this King Day (and every day)," he said in his remarks. "Doing your part to thwart both intentional and unintentional movements/policies/social ills that stifle and choke the life, the hope, the dreams of a generation. Are you a complicit arbiter of death? Are you a spectator opining with necrophiliatic curiosity? Or will you do what King and others in history - make it their priority to do and INTERRUPT DEATH?"
Such questions will continue to be posed by Bailey throughout February in honor of Black History Month as he leads several discussions on campus.
Bailey, who has been at Wittenberg since 2011, received many accolades for his fourth book Racial Realities and Post-Racial Dreams: The Age of Obama and Beyond, including a Silver Award in current events in social issues/humanitarian from the Independent Book Publishers and a Gold Award in Government and Politics from the Readers' Favorite Reviews. The book provided critical exploration of wealth and poverty, mass incarceration, voting rights, gender discrimination, Islamophobia and immigration.
Bailey has been interviewed on CNN, Fox, B.E.T., and ABC Nightline. A guest on numerous radio shows as a social critic and education advisor, he is often invited to speak at colleges, prisons and community organizations across America.
Wittenberg University is proud to sponsor the following events as part of its Black History Month programming:
Feb. 5 - The Wittenberg Series continued with a screening of Althea at the Springfield City School District's John Legend Theater at The Dome.
Feb. 6 - A discussion on Lynching in America: An Ida B. Wells History was well received earlier this week. Wells was an African-American journalist, early leader in the Civil Rights movement and a founder of the National Association for the Advancement of Colored People (NAACP). Later in the evening, the Wittenberg Series continued with the screening of The Loving Story at the Springfield City School District's John Legend Theater at The Dome.
Feb. 8 - The movie screening of Marshall will take place at 8 p.m. at the Joseph C. Shouvlin Center for Lifelong Learning, room 201. The 2017 PG-13 movie about a young Thurgood Marshall, the first African-American Supreme Court Justice, stars Chadwick Boseman, Josh Gad, Kate Hudson and Wittenberg grad Steve Abbott '92.
Feb. 19 - Join the discussion about African-American Literature and the Problem of Evil from 4-6 p.m. in Hollenbeck Hall, room 315.
Feb. 20 – Learn about the anti-slavery movement and the life of Frederick Douglass, an American slave in a discussion about his memoirs My Bondage and Freedom: Frederick Douglass' Philosophy of Law from 2:35 to 4:20 p.m. in Ness auditorium, Hollenbeck Hall.
Feb. 22 - Discuss state-sanctioned violence against people of color in America from 2:35-4:20 p.m. in Ness auditorium, Hollenbeck Hall. Later in the evening, visit Founders for Negrophilia Unplugged: A Celebration of Black Creativity/open mic night from 6:30-8:30 p.m.
Feb. 23 – Depicting his dissertation in a rap, Dr. A.D. Carson's "Boy It's Familiar: History, Activism, and Writing Raps" is something to talk about. Join in the discussion at 4:30 p.m. at Ness Auditorium, Hollenbeck Hall. Later in the evening, head to Founders for another movie night with Detroit being screened at 8 p.m. A 2017 R-rated movie about the 1967 Detroit riots, the picture stars John Boyega, Anthony Mackie and Algee Smith.
About Black History Month
Black History Month, or National African American History Month, is an annual celebration of achievements by black Americans. Recognized in the United States since 1976 and also in many other countries around the world, including Canada and the U.K., the month grew out of "Negro History Week," the brainchild of noted historian Carter G. Woodson and other prominent African Americans.