Rachel Porrello, Class of 2019
Major: Psychology
Minor: Religion
Hometown: Lewis Center, Ohio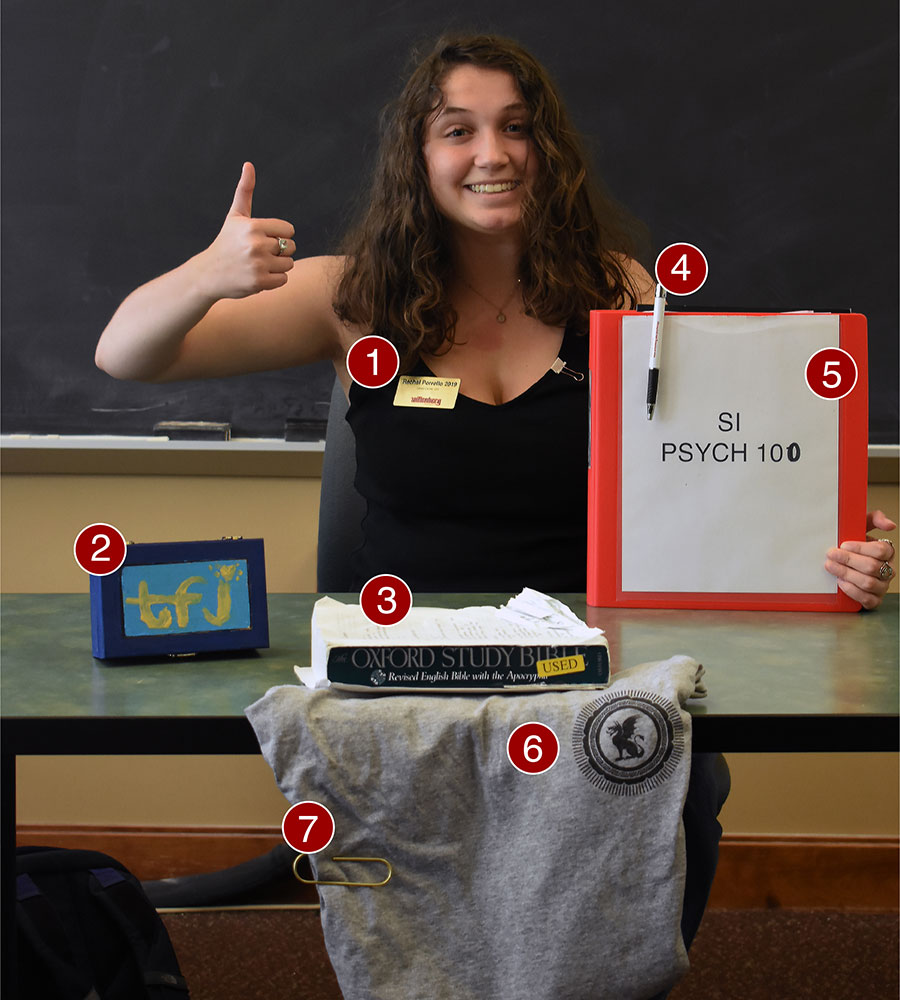 1. Tour Guide Badge
Rachel has grown to love campus more by working as a tour guide. She loves informing potential students about the history of the campus as it takes her back to when she first visited Wittenberg.
2. Quill Box
This quill box represents Rachel's sorority, Alpha Xi Delta. She keeps items that resemble important memories from being in it, and will always remember helping to bring the sorority back to campus.
3. Oxford Study Bible
Rachel studied this book for her religion minor courses, and got quite a lot of use out of it.
4. Psychology Department Pen
This Psychology Department pen symbolizes Rachel's major. She loved being a psychology major and received a lot of help from her professors. Rachel wants to use her major to work with a domestic violence shelter, and eventually earn her PhD and become a professor.
5. Psychology Binder
For three semesters, Rachel worked as a supplemental instructor and peer coordinator for the Psychology 100 class. Being a supplemental instructor inspired her even more to get her PhD so she can continue teaching and helping students.
6. T-Shirt
Some of Rachel's favorite memories at Wittenberg involve her boyfriend's fraternity, Beta Theta Pi. She loved going to their annual Animal House philanthropy event.
7. Paper Clip
This represents the many lasting friendships Rachel has made at Wittenberg. Just like a paperclip, they all hold each other together.
Compiled by: Mallory Moss '20
Photo by: Megan Nadzam '22