Erin Hord, Wittenberg class of 2017, is living the dream every day in Maui, Hawaii, as a naturalist for the Pacific Whale Foundation, thanks to the numerous opportunities she had as a student at the university.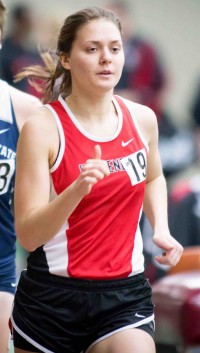 During the summer after her first year at Wittenberg, Hord, from Madison, Ohio, went to the Bahamas for a marine ecology course, a trip taken every other year via the marine science program at Wittenberg.
"It was on this trip that I realized my passion for the ocean and the organisms within it. The beauty was unlike anything I had seen before," said Hord, who double majored in biology and marine science. "The next summer, my professors urged me to apply for a research experience. I received one and spent the summer in a coastal town in Texas. It was a great experience, and I grew as a scientist and a researcher."
The following spring, Hord was able to further her studies as part of the Duke University Marine Laboratory program through Wittenberg – another great experience for her.
"I took classes and conducted research with revered scientists, and I travelled to Puerto Rico and St. Croix to participate in ongoing sea turtle research studies," she said. "It was incredible to respectfully view sea turtles in their natural habitat, and my love for the ocean swelled. During the summer that followed, I was an intern for the Blue Ocean Society for Marine Conservation. I educated passengers on whale watching boats and conducted research, as I was awarded a research grant by the Wittenberg Student Development Board. I absolutely fell in love with marine mammal conservation during this internship, and I decided to pursue it as my future career."
During her time at Wittenberg, Hord also was a member of the cross country and track and field teams, serving as captain in cross country both her junior and senior years. Additionally, she was involved in the Fuller Center for Housing program and the Marine Science Club, serving as vice president for both as a senior. Hord also participated in Wittenberg's partnership with 4 Paws for Ability program in which she fostered a puppy in the fall of her senior year. 
Now, as a naturalist, she is a crewmember on a 150-passenger, double-hull catamaran vessel, providing excellent customer service to all passengers, and educating them about the marine environment. 
"My wide range of research and education experience landed me this job. I absolutely love it, as I get to view humpback whales in their natural habitat and inspire people to care about them," said Hord, who began her Hawaiian adventure in November. "We educate the passengers about the animals within our environment, and the steps they can take to preserve and protect the oceans and the animals within them. The types of trips that my company conducts are snorkeling adventures, whale watches, dinner cruises, cocktail cruises, and stargazing cruises. I get to snorkel and show people the beauty of the underwater world, and I get to learn new things every single day. Being a resident here in Maui has been an incredible experience. There is so much to discover on this island both on land and underwater, and I am excited to continue exploring this beautiful place."
Always an ambitious person, Hord truly believes that attending Wittenberg and immersing herself in the culture increased her ambition and drive immensely.
"When I visited Wittenberg, I was told of the seemingly endless opportunities that existed, especially in my area of interest," she said. "That is one of the most important aspects of Wittenberg that enticed me to attend school there. Upon my arrival, I was determined to take every opportunity that I could, and that led to a fulfilling college career. My ultimate career goal is to work in the field of marine mammal conservation. I am currently in a position where I am meeting that goal, so I plan to stay for a while and gain valuable career experience. I will most likely attend graduate school to obtain a higher degree in this field to make myself more marketable.
"Wittenberg University is a land full of endless opportunity, and if the opportunities are taken advantage of, it can lead to a fruitful and successful career after graduation," Hord continued. "I will forever be thankful for my four years there. I am continuously grateful for all of the opportunities that Wittenberg allowed me to partake in, all of the faculty and staff who supported and encouraged me, and the light that grew in me throughout my four years there. As I launch into my dream career, I will always remember to pass on my light to others."