Wittenberg University has announced that Joshua Moore, associate director of the Serving Engaged Empowered & Diverse Students Office (S.E.E.D.S) at Texas A&M University-Commerce, has been hired as the new assistant dean of diversity and inclusion for the Office of Student Development. Moore is expected to begin his new responsibilities on July 23.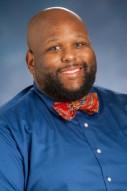 "We are excited to welcome Josh to Wittenberg and look forward to his work engaging students and colleagues in diversity, inclusion, and equity efforts," said Casey Gill, dean of students at Wittenberg. "He brings a wealth of experience, passion, and energy to our community and will be a great partner to advance our aim of inclusive excellence."
Having worked for more than a decade in higher education, Moore brings to his new role extensive experience in student development, diversity and educational programming, and office and budget management. At Texas A&M University-Commerce, he built the S.E.E.D.S. Office from the ground up, including creating the mission and vision, establishing staple programs, and developing a strategic plan for the growth and development of the office. He also oversaw four living-and-learning communities, created a peer education program to develop students into change agents, and worked closely with diverse student populations.
A student-centered higher education professional, Moore will work to enhance the student experience with a specific focus on the support, retention and graduation of students designated as under-represented at Wittenberg. He will serve as an advocate for those students while developing and providing outreach, education, and programming to a diverse student body.
"I am honored to join and serve the Wittenberg community," Moore said. "While on campus [for my interview], my interactions with the students, faculty, and staff sent a dynamic message that embraced diversity and inclusion. I can't wait to meet everyone and become an active member of the community."
Moore, who earned a B.S. in human resources management from Western Kentucky University, was the minority academic services coordinator for the Office of First Year Programs at Morehead State University for nearly four years before being named to his current position of associate director of S.E.E.D.S. at Texas A&M University-Commerce. He also served as director of the Governor's Minority Student College Preparation Program during that same period.
Moore holds a master's degree in education, counseling, and student affairs from Western Kentucky University and is currently working toward a doctorate in higher education from Texas A&M University-Commerce.