Wittenberg's 2019 Homecoming and Reunion Weekend, Oct. 24-27, will draw hundreds back to campus, and honor distinguished alumni.
A recognition ceremony will take place during the Alumni Achievement Awards brunch from 10 a.m. to noon on Saturday, Oct. 26, in room 105 of the Joseph C. Shouvlin Center for Lifelong Learning.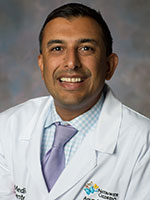 Anup Patel, class of 1995, will receive the Alumnus of the Year Award, previously called the Class of 1914 Award. Given to individuals who have served Wittenberg above and beyond what might be expected of any contributor to the college's welfare, the award celebrates Wittenberg University alumni who have attained a significant level of achievement in their chosen field, impacted their local communities with integrity and character, and demonstrated a continued commitment to Wittenberg.
Patel, an M.D., is section chief of pediatric neurology at Nationwide Children's Hospital and serves as an associate professor of clinical pediatrics and neurology at The Ohio State University College of Medicine. He completed pediatric training at the University of South Florida, a child neurology residency at Vanderbilt University, and a clinical neurophysiology fellowship at Nationwide Children's and The Ohio State University College of Medicine. He is board-certified in neurology with special qualifications in child neurology, neurophysiology, and epilepsy. He also works as an associate medical director for Partners for Kids and as director of the Complex Epilepsy Clinic. His clinical interests include quality improvement, healthcare utilization research, and complex epilepsy.
Patel's work has been published in several notable medical journals, including the New England Journal of Medicine and the Journal of Pediatrics. Awarded Teacher of the Year by the Child Neurology Residency in 2012 and 2013 and the recipient of the 2018 Transformation Award from the Make-a-Wish Foundation of Ohio, Kentucky and Indiana, Patel remains highly dedicated to his field of work and is a valuable asset to the Columbus community and beyond.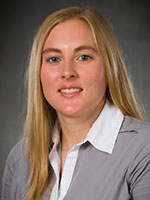 The Outstanding Young Alumni Award, also known as the "Wally Witt" Award, will be presented to Lydia Kisley, class of 2010. The award recognizes Wittenberg University alumni who have distinguished themselves through outstanding accomplishments in their professional careers, impressive volunteer service, and/or noteworthy involvement in professional and/or service organizations, all since graduating within the last 15 years. This award was previously given as the Outstanding Young Alumni Award and GOLD Alumni Service Award.
Kisley earned her bachelor's degree in chemistry before attaining her Ph.D. in physical chemistry from Rice University in Houston, Texas, in 2015. She was a postdoctoral fellow at the University of Illinois from 2015-2018. Currently an assistant professor of chemistry at Case Western Reserve in Cleveland, Ohio, Kisley was named to the Forbes 30 Under 30 list of change makers and innovators in the healthcare field in 2017.
Highly regarded in the field of bio-molecular spectroscopy, Kisley has also been a great ambassador for Wittenberg, contacting current students about serving in her research program, and she has returned to her alma mater to give seminars in the chemistry department.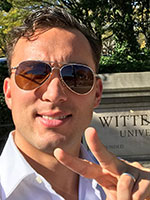 The "Pass it On" Wittenberg Volunteer Service Award will be presented to Kyle Barger, class of 2007. This award is given to alumni members for their exceptional volunteer service to the University through participation and leadership of efforts supporting Wittenberg, such as local alumni chapters and/or affinity groups, recruitment of prospective students, engagement with current students, planning of alumni events, and/or representation on behalf of the University in local programs and events.
Upon graduating from Wittenberg with a degree in business management, Barger travelled the country working in the steel industry. In 2016, he came back to Central Ohio to start the Champion Trading Group (CTG), a sales and marketing company in the steel industry. In less than three years, the company has traded more than one million tons of steel and managed over a half a billion in revenue.
Through his success, Barger created the Make A Day Foundation using resources from CTG and his network to improve the lives of others. Make A Day has fed 20,000-plus people and provided 500-plus free haircuts/shaves to the homeless and countless other acts of love and service to the community since 2016, including events on campus with the Lesotho Nutrition Initiative and Delta Tau Delta fraternity. He also helped create the Tiger Tank event on campus, which allows students to share their creative thinking and ideas with potential employers and alumni in an effort to allow well-established Tigers to mentor and employ younger Tigers.
Shubhik DebBurman, class of 1991, will receive the Professional Achievement Award. Presented to Wittenberg University alumni who have achieved outstanding distinction in their professional field, this award was previously presented as the Alumni Citation award to recognize outstanding personal or professional accomplishment.
After graduating from Wittenberg, DebBurman earned a Ph.D. in neuroscience at Northwestern University in Evanston, Illinois, held postdoctoral fellowships at the University of Chicago, and taught at Kalamazoo College in Michigan, before taking a job at Lake Forest College in Illinois, where he is the Disque D. and Carol Gram Deane Professor of Biological Sciences and chair of the biology department.
DebBurman has received three awards for teaching, scholarship, and leadership at Lake Forest College, through his mentoring of undergraduates and for contributions to the college's liberal arts mission and its undergraduate life science programs. He has been an external reviewer at schools such as Gustavus Adolphus College in Minnesota and Skidmore College in New York, an invited lecturer at more than 30 institutions across the United States, and president of both Nu Rho Psi (the Neuroscience Honorary National Council) and the Chicago Society for Neuroscience. He created the Our Amazing Brain program, bringing neuroscience to over 500 third graders across northern Chicago suburbs.
Over the past 20 years, DebBurman has researched and published on Parkinson's disease, supported by national grants from the National Institutes of Health (NIH), the National Science Foundation (NSF), and several Parkinson's foundations, training over 100 undergraduates in research that have headed for diverse scientific careers. The Chicago Society for Neuroscience honored him with its Career Achievement Award in 2018 and the Illinois Science and Technology Coalition named him a 2019 Illinois Researcher to Know.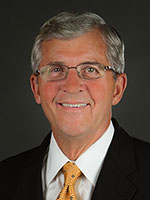 Also during the ceremony, Wittenberg will present Andy Bell with the Honorary Alumnus Award, which recognizes individuals who, though not graduates of Wittenberg, have demonstrated exemplary loyalty and commitment to the University, and whose devotion to service embodies the institution's motto, "Having Light, We Pass It On To Others."
Bell, now retired, formerly served as senior vice president at Marsh & McLennan Agency LLC. Prior to his role at Marsh & McLennan, Bell was president of the Independent Insurance Agents of Ohio and director of the Independent Insurance Agents and Brokers of America. A graduate of Miami University in Oxford, Ohio, and of the London School of Economics, Bell is a Springfield native, having been active on numerous boards including the Global STEM Academy, the Clark State Foundation, the Springfield Family YMCA, the United Way of Clark and Champaign Counties, the Greater Springfield Chamber of Commerce, the Springfield Foundation, the Springfield Rotary Club, and Security National Bank.
Named the recipient of the Maureen C. Grady Award for Special Achievement by the Ohio Association of Community Colleges in 2017, Bell has served as a member of the Wittenberg Board of Directors since 2013. In addition, he is a member of the Clark State Community College Board of Trustees and was reappointed to the Association of Community College Trustees (ACCT) Finance and Audit Committee for 2019. He also served as a member of Wittenberg's Springfield HWA Complex regional committee in 2015-16.
The Servant Leader Award will be presented to the Concerned Black Students (CBS) Organization 1968-1969 through Ron Woods, class of 1969, one of its founders. Bestowed upon Wittenberg University alumni who have distinguished themselves through outstanding service, this award was previously presented as the Alumni Citation award to recognize outstanding personal or professional accomplishment.
The members of CBS 1968-69 have distinguished themselves in all phases of professional and civic life in their communities and beyond, and in so doing, have elevated Wittenberg in the multiple venues of which they have been part. By recognizing Concerned Black Students of 1968-69 with the 2019 Servant Leader Award, Wittenberg honors both the persons and the processes through which it has continued its journey toward institutional excellence in the Lutheran tradition and celebrates the 50th anniversary of the CBS Walkout of 44 students in January 1969. The walkout ushered in a period of orientation to the mantles of servant leadership those members would assume at Wittenberg and beyond, while reinforcing the notion that responding to a higher calling of service would demand sacrifice, carry risk, and often require facing headwinds of opposition.
The CBS Alumni of 1968-69 have gone on to pursue diverse fields of endeavor in the public, private, and not-for-profit sectors.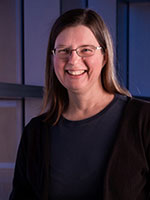 Elizabeth George, professor of physics, will be recognized with the Alumni Association Award for Distinguished Teaching Award, the top faculty prize at Wittenberg. George is an experimental physicist with research interests in nuclear beta decay and the weak interaction (the fundamental force of nature that is responsible for beta decay). Currently, she is part of a collaboration that's building a superconducting magnetic spectrometer for beta decay experiments, and is also investigating techniques for using lasers and other optical methods to manipulate radioactive atoms in order to study their properties.
She has co-authored eight papers in peer-reviewed physics journals on neutron interferometry and on nuclear reactions with spin-polarized nuclei. In addition, she is interested in physics education research. With an interdisciplinary group, she is studying how students' use of computers in the introductory physics laboratory affects their learning about momentum and energy.
George received a B.S. in physics from the University of Arizona, an M.S. in radiology (medical physics) from the University of Colorado Health Sciences Center, and a Ph.D. in physics from the University of Wisconsin-Madison. She joined the Wittenberg faculty in 1998.
To register for the Alumni Achievement Awards brunch, click here.
For more information on this year's homecoming events go to www.wittenberg.edu/homecoming.