An eminent scholar of the Reformation, Ronald K. Rittgers will present the annual Kenneth H. Sauer Luther Symposium at 7:30 p.m. Monday, Oct. 22, at Bayley Auditorium of the Barbara Deer Kuss Science Center as the 2018-2019 Wittenberg Series continues. Rittgers is a professor of history and theology and the first Erich Markel Chair in German Reformation Studies at Valparaiso University in Indiana. His lecture is titled "The Art of Faith in the Midst of Suffering: Reflections on Martin Luther's Theology."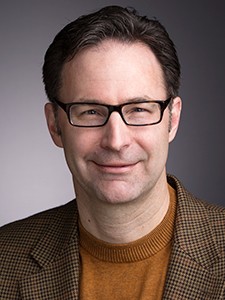 The author of three scholarly books on the Reformation, he is interested in the history of theology, devotion, and culture in medieval and Reformation Europe. In his first book, The Reformation of Keys: Confession, Conscience, and Authority in Sixteenth-Century Germany (Harvard University Press, 2004), Rittgers examines the religious practice of confession, tracing the development and reform of Lutheran private confession in the 16th century.
Rittgers' second book, The Reformation of Suffering: Pastoral Theology and Lay Piety in Late Medieval and Early Modern Germany (Oxford University Press, 2012), was the first text to examine the central role that the Protestant reformation of suffering played in the larger effort to reform church and society.
The Reformation Commentary on Scripture: Hebrews and James (InterVarsity Press 2017) provides excerpts from Reformation sources such as commentaries, sermons, and treatises on the New Testament books of Hebrews and James to serve as a resource for contemporary preachers and scholars.
At Valparaiso University, Rittgers teaches introductory courses on the Christian tradition, as well as more specialized courses on the Reformation, Martin Luther, Christian spirituality, and historiography. Prior to joining the Valparaiso faculty in 2006, he was an associate professor of the history of Christianity at Yale Divinity School for seven years.
Rittgers has received research grants from the German Academic Exchange Service, the Lilly Endowment, the National Endowment for the Humanities, and the Herzog August Bibliothek in Wolfenbüttel, Germany. He recently served as president of the American Society of Church History, the oldest and most prestigious scholarly organization for historians of Christian history in North America.
He earned a B.A. from Wheaton College, a Master of Theological Studies (MTS) from Regent College in Vancouver, British Columbia, and a Ph.D. from Harvard University.
While on Wittenberg's campus, Rittgers will participate in a Q&A session with faculty and students at 3:30 p.m. at Weaver Chapel.
Now in its 36th year, the Wittenberg Series brings distinguished lecturers and performing artists of national and international prominence to the Wittenberg campus and Springfield community. To make special arrangements, request a Series poster, or become a friend of the Wittenberg Series, contact Lisa Watson at WatsonL4@wittenberg.edu. All Wittenberg Series events are free and open to the public. Doors open 30 minutes prior to the beginning of each lecture or performance. Below are further details related to this year's Series.
2018-2019 Wittenberg Series Events:
Thursday, Oct. 25: Dance concert featuring Catapult, presenting an evening of shadow dance and theatre works, 7:30 p.m., John Legend Theater at The Dome, 700 S. Limestone St., Springfield.
Sunday, Oct. 28: Festival Choral Eucharist for Reformation Service, 7:30 p.m. in Weaver Chapel (music begins at 7 p.m.), featuring The Rev. Dr. Craig Alan Satterlee, Bishop of the North/West Lower Michigan Synod of the Evangelical Lutheran Church in America.
Wednesday, Nov. 7: Fred R. Leventhal Family Lecture, 7:30 p.m., Weaver Chapel featuring Seth M. Siegel, New York Times best-selling author of Let There Be Water: Israel's Solution to a Water-Starved World. Q & A, 4 p.m., Bayley Auditorium.
Friday, Dec. 7: Lessons and Carols, 7:30 p.m. (pre-service music begins at 7 p.m.), Weaver Chapel.
Monday, Jan. 21, 2019: Martin Luther King Jr. Convocation, 11:15 a.m., Weaver Chapel, featuring Adam Foss, criminal justice reform advocate. Q & A, 2:45 p.m., 105 Joseph C. Shouvlin Center for Lifelong Learning.
Tuesday, Feb. 26, 2019: Vocal concert featuring South African a cappella group Ladysmith Black Mambazo, 7:30 p.m., Weaver Chapel.
Wednesday, March 13, 2019: William A. Kinnison Endowed Lecture in History, 7:30 p.m., Bayley Auditorium, featuring Pulitzer Prize-winning author Elizabeth Fenn on "Sacagawea's Capture and the History of the Early West."
Wednesday, March 27, 2019: IBM Endowed Lecture in the Sciences, 7:30 p.m., Bayley Auditorium, featuring John Dovidio, author, Yale psychology professor, and leading researcher on aversive racism. Colloquium, 4 p.m., Bayley Auditorium.
For more information on the Wittenberg Series, click here.