New York Times best-selling author and water activist Seth M. Siegel will be the keynote speaker for the annual Fred R. Leventhal Family Lecture that will take place at 7:30 p.m. on Wednesday, Nov. 7, in Weaver Chapel as the 2018-2019 Wittenberg Series continues. His lecture is titled "Let There Be Water: Israel's Solution for a Water-Starved World."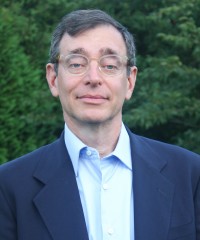 Siegel's New York Times best-seller Let There Be Water: Israel's Solution for a Water-Starved World is described by the San Francisco Chronicle as "a must-read that is both fascinating and informative" and by Shimon Peres as an "extraordinary work [that] will long be read by people grappling with water shortages and other seemingly insurmountable challenges."
Translated into 15 languages and named by National Review as a best book of 2016, Let There Be Water provides a model for how nations can overcome water scarcity as new water crises arise every day due to climate change, population growth, and pollution. The book also highlights how cooperation on water systems can improve diplomatic relations among nations.
Recognized for his thought leadership, Siegel has appeared before Congress, the United Nations, and the World Bank. He has spoken around the country and the globe on water issues, and has had commentary published in The New York Times, The Wall Street Journal, and The Washington Post. Regularly interviewed on TV and radio, he also is the host of an eight-episode podcast, Let There Be Water, featuring interviews with water experts on the science and policy of water conservation.
A self-described serial entrepreneur, Siegel, who is a 1974 graduate of the ILR School of Cornell University, has had careers in numerous industries, including advertising, law, marketing, entertainment, mobile communications, and financial services. After earning a J.D. from Cornell Law School, he practiced law for five years before pursuing a business career, co-founding the companies Beanstalk, Sixpoint Partners, and Vringo. During his time as a television and Broadway producer, he earned a Tony Award nomination for the Broadway revival of Man of La Mancha.
In 2016, Siegel was appointed as the Daniel M. Soref Senior Fellow at the University of Wisconsin's Center for Water Policy. He is currently working on a new book about water policy in the United States. He lives in New York with his wife, Rachel Ringler.
While on Wittenberg's campus, Siegel will participate in a Q&A session with faculty and students at 4 p.m. in Bayley Auditorium of the Barbara Deer Kuss Science Center.
Now in its 36th year, the Wittenberg Series brings distinguished lecturers and performing artists of national and international prominence to the Wittenberg campus and Springfield community. To make special arrangements, request a Series poster, or become a friend of the Wittenberg Series, contact Lisa Watson at WatsonL4@wittenberg.edu. All Wittenberg Series events are free and open to the public. Doors open 30 minutes prior to the beginning of each lecture or performance. Below are further details related to this year's Series.
2018-2019 Wittenberg Series Events:
Friday, Dec. 7: Lessons and Carols, 7:30 p.m. (pre-service music begins at 7 p.m.), Weaver Chapel.
Monday, Jan. 21, 2019: Martin Luther King Jr. Convocation, 11:15 a.m., Weaver Chapel, featuring Adam Foss, criminal justice reform advocate. Q & A, 2:45 p.m., 105 Joseph C. Shouvlin Center for Lifelong Learning.
Tuesday, Feb. 26, 2019: Vocal concert featuring South African a cappella group Ladysmith Black Mambazo, 7:30 p.m., Weaver Chapel.
Wednesday, March 13, 2019: William A. Kinnison Endowed Lecture in History, 7:30 p.m., Bayley Auditorium, featuring Pulitzer Prize-winning author Elizabeth Fenn on "Sacagawea's Capture and the History of the Early West."
Wednesday, March 27, 2019: IBM Endowed Lecture in the Sciences, 7:30 p.m., Bayley Auditorium, featuring John Dovidio, author, Yale psychology professor, and leading researcher on aversive racism. Colloquium, 4 p.m., Bayley Auditorium.
For more information on the Wittenberg Series, click here.