Some may argue that art and psychology don't mix well, but Brian Ballenger, Wittenberg class of 1981, has found a perfect way to marry his two majors.
Along with working as an artist, Ballenger, originally from London, Ohio, works as a hospice bereavement counselor at OhioHealth Hospice in Columbus. He uses both art and psychology at home and at work, and this is evident in his latest exhibition "Brushstrokes" currently on display through Dec. 15 at the Ann Miller Gallery in Koch Hall from 9 a.m. to 5 p.m. Monday through Friday.
"I look at both of these as career paths. Both are creative in similar and sometimes very different ways, which keeps things interesting," said Ballenger, who was a member of Lambda Chi Alpha, Psi Chi, the psychology honor society, Union Board, and a houseboy at the Kappa Delta house, as well as a Chi Omega little brother during his time at Wittenberg. His art career continues to grow, as he is represented by Sharon Weiss Gallery in Columbus, Ohio, and is selling his paintings.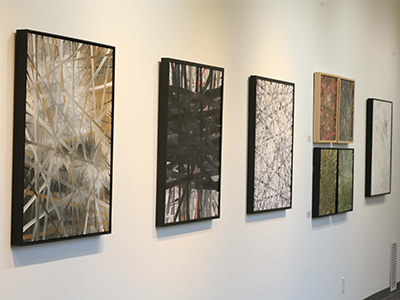 "These are wonderful achievements for someone who has passionately plugged along," he said. "My career in healthcare has supplemented my art practice financially, creatively and emotionally. My two careers are coming together more these days, and this feels like an accomplishment and an integration." 
Ballenger was introduced to art by Ellie Grubbs, his high school art teacher and a 1950 Wittenberg graduate. He went on to earn a master's degree in expressive therapy at Lesley University in Cambridge, Mass.
"This really opened up opportunities for me, both for my career and my artwork, in that my world grew with exposure to all kinds of people and art practices," said Ballenger, who mainly works in oil paints, but also takes photographs from time to time. "Something inside me drew me to continue to pursue art. I knew that this career path would continue. The rest is up to some refining and a good amount of chance, but I think the exposure to the liberal arts education that I received at Wittenberg has been a helpful guide to me in my careers and in my life. It opened me up to being human and seeing what is going on around me and this has certainly helped me in my healthcare career as well."
In a recent lecture in Kissell Auditorium, Ballenger explained the meaning of his artwork and how he has used his passion for art as a sort of therapy for himself and with patients throughout his career.
"I am inspired by looking through things, and my current studio work creates a depth and dimension that supports this looking through," he said. "Pulling a brush through wet oil paints and experiencing this material captured in the brushstrokes really excites me, as does contemplating the results of this in the finished work. Creating a certain feeling is important in my studio practice, as well as allowing for chance to express something that touches me and others. I hope that my paintings capture that expression of chance in an emotional way." 
This is his first exhibition at Wittenberg. He also had a solo exhibition at the Sharon Weiss Gallery in March of this year.
"It is a thrill to show my paintings at this place where I learned so much," he said of the Wittenberg exhibition. "I've enjoyed meeting some of the current art professors and talking about their artistic interests and pursuits. It was a pleasure working with the folks at the Ann Miller Gallery, and my thanks to Ed Charney for hanging the art for the exhibition. I've been fortunate to find opportunities for exhibiting my art along the way, and the exhibitions have helped keep me motivated and inspired. It does feel wonderful to have my paintings up on the walls for others to see and experience."
He also spoke about some of his inspirations, which include artists Pierre Bonnard and Paul Cezanne, among others.
"I love dragging a brush through oil paint, as well as taking in the smell and feel of oil paints; this is always rewarding," Ballenger said. "Talking with other artists about their interests and inspirations is something that I find satisfying. Being an artist in the studio has become a meditation, especially with some good punk or classical music on at a loud volume. I've been fortunate enough to travel some. To stand in the Prado Museum in Madrid (Spain) was a huge thrill, as was taking in the history and beauty of the Uffizi Gallery in Florence (Italy); just absorbing it all is one of my favorite aspects of being an artist."
-Photo of Ballenger is courtesy of Ray Kokaly.