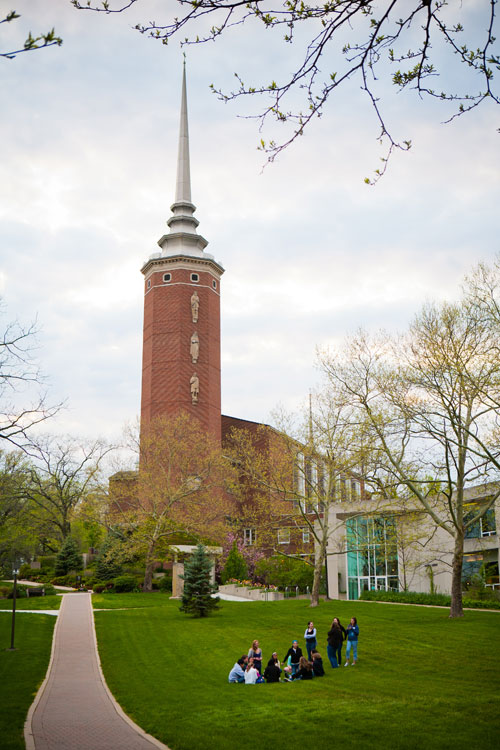 We invite you to explore spiritual opportunities on campus, whether through a student organization, a worship opportunity, an independent bible study, or other activities, listed below. If you'd like more information, please contact Pastor Rachel Tune, rtune@wittenberg.edu.
Student Organizations
These student-run campus ministries provide fellowship, spiritual growth, leadership development, worship, and opportunities to serve others. Every student organization is open to all students, regardless of their affiliation.
You can learn more about these ministries at the Student Involvement Fair and at various events in the fall - see the campus ministry calendar at the tab above!
Common Ground
Common Ground brings together all of the Christian Ministries for New Student Days events and special activities including opening picnic, retreats, service and fun fellowship events over the course of the year.
Weaver Chapel Association (WCA)
Weaver Chapel Association members grow in Christ through a weekly discussion group on every day faith topics; through retreats each semester; through fellowship events such as movie nights or Young's Run; and through service in community and on campus. Meets 8:30 P.M. on Monday nights in the Chapel Activity Room, Weaver Chapel. Come and join us for this low-key time of faith discussions where everyone is welcome wherever you are on your faith journey! Pastor Rachel Tune advises WCA.
Athletes in Action
Looking for a way to connect your faith and your love of athletics? Athletes in Action, a ministry of Athletes in Action and Campus Crusade for Christ, focuses on presenting Jesus Christ as Savior and Lord to athletes, coaches, and all whom they influence. The organization bases its teaching on the Bible, and is spiritually nurturing, athletically-focused, and most of all, Christ-centered. Meets Monday nights at 7:15 pm, Blair Hall.
CRU
Cru is a student-led ministry whose focus is to know Christ and make Him known at Wittenberg and throughout the world. Cru meets Thursday nights at 8:30 pm in Kissell Auditorium (Koch Hall). Cru also has a small group Bible Studies, opportunities for one-on-one mentoring, retreats, and opportunities for fellowship and service with other campuses.
IMANI Gospel Choir
Do you love to sing? Do you love Gospel music? IMANI, Wittenberg's gospel choir, directed by Kent Brooks, praises God through song and music. IMANI holds concerts several times a year and has sung at convocations, special events, and residence hall programs. IMANI's concerts often accept as their admission price a canned food donation, which is then given to a food bank, but admission is free unless otherwise stated. Imani also sponsors an annual festival of gospel music featuring gospel choirs from around the community. IMANI meets in Krieg Hall, Room 300, on Wednesday nights, time TBA.
The Jewish Culture Club-Hillel Affiliate
The Jewish Culture Club aims to provide Jewish students with the opportunity to practice their faith and celebrate holidays.It also strives to promote an understanding and awareness of Jewish religion and culture on campus and in the community. Activities include bi-weekly meetings, challah baking, group trips to the synagogue, and holiday celebrations. Jewish Culture Club is advised by Dr. Stefan Broidy and Suzanne Smailes. To learn more about JCC, contact Dr. Broidy at sbroidy@wittenberg.edu or Suzanne at ssmailes@wittenberg.edu
Lutheran Student Movement (LSM)
LSM connects Lutheran students with one another here at Wittenberg, on other campuses and throughout the Evangelical Lutheran Church in America (ELCA). Students gather regularly for fellowship, attend regional and national retreats, and discuss issues before the Lutheran church. Meets Thursday nights at 8:00 p.m. in the Chapel Activity Room, Weaver Chapel. Pastor Andy Tune advises LSM.
Newman Club
The Newman Club is a Catholic religious-social group composed of Wittenberg students and faculty. Weekly meetings are held to plan masses, philanthropic projects, and social events. The Newman Club meets Thursday at 7 p.m. in the Blair Tower Lounge. Retreats, service projects, and fellowship are all part of the Newman Club's mission.
Young Life
Young Life provides leaders for local high school Young Life groups and also gathers Witt students together for Christian growth and Bible study. First year students gather at 4 p.m. on Wednesdays in the Gus Geil Lounge, basement of the Student Center. Regular leadership meetings is on Friday at 5:30 p.m. at the Springfield House of Prayer (this meeting is also open to students interested in being leaders).
Other Opportunities
Bible Studies
Led by students, pastors, and others, Bible studies are offered at various times and places. Contact Pastor Rachel or individual ministries if interested in participating or leading.
Chapel Choir
Directed by David Crean, University Organist, to provide music for Sunday morning. First rehearsal will be Wednesday, Sept. 4 at 6 pm (permanent time to be determined).
Worship Music Team
Let us know if you have interest in participating in a student music team!
Interfaith Committee
This group of students, faculty, and staff promotes events on campus that help to foster respect and understanding of diverse faiths and religious groups, and oversees the interfaith reflection and prayer room. Anyone interested in participating may contact Pastor Rachel Tune (rtune@wittenberg.edu) or the Interfaith Senator, Heath Queen '18 (queenh@wittenberg.edu)
Prayer and Meditation Room
On the 2nd floor of the library, this room provides a space for meditation and private prayer for any and all religious or spiritual groups. Open when the library is open.
Pre-Theological Studies Committee
The Pre-Theological Studies Committee is made up of students who are interested in discussing ministry and theology, especially those who are considering seminary or graduate study in religion. The group hosts seminary representatives from various denominations and meets informally to discuss shared interests. Pastor Andy Tune advises and keeps pre-theological students informed about special events, campus visits, field experiences, scholarship programs, and church-related job opportunities. Meets about 3 times a semester. Contact Pastor Andy Tune, atune@wittenberg.edu, for more information and to get on the email listserve.
Service Trips
The Pastors' Office occasionally works with the Community Service Office to provide service trips with a significant relationship to a faith community. Past trips have included Fall Break trip to DC, and Alternative Spring Break trips to El Salvador and to the Gulf Coast.