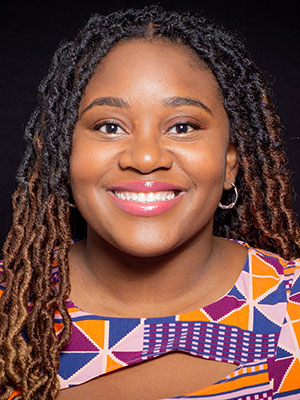 Assistant Director, Religious & Spiritual Life
websterc@wittenberg.edu
(937) 327-74194
Rev. Charmaine Webster started her position as assistant director of religious and spiritual life at Wittenberg University in June 2023.
Rev. Charmaine is an ordained minister, preacher, teacher, and founder of Womanish Projects, a faith-based women's rights 501c3 non-profit organization focused on black women and girls. She is known for her out-of-the-box thinking, engaging speaking style, and love for God and people. She is the visionary behind Day Without Womxn in Church, which Womanish organizes as the 21st Century Women's Day.
In addition to her ministerial work, Rev. Charmaine is a multi-talented entrepreneur. She is the CEO of Tinka's Treats, a home bakery specializing in Sweet Potato Pies, a wedding officiant, a premarital counselor, and a consultant focused on family and community engagement, racial justice, and grant-writing. Rev. Charmaine's clients describe her work as "transformational and life-changing."
Rev. Charmaine received her bachelor of arts in Public Policy from Duke University and her Master's of Divinity from the Candler School of Theology at Emory University. Born and raised in Cincinnati, Ohio, she now resides in Dayton with her husband Benjamin.