Marbles roll in and out of Commencement ceremonies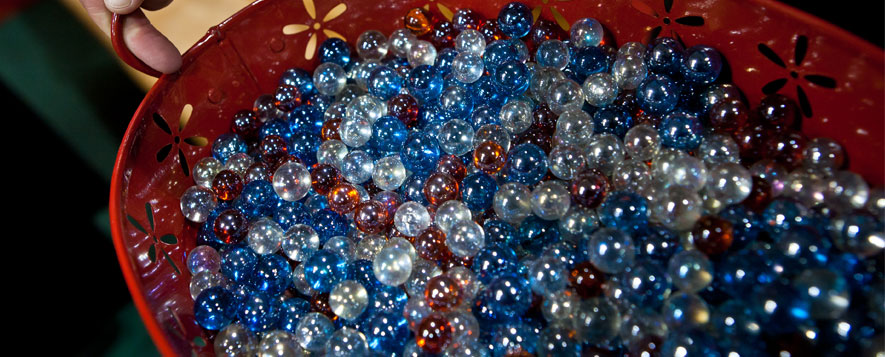 "To make certain the president has all his marbles" is a common response to queries about the tradition of exchanging a marble for a degree at Wittenberg commencement exercises.
James W. Klenke, executive assistant to the chancellor at Southern Illinois University, offers some background information on the tradition.
"When I came to Wittenberg in '85, as assistant to the president (President Emeritus William A. Kinnison), I noticed a jar of marbles on a shelf in his office. Bill explained that an earlier graduating class had given them to him at its commencement."
Kinnison remembers that it was a class in the late 1970s that first presented him with marbles in exchange for a diploma.
He said he thought the class was curious about what he would do with all the marbles because formal academic robes do not include pockets.
Kinnison solved his problem with true liberal arts thinking and filled several water glasses with most of the bounty received, allowing only a few to escape.
Klenke said that when he learned of this tradition, he provided a bowl for the president to place the marbles in as he received them. Throughout the decades, there have been a few deviations in what to give the president, however.
Registrar Emeritus Francis E. Roller said, "I remember one year the class members gave President Kinnison a piece of chalk," and added, "I believe it was meant to represent the class giving something back to the university."
Vice President for Institutional Relations Charles A. Dominick remembers that the year Kinnison became a member of the Shifters, members of the secret society gave him paper clips.
Last year, Nora Walsh '99 reported in the Wittenberg Magazine that "by the time my name was called, President Tipson had the receiving of the marble down to a science."
It has since been discovered that Tipson came to Wittenberg with some experience in this Commencement tradition of giving and receiving.
He said he experienced the marble tradition for the first time when he was asked to stand in for the president of Gettysburg College who was attending his own daughter's graduation.
Tipson said that he had no advance warning the students at Gettysburg would be giving him marbles and was not prepared to receive them, but he thought he put them in his pocket.
"The seniors are usually nervous when they walk across the stage to get their diplomas," Tipson said, and he believes this may add unnecessary concern for some; however, he said that it needs to be the seniors' decision if they choose to continue the tradition.
In May, the officers of the class of 2000, planned to include a new twist to this tradition, but when it unraveled, they elected to abstain.
Still in all, alumni from several classes confirmed that they have enjoyed this tradition as they have received their degrees.
Colleen McInerey Hillerich, '90, said that neither her class, nor her husband Brent S. Hillerich's, '92, class took part in the tradition, but remembered that the Class of '89 was the class that gave Kinnison paper clips.
"I'm into history and tradition," Hillerich said. "It could be interesting as a class," she added, "the challenge of coming up with an item that changed year after year."
Written by Phyllis Eberts '00 for the Wittenberg Magazine (Summer 2000 Issue)