Tickets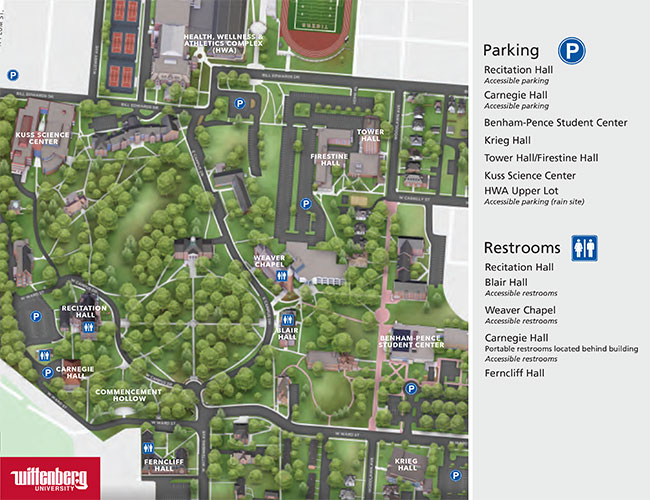 Tickets will be required for an indoor ceremony. Each graduate will receive 6 tickets. If you have questions or concerns, please contact Brandee Bates Kern at commencement@wittenberg.edu.
All Extra ticket requests have been filled at this time. Extra tickets may be available the morning of the ceremony at the Will Call booth. However, extra tickets are not guaranteed.
Click on campus map (right) to view full size and download.
Parking
In order to allow guests to gather safely for Commencement Exercises, the University closes East and West Campus Drives at 8 a.m. on the day of the event each year.
The exit to N. Plum Street (the road behind Koch Hall) will be reversed so that vehicles cannot exit onto N. Plum St. from west campus drive and instead vehicles will be able to enter from N. Plum St. at 8 a.m. to allow easy access to the Recitation Hall and Carnegie Hall parking lots to accommodate parking for only guests with limited mobility.
To help alleviate traffic congestion, there will be no west bound traffic on West Ward St. between Woodlawn Ave. and N. Wittenberg Ave. Vehicular traffic will be redirected down Woodlawn Ave. to W. College Ave.
Officers will be at these locations to assist you and your family and friends. Officers will also be at various other locations to assist you with your needs.
INDOOR COMMENCEMENT NOTE: In the event of inclement weather and Commencement is held at the Health, Wellness & Athletics Complex (HWA), we will not regulate traffic on Ward. Accessible parking for an indoor Commencement is located in the Upper Lot (across from HWA). Guests with limited mobility can enter the HWA via the entrance facing Bill Edwards Drive.
A shuttle service will be provided prior to and after the ceremony for those with mobility issues.
Parking
Seating
We are planning for traditional Commencement Exercises, beginning at 11:30 a.m. Access to the venue will be restricted until 9:30 a.m. All guests must be seated by 11 a.m.
Commencement Hollow will be set up with approximately 3,000 chairs. In addition, visitors are welcomed to bring their own chairs or blankets.
Restrooms Available on Commencement Day:
Please Note
A live online video feed of the Commencement ceremony will be available. Click Here to watch.